T
ake the 10,000-feet view of the aerospace, aviation and defense landscape in Texas and you'll discover the remarkable connections these core sectors have established with so many other industries in the state, from logistics to cybersecurity to advanced manufacturing. You'll also discover some very prominent repeat investors.
Among the 33 major aerospace facility investment projects tracked by Site Selection magazine from January 2020 through early 2022, 16 of them were from companies that committed to more than one project during that same brief span of time. Multiply that by the many decades several of those companies have had a presence in Texas, and you understand why companies with names such as Boeing (in San Antonio and Dallas), United Technologies (San Antonio and Fort Worth), Raytheon (McKinney) and Lockheed Martin (in Texarkana's TexAmericas Center as well as Fort Worth, New Boston and Grand Prairie) have felt right at home in the state for generations.
Bell Textron is as good an example as any.
The company, which Site Selection shows having invested in several expansions over the past few years in the DFW metro area, in March 2021 launched operations at its new Manufacturing Technology Center (MTC) in Fort Worth, where Bell President and CEO Mitch Snyder says "we can showcase how we will deliver the most affordable, capable and reliable aircraft for the warfighter." The company said the MTC "offers a digitally connected space for collaboration between Bell teams in an environment that promotes smart risk taking." New systems will be tested and vetted for production suitability before being introduced to Bell's future factories.
Four months later, in July, Bell Textron announced plans for a Systems Integration Lab (SIL) facility at the Bell Flight Research Center (FRC) in Arlington to support testing and verification for both the Future Long-Range Assault Aircraft (FLRAA) and Future Attack Reconnaissance Aircraft (FARA) programs. That's a lot of acronyms. But the one with arguably the most momentum is DFW.
"The City of Arlington and its leaders have been instrumental in laying the groundwork for this next-generation flight-testing center," said Robert Hastings, Bell's executive vice president of communications and government affairs. "When you think of the word 'innovation,' Bell is one of the first companies that comes to mind," said Arlington Mayor Jim Ross. "The City of Arlington has been home to Bell Flight Research since 1967 and is incredibly proud of our continued partnership, the opening of this new facility and the company's newest technology and innovations elevating North Texas and beyond."
The company's most recent innovations are taking place in the High-Speed Vertical Take-Off and Landing space, as the company in February announced its advancement to the next phase of the AFWERX High-Speed Vertical Take-Off and Landing (HSVTOL) Concept Challenge, a crowdsourcing effort for the United States Air Force (USAF) and United States Special Operations Command (USSOCOM). Bell is one of 11 companies from more than 200 challenge entrants selected to receive market research investments aimed at "advancing solutions that enable optimal agility in austere environments."
The news came a year after another of Bell Textron's innovations — the Bell Autonomous Pod Transport (APT) unmanned aircraft system (UAS) — demonstrated a point-to-point package delivery at the AllianceTexas Mobility Innovation Zone (MIZ) within Hillwood's 27,000-acre AllianceTexas development.
"This successful test of Bell's APT at the AllianceTexas Mobility Innovation Zone highlights the potential for UAS to complete complex missions, moving the needle closer to connecting logistics operations directly to consumers," said Ross Perot, Jr., chairman of Hillwood. "Together, we are carving a path forward for future commercial operations to solve the supply chain challenges our world currently faces."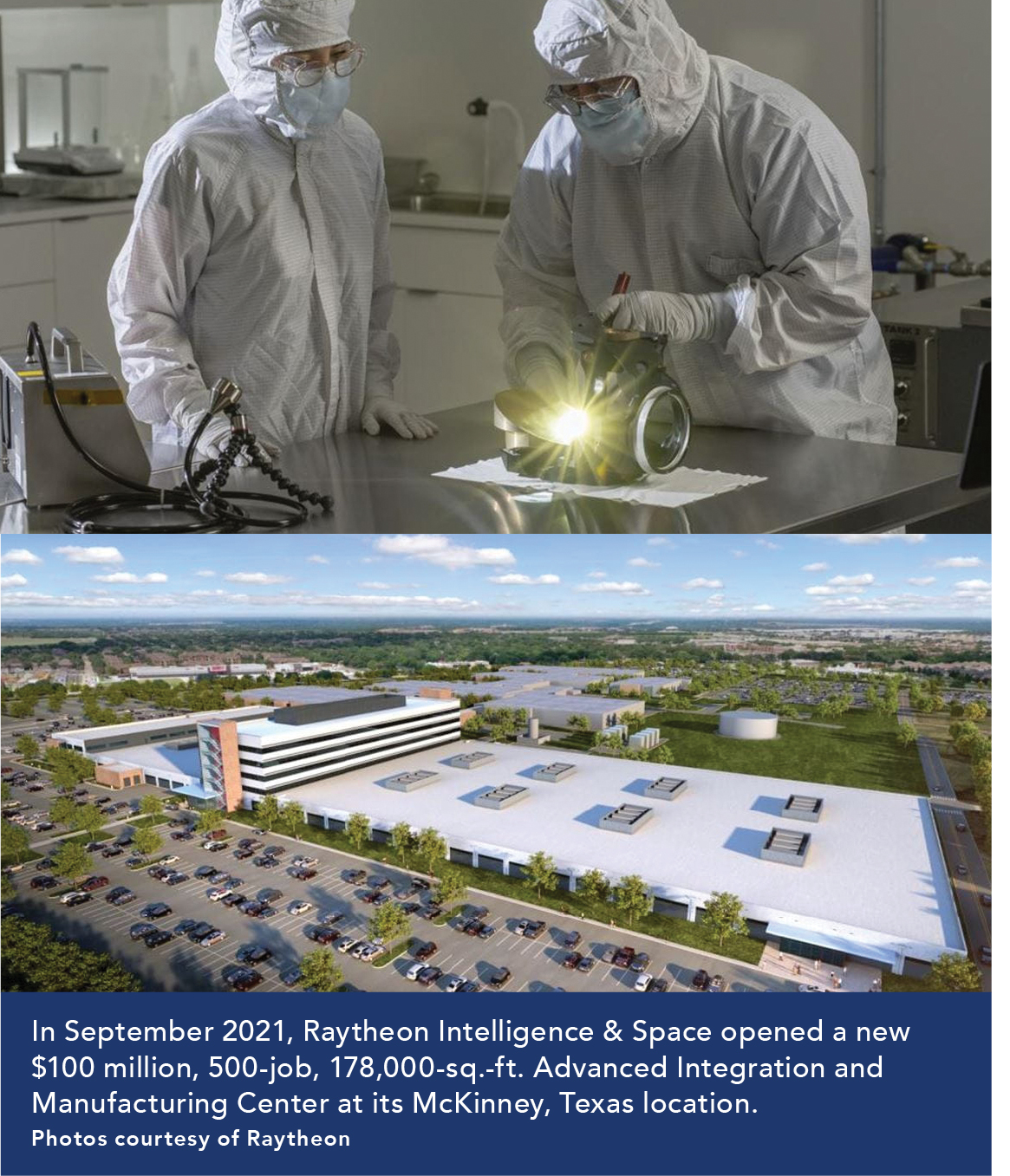 The APT family of vehicles can reach speeds of more than 100 miles per hour and has a baseline payload capability of 70 pounds, recently demonstrating carrying payloads over 100 pounds. Bell and Hillwood have joined forces with the Tarrant Regional Transportation Coalition, a public-private partnership focused on advancing mobility innovation within the western portion of North Texas, to create a regional ecosystem supported by leaders in government and the private sector.
"Bell is proud to play a role in the first North Texas UAS package delivery, and this demonstration showcases the future application of the APT 70 as a logistics carrier," said Mitch Snyder, president and CEO of Bell. "Testing at the MIZ showcases how Bell's autonomous vehicles could seamlessly integrate into logistics operations and unlock new opportunities for businesses."
Air & Space Companies Keep Orbiting DFW
Raytheon maintains operations in 11 Texas metro areas. But it really likes returning to the Dallas-Fort Worth area. In September 2021, Raytheon Intelligence & Space (RI&S) opened a new $100 million, 500-job, 178,000-sq.-ft. Advanced Integration and Manufacturing Center at its McKinney location, as the company ramps up its digital capabilities.
Raytheon is just getting started. That same day, RI&S unveiled plans to build a 400,000-sq.-ft. factory, lab and office space at its McKinney campus to open by 2025, creating another 700 new jobs. And it will outfit a new 250,000-sq.-ft. leased facility in North Texas for its technology programs.
"From artificial intelligence and networked factories to data analytics and augmented reality, we are integrating new ways of working that allow us to tackle the hardest problems," said Jeff Place, vice president of Operations, RI&S. "Much of the RI&S workforce will have the flexibility to continue working remotely, onsite or in a hybrid arrangement that fits their schedules and job responsibilities."
"Our work could not slow down during the pandemic, and, in fact, we're seeing greater demand for our technology," said RI&S President Roy Azevedo. "By empowering our teams to be productive and connected, they are transforming our operations in North Texas and across RI&S to tackle customer challenges today and far into the future."