T
here's nothing like $47 billion worth of semiconductor manufacturing plant investments to capture the world's attention.
In Texas, where little if anything is done small, setting records has become the norm, and that's exactly what happened when Samsung and Texas Instruments announced, within one week in November, that they would build new advanced wafer fabs in Texas.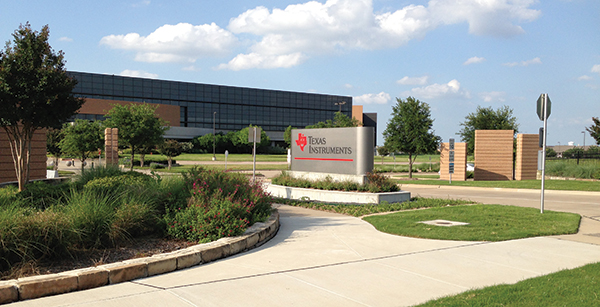 The Visitors Entrance to the main Texas Instruments campus in Richardson, Texas.
Courtesy of TI
Dallas-based Texas Instruments jumped into the fray first when the 30,000-employee company with a market cap of $167 billion announced last Nov. 17 that it would invest $30 billion to build a new 300-millimeter semiconductor wafer fabrication plant in Sherman. The project is expected to create 3,000 new high-wage jobs and could be completed as soon as 2025.
"In 2021, Texas was ranked No. 1 in the country for its leadership in semiconductors, and we continue to see significant capital investment in areas across the state."
– Gov. Greg Abbott
Less than a week later, South Korean giant Samsung announced it would invest $17 billion to construct a new chip plant in Taylor near the state capital of Austin. The 5-million-sq.-ft. complex will be the largest plant Samsung has ever built in the U.S. and could be operational by late 2024, according to the Seoul-based firm. Worldwide, Samsung employs more than 287,000 people and boasts a market cap of $384 billion.
Together, these two projects accounted for the largest capital investment week in Lone Star State history and represent the largest semiconductor project announcements ever in the state. More importantly, they help fill a void that occurred in the supply chain when most chip-producing firms decided to offshore their factories to China and other places in Asia.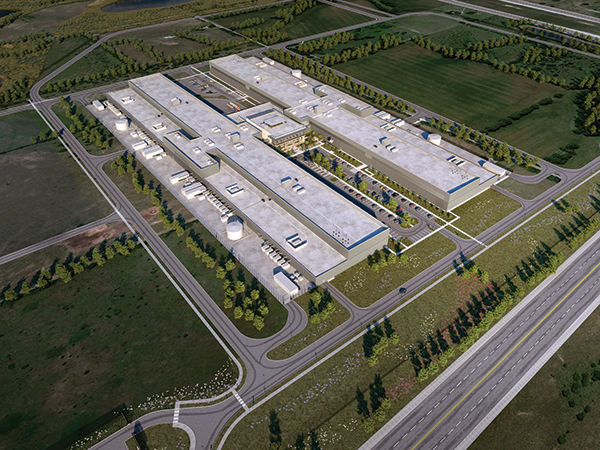 Rendering of Meta data center campus in Temple, Texas.
Courtesy of DCI & Meta
Welcome to the Metaverse, Temple
Facebook, now Meta, just made a huge friend out of the people in Temple, Texas. Billionaire Mark Zuckerberg's 18-year-old company just plopped down $800 million to build a hyperscale data center and employ 1,250 construction workers in this city 45 minutes north of Austin. About 100 high-wage jobs will be added upon completion.
The project was announced March 31 when Meta said it would build the huge complex totaling 900,000 sq. ft. on 393 acres just off Northwest H K Dodgen Loop and Industrial Boulevard.
"We are thrilled to announce Meta's decision to open a facility in Temple," said Adrian Cannady, president and CEO of the Temple Economic Development Corp. "Texas was recently named the top state in the nation for tech worker migration. When you combine that with Temple's low cost of doing business and central location between major markets, it creates an incredible competitive advantage for our region. The hyperscale data center will have a positive impact on our community not only by creating jobs, but because of Meta's commitment to invest in local schools, nonprofits and community projects."
Darcy Nothnagle, director of community and economic development at Meta, said that "Temple is the home of our newest data center, and we are excited to join the community. We've been welcomed by a strong set of local partners who are committed to the long-term success of the region. This is just the beginning of a strong partnership, and we look forward to working with you to invest in this great community."
Texas Gov. Greg Abbott welcomed Meta's investment in Temple by saying, "Meta's continued expansion in Texas is a testament to the exceptional business climate and skilled, diverse workforce we have here in the Lone Star State."
A recent photo of hundreds of brand-new Ford Broncos collecting snow in the back lot of a Michigan factory went viral when it was reported that every single one of those vehicles was awaiting semiconductor chips before delivery to dealerships around the country.
Shipment of everything from new cars and computers to appliances and airplanes has been disrupted by the global chip shortage; and expanding the capacity of semiconductor manufacturing in America has become an issue of both economic and national security.
A Bold Play on a Big Stage
That's one reason why Gov. Greg Abbott last October announced the formation of the National Semiconductor Centers Texas Task Force. Abbott said he is launching the task force with the intention of making Texas the future destination of the National Semiconductor Technology Center (NSTC) and the National Advanced Packaging Manufacturing Program (NAPMP). The governor said the task force will convene semiconductor sector leaders from the private sector with higher education institutions and other community partners.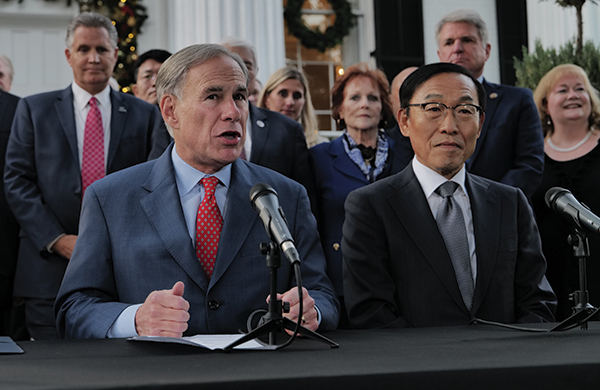 Texas Gov. Greg Abbott & Samsung executives announce the new Samsung semiconductor manufacturing plant in Taylor, Texas.
Courtesy of Texas Governor's Office & Samsung
"Texas is the ideal location for both the NSTC and NAPMP due to our industry leadership and continued innovation in the semiconductor sector, which is poised to remain strong well into the future," Abbott said. "This initiative is critical for reinforcing the domestic semiconductor supply chain and is essential to our national security. In 2021, Texas was ranked No. 1 in the country for its leadership in semiconductors, and we continue to see significant capital investment in areas across the state. In addition, the Lone Star State has prioritized developing our large and highly skilled workforce in this sector, ranking No. 2 nationally for employment in semiconductor and machinery manufacturing, employing over 29,000 Texans."
Texas is also the leading state for exporting semiconductors and other electronic components. Texas had led the nation in this category in each of the past 10 years. Since 2015, Texas has experienced a 35% increase in the number of semiconductor manufacturing establishments across the state. Today, the state has more than 200 of them.
A Cyberstate that Flexes
According to the CompTIA annual Cyberstates report, Texas ranks second only to California with 1.06 million technology workers. Last year, Texas posted the largest numerical increase in tech employment, adding 11,862 such jobs. California was second with an increase of 8,680. Texas is also projected to be one of the fastest-growing states for tech employment over the next eight years. CompTIA estimates that tech employment in Texas will grow by 17% from 2020 to 2030, ranking No. 6 in growth rate in the U.S.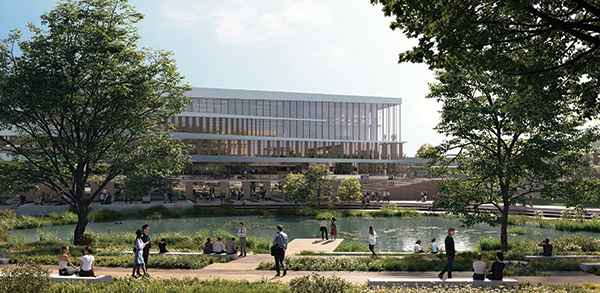 Within AllianceTexas lies Circle T Ranch.
On March 11, Hillwood announced The Campuses at Circle T, a complex of 6 corporate campuses. The campuses are united by 230 acres of parkland and 10 miles of trails. The Westlake development near Fort Worth is intended to be an anchor for more large corporate tenants, who would join firms like Fidelity, Deloitte and Charles Schwab in the Ross Perot Jr. mixed-use community.
Rendering courtesy of Hillwood
In other key CompTIA Cyberstates rankings, Texas ranks third in innovation, second in number of tech business establishments (with 44,727), and second in employer job postings for tech openings (with 363,642).
Texas also claims two of the five fastest-growing tech employment markets in the country, as Dallas ranks third and Austin ranks fifth, according to CompTIA.
Texas ranks No. 2 nationally for employment in semiconductor & machinery manufacturing, employing over 29,000 Texans.
Source: Office of Gov. Greg Abbott
Here are some other key data points from the Cyberstates report:
Texas ranks second in economic impact from technology jobs, with an estimated $152.7 billion in estimated direct impact from the tech sector.
The largest category of tech workers in Texas are IT services and custom software services, accounting for over 281,000 jobs statewide.
The estimated median tech wage in Texas is $85,813 and is 96% higher than the median state wage.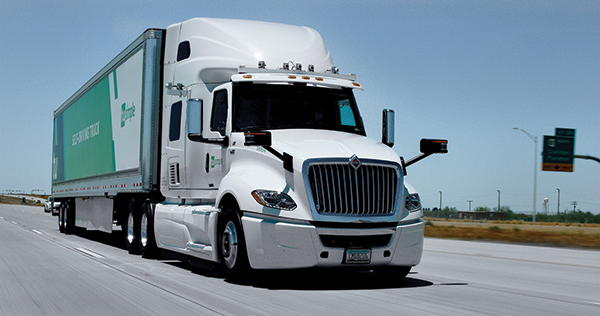 Can Fort Worth Become the Self-Driving Hub of the U.S.?
The next time you see a tractor-trailer semi-truck moving goods down the streets of Fort Worth, do a double-take just to make sure that there is a driver behind the wheel.
If there isn't, don't be alarmed. It could just be the next logical step in the future of autonomous transportation.
On April 11, Ericsson Routes announced that it had teamed up with the AllianceTexas Mobility Innovation Zone to provide secure and continuous wireless 4G and 5G connectivity for the company's operations inside the MIZ.
Ericsson describes its technology platform "like a Waze for wireless cellular connectivity, providing connectivity predictions so that users can be sure they will have a consistent and reliable connection throughout the whole journey and when planning routes for autonomous vehicles."
The AllianceTexas MIZ is a designated area that allows companies to test their self-driving technology and scale their applications. Ericsson joins companies like Wing, Bell, TuSimple and Gatik in testing new technologies in the zone.
"Partnering with Ericsson Routes and their technology leadership gives our customers world-class and cutting-edge services that will advance the mobility industry," said Russell Laughlin, executive vice president of Hillwood, the developer of AllianceTexas.