I

n a recent conversation about corporate site selection, the CEO of a healthcare company observed — without prompting — that "everyone, of course, is moving to Texas." While that's an exaggeration, it serves to underscore an unmistakable trend. With each passing year, the list of major corporations moving their headquarters to cities such as Houston, Austin and Dallas-Fort Worth seems only to accelerate.
As if to cap that notion with exclamation point, electric vehicle rebel Elon Musk is in the process of moving the headquarters of his pioneering automotive company, Tesla, from Palo Alto, California, to the 2,100-acre site near Austin where he's building a $1.1 billion Gigafactory. Musk, like fellow contrarian Joe Rogan, the popular podcast host, is also moving from California to Austin, himself.
While officially citing Texas' lower cost of housing and more agreeable commutes for employees, the Tesla chief had chafed in public about COVID-related measures imposed by California that had impeded Tesla's operations during the height of the pandemic. Taking a less restrictive and characteristically pro-business approach, Texas managed to bag one of the world's most prestigious automakers.
"Top executives," states a report by the Texas-based office management company, Hartman, "are seeing opportunity when they look at Texas and witness a more methodical, careful and science-driven approach toward re-opening." Workers in Texas, the report asserts, have returned to the office more quickly than in states like California and New York.
"This win for Texas," says site selection consultant John Boyd, principal of the Boyd Company, Inc., "comes as analysts were wondering aloud if the state would suffer a backlash after the recent wave of social legislation surrounding abortion, guns and voting. Tesla making this move indicates they don't expect major recruiting or branding issues in Austin over these concerns."
Further, says Boyd, the presence of Tesla could give the Lone Star State a leadership position in the EV revolution.
"With Tesla's Gigafactory and new HQ," Boyd observes, "and with Navistar producing electric trucks in San Antonio, Texas is making its claim as a center of gravity for the burgeoning EV sector."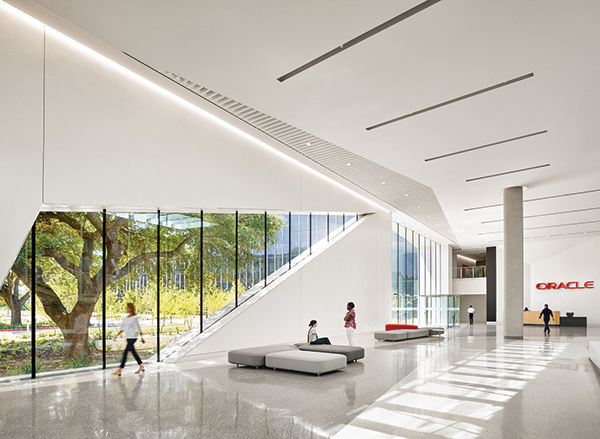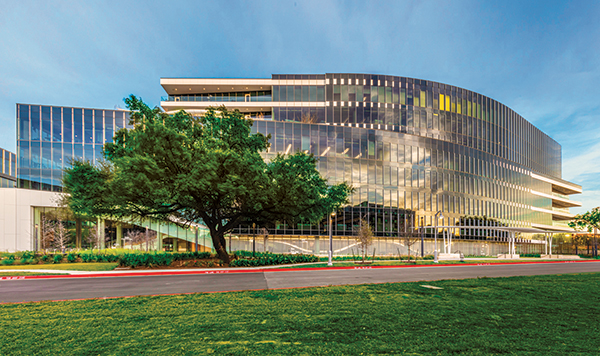 Oracle moved its headquarters from California to Texas.
Courtesy of Oracle
With its swelling workforce, no personal income tax and a corporate franchise tax that ranks among the lowest in the nation, Texas has established itself as a welcoming destination for technology giants, as well. In 2020, Oracle and Hewlett Packard moved their corporate headquarters from California to Austin and Houston, respectively. Dell, Texas Instruments and Rackspace Hosting all are headquartered in Texas, while Apple, Amazon and AT&T are among the tech titans that have enabled Texas to supplant California as the nation's top technology exporter. Tech entrepreneur Joe Lonsdale, founder of software giant Palantir Technologies, has also moved from California to Austin, along with his venture capital firm, 8VC.
"The central location, affordable cost of living, highly educated workforce and supportive business climate have helped make Texas an epicenter for business activity and technology growth," said A. William Stein, CEO of Digital Realty, announcing the company's move from San Francisco to Austin in 2021. "As we continue to make strategic investments to best position Digital Realty for long-term growth, we are confident our expansion in Texas will help us meet the needs of our more than 4,000 global customers, while continuing to deliver value for our stakeholders, employees and the communities we serve around the world."
The list goes on and on across a panoply of business sectors. JP Morgan Chase, Liberty Mutual, Toyota, Charles Schwab, State Farm, Deloitte and McKesson have either relocated to Texas or dramatically expanded operations there. They come to Texas with growth in mind. CBRE, the commercial real estate company that relocated from Los Angeles in 2020, recently announced plans to invest $29 million and create 460 jobs at its Dallas headquarters. CBRE also is creating 550 new jobs and investing $13 million at a new operations center in Richardson.
"People see the opportunity in Texas and are honestly sick and tired of being regulated and taxed to death in some of these other markets, no matter how nice it is as a place to live," says Gian Craparo, Hartman's executive vice president and national sales director. "As a result, we're seeing a lot of people choosing to move to Texas. It really creates an environment that's rich and deep with talent and really robust for long-term growth for a lot of companies.