T
he U.S. Census Bureau released data in February confirming Texas' 20th consecutive year as the top exporting state. Companies exported more than $375.3 billion worth of goods in 2021, exceeding both 2019 and 2020 totals. That's more than California's and New York's exports combined. The data also show Texas again leading the nation in tech exports ­— for the ninth year in a row. In total, exports in Texas support nearly 1 million Texas jobs.
"Made in Texas is a powerful global brand, and the Lone Star State continues to dominate the nation in exports thanks to our unrivaled and productive workforce, robust infrastructure, and welcoming business environment," said Governor Abbott in a statement. "Texas also offers unique logistic advantages with easy, dependable access to global trade and supply chain routes via air, land, and sea. When attracting businesses and jobs from across the country and around the globe, one Texas advantage tops them all: We want businesses to succeed in Texas, because when businesses succeed in Texas, all Texans succeed."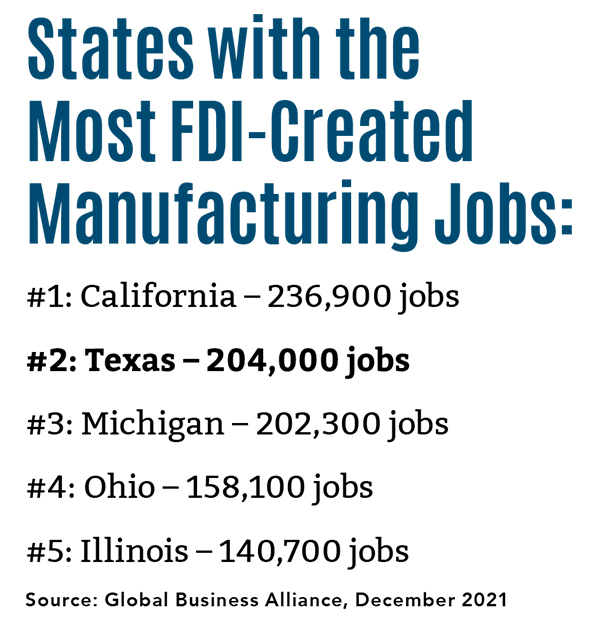 What is Texas exporting? Following are the top 10 export products and their percentage of overall exports from the Lone Star State, according to March 2021 U.S. Census Bureau data.
Crude petroleum oils: US$43.5 billion (15.6% of total Texan exports)
Miscellaneous petroleum oils: $18.3 billion (6.6%)
Light petroleum oils: $17 billion (6.1%)
Integrated circuits (processors/controllers): $10.5 billion (3.8%)
Liquified propane: $9.4 billion (3.4%)
Aircraft including engines, parts: $6.1 billion (2.2%)
Computer parts and accessories: $5.9 billion (2.1%)
Machinery for making semiconductors: $4.6 billion (1.7%)
Natural gas (liquid): $4.3 billion (1.5%)
Natural gas (gaseous state): $3.9 billion (1.4%)

Energy and high-tech component exports were the top climbers in export volumes in 2020, according to the most recent data. Liquid natural gas grew 150.5% from 2019 to 2020. Number eight machinery for making semi-conductors rose 20.6%. The third-fastest was a 15.9% gain for process and controllers of integrated circuits.
Foreign Investment Is Bigger in Texas, Too
Foreign direct investors like what they see in Texas, particularly the more than 1,800 international companies with operations in the state. Those companies employ more than 678,000 workers, nearly a third of whom are in the manufacturing sector. As a percentage of total employment in the south central U.S. states, Texas weighs in with 6.2% working for international companies, the largest percentage by far. Moreover, between 2014 and 2019, Texas' FDI employment grew 21% while overall private-sector employment grew 12%, according to the Global Business Alliance.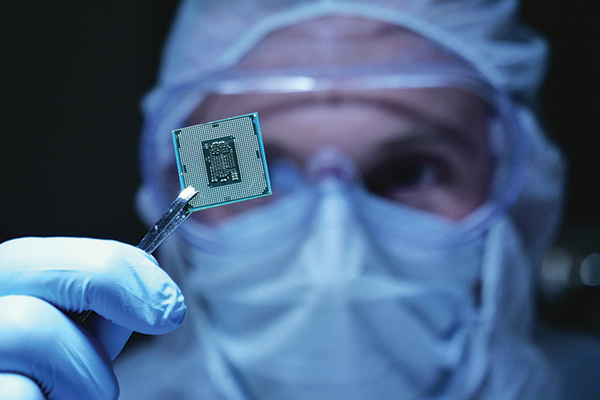 Texas led the nation in high-tech exports for the 9th consecutive year.
Getty Images
In November 2021, Texas landed its largest FDI project to date — a $17 billion Samsung semiconductor manufacturing facility now under construction in Taylor, a town of 16,000 northeast of Austin. This brings the Korean electronics giant's total Texas investment to more than $35 billion since 1996. The new facility will produce advanced logic chips that will power next-generation devices for applications such as mobile, 5G, high-performance computing (HPC), and artificial intelligence (AI), according to Samsung. The project will create over 2,000 high-tech jobs and thousands of indirect jobs. Production is slated to begin in the second half of 2024.
"As we add a new facility in Taylor, Samsung is laying the groundwork for another important chapter in our future," said Dr. Kinam Kim, vice chairman and CEO of Samsung Electronics Device Solutions Division, at the November announcement. "With greater manufacturing capacity, we will be able to better serve the needs of our customers and contribute to the stability of the global semiconductor supply chain. We are also proud to be bringing more jobs and supporting the training and talent development for local communities, as Samsung celebrates 25 years of semiconductor manufacturing in the United States."
Not all foreign direct investments in Texas are on that scale. Japan-based CKD Corporation will establish its first U.S. production site in Austin, the company announced in November. The $13 million investment will create up to 70 new jobs and is scheduled to begin operations in Fall 2021. CKD provides technology products for such industries as automotive, packaging and medical. The Austin facility will produce fluid control components for the semiconductor industry.
Of the international companies doing business in Texas, those based in the United Kingdom supply the most jobs, followed by companies headquartered in Japan and France.