A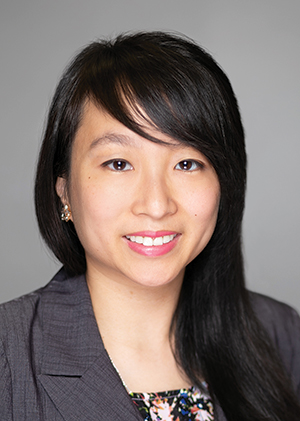 review of the Conway Projects Database that Site Selection magazine uses to track major corporate end-user facility investments found that 35% of the nation-leading 2,800 projects landing in Texas from 2019-2021 were for logistics and distribution.
That's more than 1,000 projects over that three-year time span, which due to the pandemic and other factors reflected a pronounced uptick in distribution and warehouse projects: The database tracked just 800 Texas logistics projects over the four years ending in 2018.
Zeroing in on project activity since January 2021 reveals more than 460 projects over a 14-month span — representing investments with a lot of zeroes attached.
In a March 2022 report on the impact of e-commerce on U.S. industrial real estate, Cushman & Wakefield's Carolyn Salzer, head of industrial research for the Americas, notes that Houston is one of six regional U.S. markets where e-commerce companies expanded rapidly over the past two years. The Conway numbers bear this out, with 138 projects since January 2021, though the national logistics hub of Dallas-Ft. Worth still topped that total with 187 projects.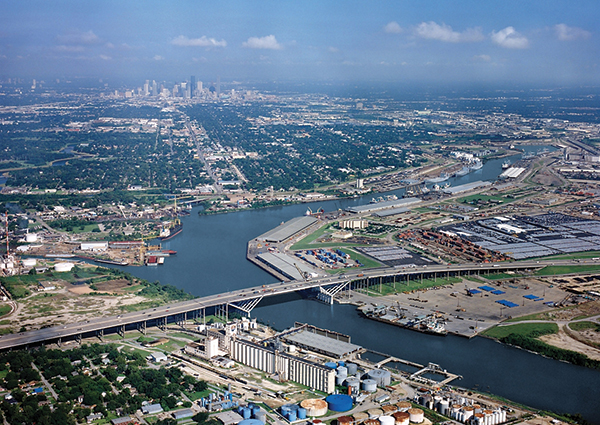 Port Houston shattered records in 2021 with total cargo tonnage of nearly 52 million tons.
Photo courtesy of Port Houston
Judged by capital investment, each of those two hot metros garnered three of the top 10 projects since January 2021, led by Walmart's $420 million, 1,000-job project in the DFW-area community of Wilmer. Directly behind that project is the $385 million, 100-job facility investment from UPS in Houston, followed by yet another DFW-area facility from Walmart in Lancaster that's creating 300 jobs and Chick-Fil-A's new $325 million, 400-job project in Hutchins, another DFW-area city.
Ching-Ting Wang, Cushman & Wakefield's research director for Texas, responded to a few questions about the logistics scene in the Lone Star State.
Our data show a very high level of logistics facility investment in Texas over the past three years. Which Texas regions have been most prepared to welcome it due to healthy spec activity, completed infrastructure projects, etc.?
Ching-Ting Wang: Major metros in Texas are well-positioned for further industrial investment and growth due to an expansive network of infrastructure, central locations relative to other parts of the nation, and a business-friendly environment. Construction activity is at current all-time highs. Dallas-Fort Worth in 2022 surpassed the market's previous record high under construction activity of 54 msf [million sq. ft.] at the end of 2021. Houston surpassed the previous record 2021 high of 18 msf while Austin surpassed the 2021's 4.9 msf under construction record as well in 2022. Across Texas, the major metros support a healthy stock of speculative developments with well more than 80% of under-construction projects being spec projects — only 74% of the nation's under-construction projects consists of speculative space.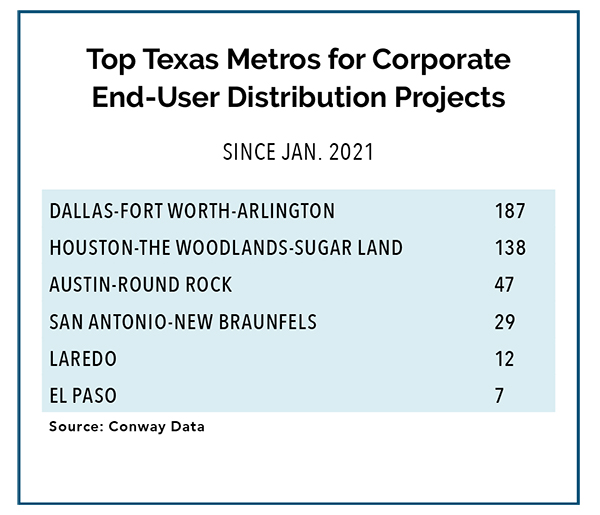 In Dallas-Fort Worth, industrial development continues to expand toward the north and south of the market due to land availability for new developments. Houston's development spans mostly further north, east, and west due to land availability as well as port activity driving the eastern side of the market. In Austin, the I-35 corridor between Austin and San Antonio (Kyle & Buda area) has become the new logistics hot spot serving both cities with Walmart, Home Depot, Lowes, Target, and Amazon all having distribution centers there.
AllianceTexas: $100 Billion and Growing
You can't talk about logistics parks in Texas without mentioning the granddaddy of them all — Hillwood's 27,000-acre Fort Worth behemoth known as AllianceTexas. Just how impactful is this one industrial complex on the economy?
Consider this: AllianceTexas released a report on Feb. 15 showing that the park has generated about $100 billion in regional economic impact since 1989. Also during that time, the report stated, the park has paid more than $3.13 billion in taxes to local governments.
In 2021, the economic impact of AllianceTexas was $8.66 billion, according to the report — and that impact is growing. AllianceTexas is home to 559 company properties, totaling more than 53 million sq. ft. of offices, retail shops and industrial space. More than 63,000 direct jobs have been generated by the park since its inception.
Also in 2021, Hillwood leased more than 6.3 million sq. ft. of space, the new report stated. The industrial side is growing too. AllianceTexas last year launched its largest industrial spec building to date, known as Alliance Center East 1, totaling in excess of 1.2 million sq. ft.
Other construction projects will bring more growth to the park. The Alliance Connector project, for example, will complete Interstate 35 West from U.S. Highway 287 to Eagle Parkway and will extend State Highway 170 from Parrish Road to I-35W.
"The success of AllianceTexas can be attributed to the collaborative relationship between public and private sectors," said Mike Berry, president of Hillwood. "AllianceTexas continues to be a sustainable economic engine for Texas."
Total investment for 2021 in the park surpassed $12.64 billion. Approximately $11.7 billion of that came from the private sector. One of those investors is ITS ConGlobal, which moved its corporate office to the park last year. The company is bringing its autonomous trucking and logistics technology to the development.
Based on your most recent analysis, describe the levels of corporate end-user logistics facility investment in the various metro areas of Texas.
Ching-Ting Wang: On average, Dallas-Fort Worth averages the largest under-construction projects at around 370,000 sq. ft., followed by Houston at 270,000 sq. ft. and Austin at 165,000 sq. ft. The largest pre-leased construction projects in Dallas-Fort Worth and Houston tend to be from home goods/furnishing and e-commerce companies. This is likely driven by the central location of Texas with Dallas-Fort Worth able to reach 93% of the nation's population within 48 hours' truck transit time. Since the pandemic, big-box retailers tend to dominate the largest leases signed in Texas, including tenants like Home Depot, Lowe's and Target.
Which Texas logistics projects or plans stand out to you as particularly innovative or forward-thinking?
Ching-Ting Wang: Any project that involves automation is worth keeping an eye on, especially those from Amazon, Home Depot, Walmart and other big-box retailers. They will be the ones at the forefront in changing the logistics landscape. Home Depot in Dallas has mechanized lines and voice direction coupled with sustainability goals in hydrogen-powered forklifts with zero emissions. Austin has Amazon's 3.8-msf multi-story state-of-the-art robotics fulfillment center that opened last year.
Hydrogen adoption and green technology incorporation in projects are another trend to keep track of from a sustainability standpoint. On the innovation side, keep a lookout for Tesla's vendors in Austin to support the new auto production facility. Walmart's automated grocery fulfillment center in Lancaster is one to keep tabs on when it delivers to see the incorporation of how automation and high tech further changes the supply chain landscape from what we know today.  
What are the key logistics infrastructure assets in Texas?
Ching-Ting Wang: Texas is a well-connected state and has many key logistics infrastructure assets. The state has the largest Interstate system in the U.S., the largest share of rail lines, five of the top 20 ports by total tonnage in the nation, two of the largest and busiest airports in the nation. The Houston port set a new record in container volume in January 2022 following last year's record highs. The various connectivity channels coupled with a central location continue to make the state and its metros strong contenders for corporations looking to expand logistics operations.
Which forthcoming infrastructure investments in Texas are going to do the most to open up logistics investment even further?
Ching-Ting Wang: Continued investment to maintain Texas' highways will keep logistics investment strong in the state. This will allow for increased capacity in trucking volume and support residents on their commute lines to and from work. Having strong road connectivity will allow the Texas metros to maintain their momentum expanding outwards and continue to provide developers large tracts of land for industrial parks. Additionally, the road connectivity will continue to support the industrial builds with the labor it needs so commuters can get to work and home easily.