W
hen Samsung announced its massive new $17 billion semiconductor facility would be constructed in the Central Texas city of Taylor last November, it cemented what many in the Austin-Round Rock metro area already knew. Central Texas checks all the right boxes for tech companies.
The roster of Fortune 500 and 1000 tech giants in the area includes Google, Apple, Tesla, Facebook, Oracle, IBM, HP, Expedia and Amazon. Even the U.S. Army understands the benefits of the region's high-tech trajectory, having selected Austin for its Army Futures Command, as it fulfills its mission to fully modernize the U.S. Army by 2035.  
If you were to zoom in on the action in Central Texas, you'd see Williamson County and Round Rock at the center of it all. The city has long been an anchor for technology headquarters with Dell Technologies and Emerson Automation Solutions, among others. The city of 124,000 is located just 15 miles north of downtown Austin and offers one of the most affordable communities in the metro area, consistently ranking among the best cities to live in across the state and the nation. Proximity to Austin supplies the city with a strong talent pool from the more than 52,000 students enrolled at the University of Texas at Austin and other two- and four-year educational institutions, including Texas A&M Health Science Center, Texas State University Round Rock and Austin Community College.
"Round Rock is an integral part of the growing technology innovation hub in Williamson County, located directly north of Austin in Central Texas," explains John Howard, director of government affairs for Dell Technologies, who also serves as the Round Rock Chamber board chairman. "Dell Technologies has been headquartered in Round Rock for nearly three decades, and we're seeing that ecosystem grow, with Apple, Emerson, Samsung and others choosing to locate and expand here."
Indeed, several high-tech companies invested in Round Rock in 2021 and the momentum is only just beginning to build for the city.
Round Rock Mayor Craig Morgan says there are several reasons behind that momentum, not the least of which are Round Rock's ideal location, skilled workforce, affordability and high quality of life. Ultimately, he says, companies' decisions to invest in the city come down to two things.
"Number one, Round Rock and Williamson County offer a genuine, supportive community when it comes to working with businesses," Morgan said. "Number two, we always solve for 'yes.' You can forget about red tape, bureaucracy, delays and high costs when it comes to doing business in Round Rock.We collaborate to find solutions to make business happen. We understand the importance of speed-to-market, and we want to get companies up and running as fast as possible."
By all indications, the city's strategy is working.
In early 2021, Ametrine, Inc. relocated its U.S. headquarters and manufacturing operations to Round Rock, where it manufactures advanced multispectral camouflage systems and patented nano-technology materials for the U.S. Department of Defense and other customers.
"We started the search for our new U.S. headquarters almost a year ago. We compared 13 cities in five states using 12 evaluation criteria and came to the conclusion that Round Rock would be the best fit for the future of our business," said Brandon Cates, Ametrine CEO. "Round Rock has been very forward-thinking when it comes to supporting the defense industry, and we anticipate future collaboration with the city, the chamber and the other innovative companies that Round Rock attracts."
Last summer, Las Vegas-based Switch, Inc. announced it would open its fifth Prime data center on Dell Technologies' campus in Round Rock, a 1.5-million-sq.-ft. facility called "The Rock."
"This is another transformative milestone in the growth of our company to further expand our geographic diversity to the central region of the U.S.," said Switch Founder and CEO Rob Roy. "To be strategically located alongside the Dell Technologies global headquarters is an opportunity to continue broadening our offerings of the world's most advanced data center infrastructure to current and future Switch clients."
In the 'Path of Progress'
Across the street from the Dell Technologies campus, a new 65.5-acre mixed-use development called The District is soon to be under construction. The project, which is expected to open phase 1 in 2023, will include multifamily housing, hotels, offices, retail stores, restaurants and a grocery store. Additionally, The District will offer more than 3 million sq. ft. of office space for high-tech companies. The development will be constructed with a focus on walkability by Mark IV Capital.
"For companies looking to do business with Dell or even just looking to be close to the giant magnet that Dell is, you honestly can't get any closer," said Justin Basie, senior vice president at Mark IV Capital.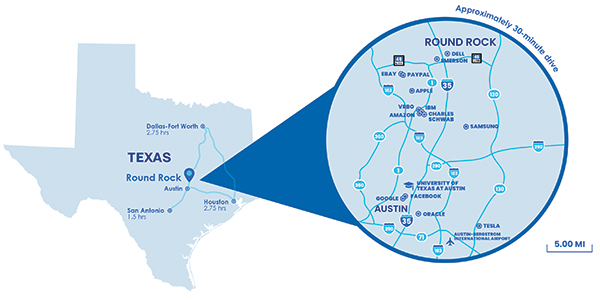 Basie explains that as a long-term investor, his company's mode is to find locations within the "path of progress." He said that when running the numbers, all signs point directly to Round Rock.
"For site selectors, when you're looking around, where else can you find a city that is pro-business and pro smart growth?" he says. "If you're looking for somewhere that checks all the boxes with safe, good schools, variety in housing prices, low commute time, and access to four of the fastest-growing cities in the entire United States, there's only one city that pops up, and that's Round Rock."
---
This Investment Profile was prepared under the auspices of the Round Rock Chamber. For more information, call 512-255-5805 or email Interim President and CEO and VP of Economic Development Jordan Robinson at jrobinson@roundrockchamber.org.