W
hen your state claims the prestigious Site Selection Governor's Cup award for a record-setting 10th year in a row, you might be tempted to take it easy, celebrate the triumph, and bask in the glow of victory.
Well, there's very little basking going on in Texas. Right after claiming the mantle as the No. 1 state in America for corporate facility expansion projects, the economic development leadership team in Texas went right back to work aiming to get trophy No. 11.
Leading that charge is Adriana Cruz, executive director of Economic Development & Tourism for the Office of Governor Greg Abbott in Austin. In a recent conversation with Cruz, we learned a lot more about what it takes to consistently produce a winning performance.
Congratulations on Texas winning the Site Selection Governor's Cup award yet again. For the past decade, Texas has established itself as the go-to destination for Corporate America. What is your office doing, specifically, to make this happen?
CRUZ: We don't rest on our laurels, and we are not becoming complacent. We are always promoting Texas as a diverse location. We want to grow our economy. Under the leadership of Gov. Greg Abbott, we make sure that the state is operating at the speed of business and providing the best of customer service. Texas does economic development like no other state in the country because of our size and because we are so diverse. We see it as a team sport. We work closely with our partners and the other state agencies.
From the looks of things, Texas is rapidly becoming the new automotive center of the country. From Tesla and DeLorean to Toyota and GM, the Lone Star State is raking in huge investments in this sector. What's driving this wave of investment?
CRUZ: Companies recognize that Made in Texas is a powerful global brand. We are unleashing the power of entrepreneurs and innovators with our regulatory climate. Texas is undoubtedly going to be the home of the auto industry in the future. We work hard to maintain our competitive advantages. We have positioned ourselves as an advanced manufacturing and technology hub. We are becoming a leader in electric vehicle production and R&D. Autonomous driving technology is also getting big in Texas. We are making the chips that go into the cars; and we are a center of fuel technology as well. The companies that test these products and manufacture them are located in Texas.
You're also dominating the space race. What has enabled Texas to widen its lead as the dominant player in the space flight field?
CRUZ: Texas has a long history in human space flight. We are at the center of a booming space industry. We are the home of the Johnson Space Center. We are home to many industry firsts. Texas is where the Army's first military aircraft was tested. The first rocket was built here. The first moon launch took place here. Blue Origin and SpaceX and Firefly are all here. A fund to support space development companies and spaceports is here. We have everything that space companies need to grow and prosper. We have the Office of Aerospace and Aviation in the Governor's Office. They advise the Governor and Legislature on what we need to do to grow and attract this industry. And we have a network of higher-ed institutions that led to Texas becoming an important state globally.
---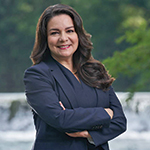 "Texas is undoubtedly going to be the home of the auto industry in the future. We work hard to maintain our competitive advantages."
— Adriana Cruz, Executive Director, Economic Development & Tourism, Office of Governor Greg Abbott
---
You've taken a lot of steps to modernize the Texas grid. What can you tell company executives around the country about the steps Texas has taken to harden its grid and prevent future outages?
CRUZ: Adjusting the electric grid after Winter Storm Uri became one of the governor's top priorities in the legislative session. Bipartisan reforms were adopted. Our electric grid today is more reliable now than ever. ERCOT (Electric Reliability Council of Texas) and the Railroad Commission have made significant concrete advances. This has included the weatherization of power generators for both hot and cold temperatures. We took steps to ensure the power grid operates in any type of conditions. We have made changes to the electric market design, ensuring there is significant generation online. ERCOT is taking a more active role in managing the grid, requiring that utility CEOs certify that the weatherization steps have taken place.
Some site consultants have wondered about the impact of Chapter 313 incentives going away. What is happening with this program, and what advice can you share with consultants and company leaders?
CRUZ: Chapter 313 is a local incentive that is approved by the school district and administered through the Texas Comptroller's Office. It allows property valuation limitation. It has been an important tool in our economic development toolbox. The Texas Legislature expressed concerns about the program as it works today. The program is set to expire Dec. 31, 2022. While we are disappointed to lose one of our tools, we look at this as an opportunity to design a new tool. We believe the Legislature will consider a new program. Chapter 313 will not exist after this year because it was not renewed. The loss of that tool does not mean that another tool will not take its place. From a company standpoint, anytime there is uncertainty, there is concern. There is a wait-and-see attitude. Projects that can get in this year are coming in and applying. There is now discussion within the Legislature about what another program could look like after 313 goes away.
Name a hidden gem of a location in Texas that is not a household name but deserves more interest from site consultants.
CRUZ: There are hidden gems all over the state. We are home to 254 counties and 1,000 cities. We are seeing a lot of interest from consultants in our tier two and tier three cities. Big Bend, the Border Regions, South Texas, etc., are all getting looks. Sinton outside of Corpus Christi is getting a big project in the steel industry. Communities like Waco and Temple and San Marcos are growing. So too are Laredo and Brownsville on the border. There are so many cities in West Texas. And then there are the Panhandle communities — communities around Amarillo and Lubbock, etc. Nacogdoches and others are growing as well.
If I had a week to spend in Texas, tell me five places I should visit before I leave your state.
CRUZ: The geography is so diverse; you are going to need more than a week. There are 79,000 miles of roads are across the state. Some places you should definitely visit are Big Bend National Park, The Alamo, The Mission Trail and the San Antonio Riverwalk. Texas has 350 miles of Gulf Coast down to South Padre Island. We have a lot of lakes and rivers. The Texas Hill Country has crystal-clear streams and rivers, with natural spring-fed swimming holes. The Hill Country has a lot of wineries and craft breweries. East Texas has the Piney Woods and Big Thicket Natural Preserve. And the big cities are all known for their arts and cultural events.
Everyone knows about your accolades, but very few people know how much work it takes behind the scenes to make all these No. 1 rankings keep churning in. Can you give us some sense about how hard your team works year-round to deliver these results and then provide service to the projects you win?
CRUZ: It's a lot of work. It takes a lot of time. Sometimes people on the outside think that these opportunities fall from the sky into your lap, and they don't. It takes the whole team. It takes the state leadership and the team here in the office that are working over the weekend and checking emails overnight to make sure they did not miss an important email from a consultant or client applying for incentives. We don't win them all. But just as important as winning is the aftercare and making sure they are connected with the Workforce Commission and local Workforce Board for training their staff. We have staff that focuses on the afterwards to make sure the company continues to be successful. The Governor says that Texas is successful only as long as our companies are successful. We facilitate about 140 projects a year, and our pipeline today has 286 prospects. We also rely heavily on our local teams around the state — the people in the cities, counties and regions. Economic development is facilitated by the state in partnership with our local communities.
How much does it mean to have a governor who is actively engaged in economic development?
CRUZ: It is huge. He is genuinely engaged. He does an excellent job. He is always ready to talk to CEOs. We had a site visit yesterday, and he met with the CEO and the senior executives. He will hold a phone call and host a meeting with company leaders anytime.