W
hen Gov. Greg Abbott recently released his "2022 Report to the People of Texas," one of the things he expressed great pride in was a surging economy. Already ranked the ninth largest in the world, Texas broke multiple records for economic performance in 2021.
"I am proud to say that Texas has smashed previous employment highs, and at the end of 2021, we stood at a record 13,059,600 jobs — the most ever and growing," the governor said in his report. "In the coming year, we will continue to build on this success and ensure an even brighter Texas of tomorrow."
One of the ways the governor helps deliver that brighter tomorrow is by constantly pitching the state to CEOs and other business leaders around the country and the world. His track record in that regard is unmatched. Since 2015, Texas has attracted the corporate headquarters of more than 230 companies.
"Our regulatory environment makes it easier for companies to get up and running and make revenue. That means they can move at two or three times the speed here."
— Texas Gov. Greg Abbott
In March of this year, Site Selection magazine awarded Abbott the Governor's Cup for recording the most corporate facility expansion projects in the nation — for a record 10 years in a row.
We recently caught up with the governor to ask him how he accomplished that.
You talk to corporate executives around the country all the time. Many of them would like to relocate their companies to Texas because they are not happy where they are. What typically are their two or three biggest frustrations with their current location?
GOV. ABBOTT: There are three or four issues that regularly come up. One is the issue of taxation and the fact that taxes are much higher in other states. We have no income tax and we constitutionally banned income taxes. We don't have corporate income taxes. Our regulatory environment makes it easier for companies to get up and running and make revenue. That means they can move at two or three times the speed here. Another is workforce. Texas consistently gets high marks for workforce. Also, Texas is a state that really wants to partner with businesses. In Texas, we partner with them and help them succeed.
What is it about Texas that people don't learn until they've been there for a year or two?
GOV. ABBOTT: They say things like, 'We always knew Texas was great, but we didn't know it was this great.' They see the friendliness of our people. Also, related to that, they see the work ethic of the people here. When the time clock hits 5, the workforce is out of there in other places. That is not the case here. People stay until they get the work done. Our workers have a commitment and loyalty to the employer too. And there is great state pride here.
Over the last year, you've had to deal with a global pandemic, unprecedented recession, social upheaval and a massive winter storm. What's the biggest lesson you've learned about Texas and your job during that year?
GOV. ABBOTT: We are extraordinarily resilient. During COVID-19, we found out that we as a country had done too much in outsourcing our supply chains. We had outsourced to China and other countries our PPE and other critical supplies. Beyond COVID-19 is the outsourcing of supply chains. We are seeing a reshoring of supply chains in our state and country to make our country more safe and secure.
Reshoring has become a hot topic over the past year. Which industries do you think are poised now to come back to America and to Texas in particular?
GOV. ABBOTT: One of the most important is semiconductors. You are aware of Samsung's $17 billion facility just outside of Austin, and Texas Instruments announced a $30 billion semiconductor facility here too. They are important to virtually every aspect of our lives. Many of the firms expanding here are medical supply companies. Texas has the largest medical center in the world. We facilitated the relocation of the headquarters of McKesson from California to Irving, Texas. There is a long list of businesses moving to Texas.
---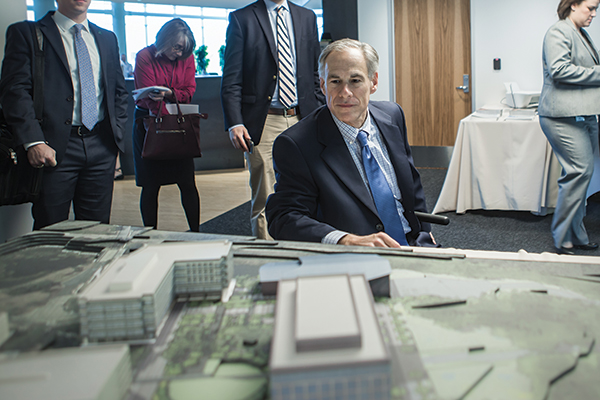 At the end of 2021, Texas had a record 13,059,600 jobs.
Source: 2022 Report to the People of Texas
---
How is the Buc-ee's success story emblematic of how entrepreneurial firms can thrive in Texas?
GOV. ABBOTT: Buc-ee's was just an initial startup of a service station along highways as a place to get gas and food about 40 years ago. They turned out to be extraordinarily successful. They are Texas-sized ultra-large. They have the cleanest restrooms and great customer service. They are a blend of all things that make entrepreneurs successful.