T
o comprehend the enormous reach of Texas colleges and universities, it helps to consider that the combined enrollment of some 1.57 million higher ed students in Texas exceeds the entire populations of 11 U.S. states. This legion of higher learning spans six state university systems, six technical college systems, esteemed private universities and dozens of community college districts that cover the length and breadth of the Lone Star State.
And in Texas, higher education is not just a matter of quantity. In December 2021, the private Baylor University in Waco and the University of Texas at San Antonio earned the coveted Research 1 (R1) designation from the Carnegie Classification of Institution of Higher Education, bringing to 11 the number of Tier 1 Texas research institutes, tied with California as tops in the nation.
Texas also leads the way in Tier 2 universities with the recent additions of Prairie View A&M, Sam Houston State University, Tarleton State University and the University of Texas at Tyler, bringing the state's total to 10. Since 2010, Texas has added more Tier 1 and Tier 2 universities — nine — than any other state in the country.
Such accolades merely hint at the dynamism that propels a statewide commitment to support the aspirations of Texans and the evolving needs of Texas companies. In the interest of providing a current snapshot, here are some key facts about the six Texas public university systems, including a look at what's new in 2022.
University of Texas System: With 13 locations — including five health institutions — and an enrollment of more than 243,000 students, the UT system is one of the nation's most prolific public systems of higher education. UT institutions produce more than 67,000 degrees yearly, including more than one-third of the state's bachelor's degrees and more than half of its medical degrees. Almost half of all undergraduate degrees are awarded to students who qualify for federal financial aid.
UT is No. 1 in Texas and No. 2 in the nation in federal research expenditures, which total more than $3 billion annually, and the school is consistently ranked among the world's Top 10 most innovative universities, collectively ranking number four for most U.S. patents granted in 2020. The UT system awards more than 15,000 health-related degrees annually, and UT-owned and affiliated hospitals and clinics accounted for more than 8.6 million outpatient visits and 1.8 million hospital stays in 2020.
---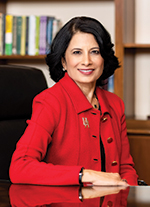 "Houston is poised, like no other city, to lead the energy transition and the Energy Transition Institute will be essential in pursuit of that goal."
— Renu Khator, President, University of Houston
---
In 2021, U.S. News & World Report ranked several UT system online programs as among the best in the country, highlighted by programs at UT Arlington, UT Dallas, UT Medical Branch and UT Tyler. The system has an operating budget of more than $23 billion.
New for '22: In February, the system's Board of Regents announced the creation of a $300 million endowment to help undergrads pay for college at UT Arlington, UT Dallas, UT El Paso, UT Permian Basin, UT Rio Grande Valley, UT San Antonio and UT Tyler. The "Promise Plus" program is to enable those institutions to raise the income threshold for students eligible to receive financial aid toward covering the full cost of tuition. Each institution is to receive a minimum of $1 million a year, based on the needs of its student body. With the endowment expected to grow over time, annual allocations are expected to increase accordingly.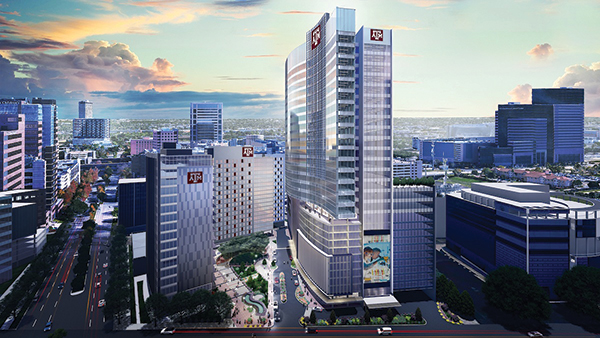 Texas A&M is building a half- billion-dollar complex at the Texas Medical Center in Houston.
Courtesy of Texas A&M University System
University of Houston System: The University of Houston System serves more than 70,000 students at the University of Houston, University of Houston-Clear Lake, University of Houston-Downtown and University of Houston-Victoria. With an enrollment north of 45,000 the flagship University of Houston is the third-largest university in Texas, offering 270 undergraduate and graduate academic programs, both in-person and online.
With no single majority ethnic group, UH includes students from more than 130 countries. The student body ranks second for diversity among research universities, and the school boasts a Top 50 ranking for social mobility from U.S. News & World Report. UH awards more than 10,000 degrees annually, and innovative graduates have helped to earn the school a No. 1 ranking for developing entrepreneurs by the Princeton Review.
In addition to its four universities, the UH system offers access to bachelor's and master's degrees at five off-campus teaching centers located in high-growth parts of the Houston metro area.
New for '22: In February, the University of Houston announced a $10 million gift from Shell USA and Shell Global Solutions to establish an Energy Transition Institute. Total funding for the institute, the university says, is likely to exceed $52 million, dedicated to research into carbon management, circular plastics and hydrogen.
"Houston is poised, like no other city, to lead the energy transition and the Energy Transition Institute will be essential in pursuit of that goal," said UH President Renu Khator.
Texas Tech University System: In the fall semester of 2021, the Texas Tech University System welcomed a fifth member into its ranks. Under legislation signed by Gov. Greg Abbott, Midwestern State University in Wichita Falls joined the system on Sept. 21. The liberal arts school with an enrollment of just under 6,000 joins Texas Tech University, Texas Tech University Health Sciences Center, Angelo State University and Texas Tech University Health Sciences Center in El Paso. Established in 1996, the system eclipsed 60,000 students in 2021, with four of its five schools recording record enrollment.
Texas Tech University, anchored in Lubbock, is the system's flagship institution. TTU's record enrollment of 40,666 for the 2021-2022 academic year includes 64 students who comprise the inaugural class of the university's new School of Veterinary Medicine.
The system's Texas Tech & Academic Partnerships offers more than 80 online degrees, certifications and certification preparation programs and offers on-site instruction via regional teaching sites in Austin College, Collin, El Paso, Fredericksburg, Highland Lakes, Hill College, Junction, Rockwall and Waco.
New for '22: Texas Tech has broken ground on a $100 million Academic Sciences Building to be completed in Dec. 2023. The three-story, Spanish Renaissance design is to house laboratory and teaching space for the departments of Geosciences, Chemistry & Biochemistry, Biological Sciences, Physics & Astronomy and Psychological Sciences.
Texas A&M University System: With a budget of $9.6 billion, the Texas A&M University System educates more than 153,000 students annually. The statewide network includes 11 universities, a comprehensive health science center, eight state agencies and the 2,000-acre RELLIS Campus in Bryan. Texas A&M's main campus in College Station was founded in 1876 as the state's first public higher education institution and has a current enrollment of some 74,000 students, fourth-largest in the nation.
The university system boasts nationally ranked programs for business engineering, healthcare, petroleum engineering, biology and agricultural engineering, nuclear engineering and veterinary science. In College Factual's Best Colleges Rankings for 2022, Texas A&M ranked No. 1 in the nation for Ocean Engineering and was identified as the No. 1 Best School for General Sales & Marketing. The ranking slotted A&M at No. 2 for Best Industrial Technology Production Schools and Best Electronics Engineering Technology Schools, and No. 4 for Health Sciences and Services Schools.
The Texas A&M System is building a half-billion-dollar complex at the Texas Medical Center in Houston for its Engineering Medicine (EnMed) program. The massive project also includes a 19-story student housing complex and a 30-story medical office building.
New for '22: Texas A&M recently was designated as eligible to be a Hispanic Serving Institution by the U.S. Department of Education, which requires that 25% of an institution's undergraduate enrollment must be Hispanic identifying. The designation, said interim provost Timothy Scott, "is indicative of how seriously we take our land-grant mission to serve all the citizens of this great state." It will provide the school access to additional funding to improve enrollment and graduation among Hispanic students.
Texas State University System: Founded in 1911, Texas State University System was the first higher education system in Texas. Today, it has evolved into a network of seven institutions and 13 campuses stretching from the Texas Louisiana border to the Big Bend region in West Texas. Member institutions include the flagship Texas State University, with campuses in San Marcos and Round Rock, as well as Lamar University, Sam Houston State University, Sul Ross State University, Lamar Institute of Technology and Lamar State College campuses in Orange and Port Arthur. With some 90,000 students, it is the state's third largest university system and maintains the lowest average tuition and fees of any other in Texas.
More than 200 bachelor's, master's and doctoral degrees are offered at the flagship campuses, which serve some 38,000 undergraduate and graduate students. Propelled by a commitment to research science, Texas State excels in applied research in translational health, environmental stewardship, lifelong learning and resilient societies.
Former President Lyndon Johnson, a Texan, received a Bachelor of Science and a permanent high school teaching certificate from Texas State in 1930. During his three years on the San Marcos campus, Johnson served as editor of the college newspaper, president of the Press Club and secretary of the Schoolmasters' Club. He was also a member of the varsity debate team.
New for '22: In February, the Texas State University System received more than $60 million in legislative funding for capital projects across the two service regions of Sul Ross University. The funding includes $33.1 million for new construction in the Rio Grande College service area and $26.4 million toward renovations of the Fine Arts complex in Alpine.
"This funding for Sul Ross represents an historic investment in South and West Texas and will go very far to help give our students the tools needed to prepare them for meaningful careers in Texas' robust workforce," said Texas House Speaker Dade Phelan. "I commend the Texas State University System for continuing to make Sul Ross a priority."
University of North Texas System: The flagship University of North Texas in Denton is a Tier 1 research university with more than 40,000 students. UNT offers 110 bachelor's, 94 master's and 37 doctoral degree programs. UNC recently entered into a partnership with Grow with Google to allow students to enroll from anywhere in the Google IT support certificate course.
Spread across Dallas-Fort Worth, the North Texas system also includes New College at Frisco, UNT Dallas, UNT Dallas College of Law and UNT Health Science Center, considered one of the nation's top graduate academic medical centers and a leader in DNA and Alzheimer's research.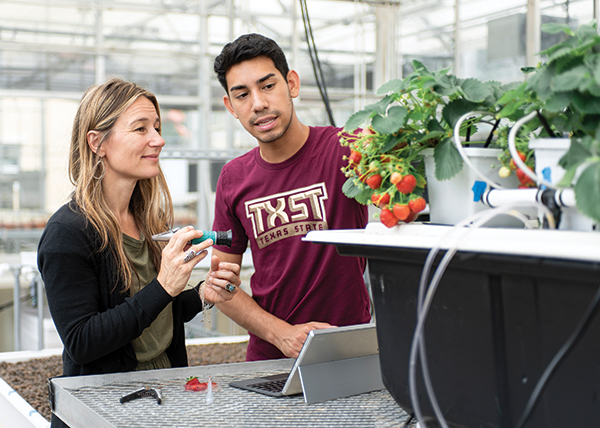 Texas State University offers more than 200 bachelor's, master's and doctoral degrees.
Courtesy of Texas State University System
New for '22: In February, UNT at Dallas College of Law received full approval from the American Bar Association. The college had operated under provisional accreditation since 2017, having admitted its first class in 2014.
"This will allow us," said Dean Felicia Epps in a statement, "to continue our mission of providing a high quality, affordable legal education to our students."