E
ver wonder why so many employers choose Texas? From Tesla and DeLorean to Samsung and Texas Instruments, the most innovative companies of our time are pumping billions of dollars in investment capital into the Lone Star State.
The answer is simple, says noted economist, speaker and writer Ray Perryman. It boils down to dollars and cents.
If you want to know how the Texas economy works, it's best to engage the most knowledgeable expert on that topic, which is Perryman. The president and CEO of The Perryman Group, based in Waco, Perryman has no equal when it comes to analyzing the Texas economy. But don't take my word for it. Here's what others say: Texas Monthly calls him "the most quoted man in Texas." The New York Times calls him "the unofficial state economist."
---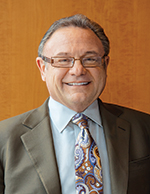 "I am projecting that the state will add 1.4 million net new jobs by 2026, representing a 2.09% annual rate of growth over the period. Considering that Texas is starting from a position of relative strength compared to many areas of the U.S., this rate of expansion is notable."
— Ray Perryman, President & CEO, The Perryman Group
---
Holder of a bachelor's degree in mathematics from Baylor University and a Ph.D. in economics from Rice, Perryman has advised more than 2,500 clients, including two-thirds of the Global 25 and more than half of the Fortune 100. In other words, when Ray Perryman talks, people listen.
We caught up with Perryman recently to interview him on the current state of the Texas economy. Here's what he had to say:
What is your projection for Texas' economic performance for 2022 and for the next five years?
PERRYMAN: Although Texas was not spared by the COVID-19 pandemic — particularly the energy sector, the ports, and hospitality segments — the economy continues to recover. Total employment is now above pre-pandemic levels and improving. While effects will linger in coming months and there are challenges to be dealt with, the outlook for the state is favorable. I am projecting that the state will add 1.4 million net new jobs by 2026, representing a 2.09% annual rate of growth over the period. Considering that Texas is starting from a position of relative strength compared to many areas of the U.S., this rate of expansion is notable.
Has the state recovered from the pandemic-induced recession?
PERRYMAN: Total employment in Texas is above pre-pandemic levels. Like everywhere, the state still feels some effects such as supply chain issues, but Texas is on a solidly upward trajectory.
What was the long-term fallout of the power outages?
PERRYMAN: The long-term fallout over the February 2021 power outages is a greater awareness of the state's vulnerability to supply inadequacies. Texas leads the nation in renewable development and has more wind power in place than most countries. But having a baseload electric generation capacity that is weatherproof is essential. Steps have been taken to solve underlying problems, and over time the result should be a stronger grid. One structural issue that needs to be addressed is to provide proper incentives for capacity investment.
Firms continue to leave the West Coast and relocate to Texas, particularly corporate headquarters operations. What is driving this?
PERRYMAN: Relocations to Texas are driven by not only the strengths of the business climate here, but also major problems in other areas. Extremely high taxes, difficult regulatory environments, and other issues drive up costs in states such as California; and companies simply cannot justify the additional expense. Texas offers advantages such as effective economic development programs, reasonable taxes, a large and growing workforce, and less expensive land. For employees, there is no income tax, and housing is cheaper (though that advantage is being eroded). Texas has some long-term challenges in terms of education and workforce, but it has a young population that offers a decided advantage going forward.
If Texas does not renew its Chapter 313 incentives program, what effect will this have on economic development in the state?
PERRYMAN: Renewing Chapter 313 incentives or something similar is clearly important to future growth. In a state which is reliant on property taxes, the inability to grant abatements will reduce competitiveness for capital-intensive projects. I think this will be on the agenda for the next legislative session and that we should see Chapter 313 or something like it reinstated.
Which second- and third-tier cities in Texas are booming right now?
PERRYMAN: Many of the mid-sized cities in and around the major metro areas are seeing significant growth. Plano and Frisco north of Dallas, Round Rock and Georgetown north of Austin, New Braunfels north of San Antonio, The Woodlands and Sugar Land near Houston, and more formerly small cities are experiencing a lot of growth. One city which frequently has the lowest unemployment in Texas is Amarillo in the panhandle region. A variety of factors enhance the prospects of these areas, from additional toll roads to the ability to work remotely.
What are the biggest headwinds facing Texas now?
PERRYMAN: Texas is not immune to national problems such as inflation and the Russian invasion of Ukraine, which has increased uncertainty. Another issue is the future of the oil and gas industry and the federal regulatory environment, which has been distinctly unfriendly to continued development despite the clear need for U.S. oil and gas to enhance geopolitical security and meet future needs even as we tackle climate challenges. It is also crucial that the state invest in education to assure that the abundant young population is transformed into a competitive workforce. The other potential drawback is the recent spate of social legislation which can affect the ability to attract knowledge workers. Texas has many advantages and should continue to be a leader in economic development but has some opportunities to strengthen its position.