A
s one of the fastest growing cities — not only in Texas, but in the entire nation — Round Rock remains steadfast in leveraging its assets to enrich industry growth in the region.
Nestled in the heart of Central Texas, the city spans Williamson County and holds the title of second largest city in the Austin-Round Rock metropolitan area. From 2010 to 2020, the U.S. Census shows that the city's population grew by 47%, and 2040 projections see an estimated 75,000 to join the over 123,800 current residents.
Coincidence? Not likely. 
Round Rock's growth can be attributed to diligent focus and intentional investment into its leading industries: aerospace & defense, health & life sciences, innovative manufacturing and technology & innovation.
Today, one industry has found the region to be equipped with the essential resources to accrue a regional hub of top talent, innovation-minded companies, leading institutions and leadership looking to expand its resources. Just 15 miles north of downtown Austin, Texas (which currently supports one of the top three life sciences markets in the nation), Round Rock is positioned to become a key player in the life sciences industry. 
The Greater Austin region is home to more than 280 life science companies, more than 16,500 life science and 76,000 healthcare employees and produces over 3,800 healthcare graduates each year. With a strategic vision in mind, the City of Round Rock and the Round Rock Chamber of Commerce are taking steps to welcome, support and collaborate with the global life sciences community.
Established Roots for Growth
"There is an incredible culture of innovation in the Central Texas region that's driven by the people and academic institutions that are here," says Zeteo Biomedical Founder and CEO Timothy Sullivan. "And quite frankly, the culture is supportive and appeals to people that oftentimes march to the beat of their own drum."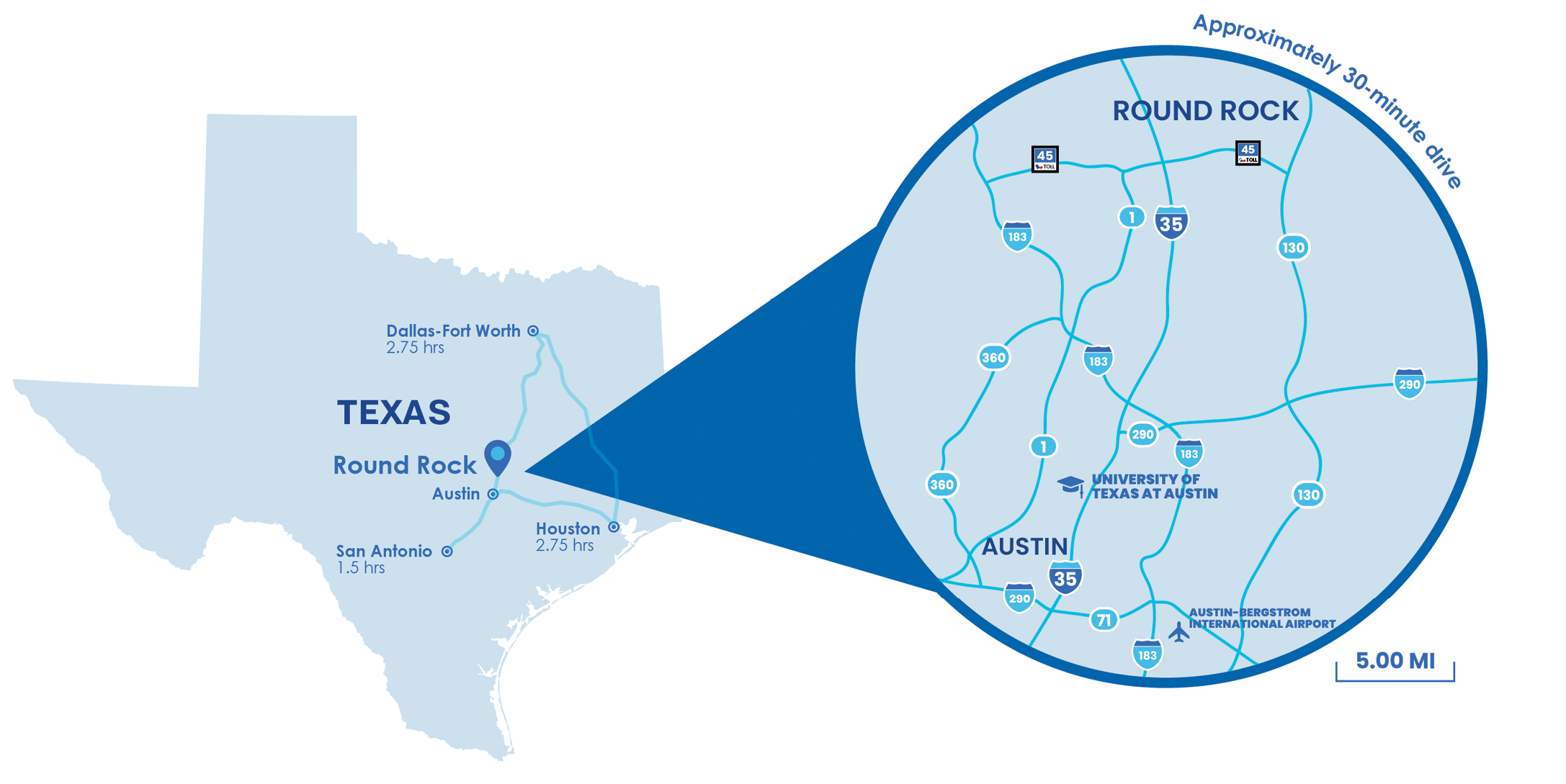 Sullivan has had a front-row seat to the growth of the region's bioscience sector. Recruited to Austin to support a tech startup coming out of the University of Texas over 30 years ago, the entrepreneur then set off to create companies of his own. The ability to get plugged in with a growing life science network enabled Sullivan to bring his first startup Mystic Pharmaceuticals to life. His investors lobbied for an East Coast market move over 20 years ago; but today, Sullivan has no regrets about growing two businesses and becoming an active member in the region's life sciences industry.
"I said 'No, I think Central Texas is going to be a wellspring over the long term,'" says Sullivan.
Seven years ago, Sullivan brought Zeteo Biomedical to life for needle-queasy folk around the globe. The company's medical devices administer common vaccines through patients' noses.
Finding the resources and talent in Texas to grow on his own, Sullivan knows the value of a healthy life sciences cluster. That's why entrepreneurs have access to industry experts like him as he serves on BioAustinCTX's board of directors and advisory boards at Dell Medical and Austin Community College. 
Prepared For Innovation
In 2022, the Round Rock Chamber released its Life Sciences Strategic Vision. The report highlighted areas in which the city has opportunities to build infrastructure that is welcoming to R&D, testing and manufacturing from the sector's businesses and visionaries, including a potential life sciences district and enhancing opportunities involving military innovation.
One advantage is the region's existing institutional assets: University of Texas; Texas State University, Round Rock; Texas A&M University Health Sciences Center – Round Rock and Austin Community College play a vital role in a range of medical research conducted in the region.
Texas State University Chief Research Officer Shreek Mandayam emphasizes the partnership that exists among the region's institutions, leaders and businesses to stay relevant to workforce needs and demands. That means having infrastructure in place to nurture and attract new life sciences innovation. Texas State is in the process of issuing a quotation request to build a life sciences incubator on Round Rock's campus. 
Within the next two years Mandayam hopes doors to the new facility will be open to the public. "We hope to be the place where life sciences companies of the future emerge and stay as they graduate beyond the incubator," says Mandayam. 
Encompassing all stages of business growth is an important aspect of retaining new companies. Brian Crawford, founder and CEO of Concept Companies, worked with the Chamber on building its strategic vision, advocating for a laboratory space that can support companies past their incubation stage. 
"I think one of the biggest impacts is the retention of talent in the region, by having space that is readily available," says Crawford. "A lot of the time these emerging companies need the space very quickly, because oftentimes, funding comes in very quickly."
Crawford's real estate development company is focused on building space for graduated incubator companies who have an established product, but don't have space in their current facility to work on their project or need added space. He notes that a laboratory facility of this kind doesn't come cheap, with construction costs averaging $400 to $500 per sq. ft., not to mention equipment costs.
"There's some strong incubation going on, there are strong research institutions in the area — those are some of the first things we look at. So, that piques our interest out of the gate, then on top of that, you have a Chamber that's excited to see growth and wants to see these types of businesses expand here," says Crawford.
With a plan in place and investment top of mind, Round Rock city leaders are ready to become a permanent anchor in Central Texas' growing life sciences market. 
---
This Investment Profile was prepared under the auspices of the Round Rock Chamber. For more information, visit www.roundrockchamber.org.