E
ver wonder why so many companies are choosing to ditch their current surroundings, pack up their headquarters, and move their personnel and operations to Texas?
Antonio Neri, president and CEO of Hewlett Packard Enterprise, explained why HPE made that decision on December 1, 2020. "The world has changed, and we are changing with it for the benefit of all of our stakeholders," he said as he announced that HPE was leaving its historic home in Silicon Valley and moving to Houston.
"COVID-19 has changed how and where we will work," Neri wrote in a blog post. "And in response to this new future of work, we have reevaluated our real estate site strategy to ensure that we are utilizing our workspaces most effectively and positioning our teams and talent in the best interests of our business."
Neri outlined the reasons HPE selected Spring, Texas, just north of Houston: business needs, opportunities for cost savings, employee preferences, living environment, overall business climate, and access to a deep and talented labor pool. In the final analysis, these factors gave Texas a decisive edge over California.
"Houston has long been our largest U.S employment hub," the CEO noted. "Houston is also an attractive market for us to recruit and retain talent, and a great place to do business. The most diverse city in America and the fourth largest, Houston provides the opportunity over time to draw more diverse talent into our ranks ­— a key priority for HPE as we work to be unconditionally inclusive. We also anticipate long-term cost savings associated with this move so that we can reinvest in key areas of our business and innovation. Given our company's long history in the region, this move makes sense for HPE."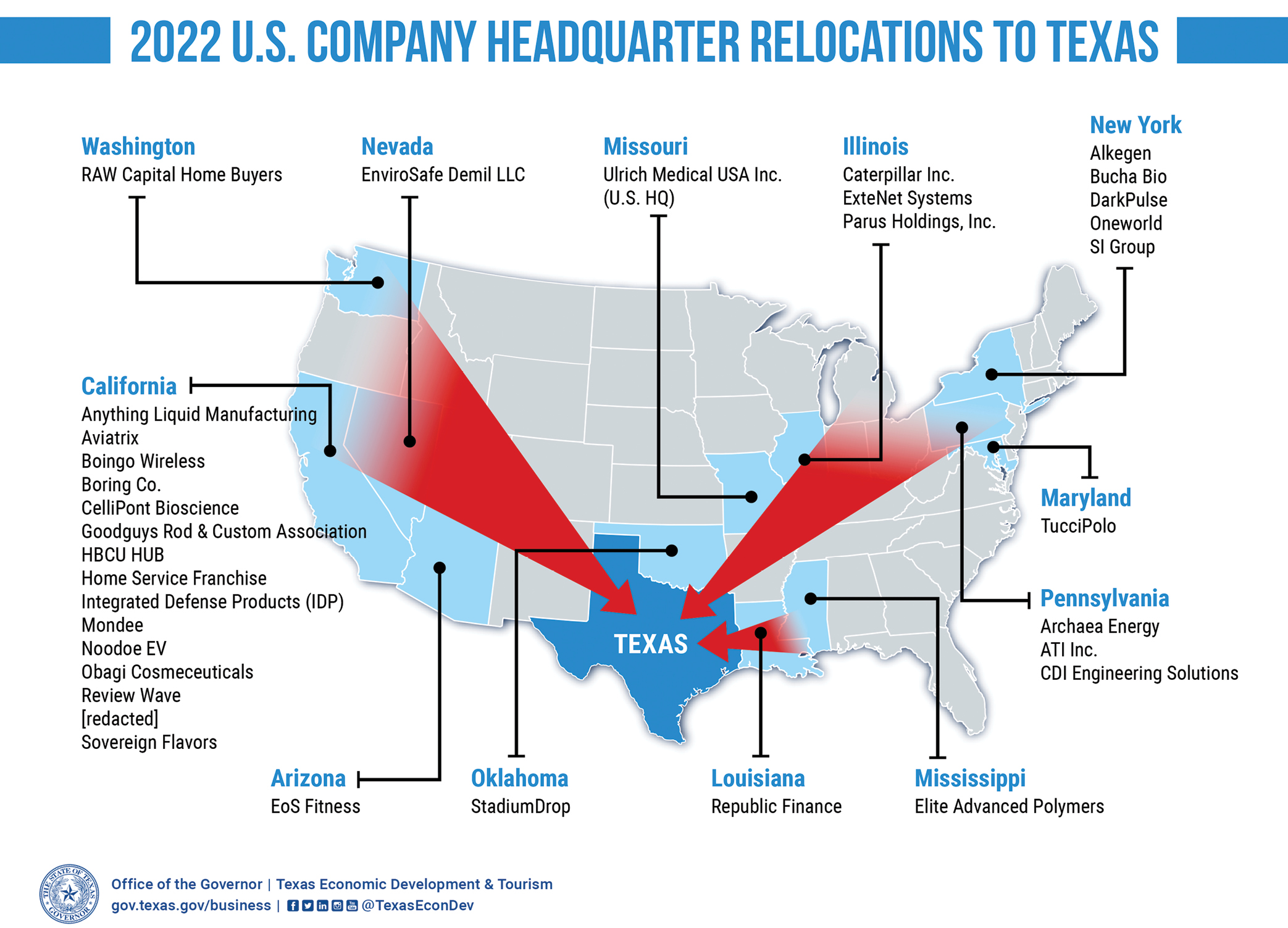 37 is the Magic Number
Many other firms have reached the same conclusion. Last year, 37 companies announced plans to pack up and move their headquarters to Texas. The largest of these was Caterpillar Inc., which had headquartered in Northern Illinois near Chicago for over a century. Its new digs in Irving-Las Colinas in the Dallas-Fort Worth market are a sign of the times.
Firms are migrating to Texas from everywhere in the continental United States. RAW Capital Home Buyers moved its HQ from Washington in the Pacific Northwest. Ulrich Medical USA relocated from Missouri. TucciPolo left Maryland. Elite Advanced Polymers migrated from Mississippi. And 13 firms joined HPE and decided to leave the Golden State behind in favor of the Lone Star State. These included Boingo Wireless, HBCU HUB and Elon Musk's Boring Co.
In fact, California companies have been trekking eastward for years. AECOM, the world's largest infrastructure consulting firm, announced on August 17, 2021, that it was relocating its global headquarters from Los Angeles to Dallas. The departure from Southern California meant that LA was losing its largest publicly traded company.
AECOM CEO Troy Rudd and other company leaders joined more than 1,200 AECOM employees who were already based at the firm's existing Dallas offices on Noel Road. AECOM, like Caterpillar, is a Fortune 500 company. In fiscal year 2021, it posted revenues of $13.3 billion. The company employs 50,000 people worldwide and ranks No. 1 globally among all transportation, general building and international market design firms, according to Engineering News Record. Among other endeavors, AECOM is project manager for NEOM, the planned $500 billion smart city in Saudi Arabia.
AECOM joins a growing roster of Southern California firms beating a path to Texas. Others include Jacobs Engineering Group, CBRE Group, Toyota Motor Corp. and Occidental Petroleum Corp.
From Oracle to DeLorean
Among the more high-profile Northern California firms to relocate to Texas are Oracle and HPE. In many ways, HPE has been synonymous with Silicon Valley. The firm's two co-founders launched the original Hewlett-Packard in a garage in Palo Alto in 1939, long before the world had any computers. By the mid-1960s, the success of HP was luring other tech-minded startups to Santa Clara County and what would become known as Silicon Valley.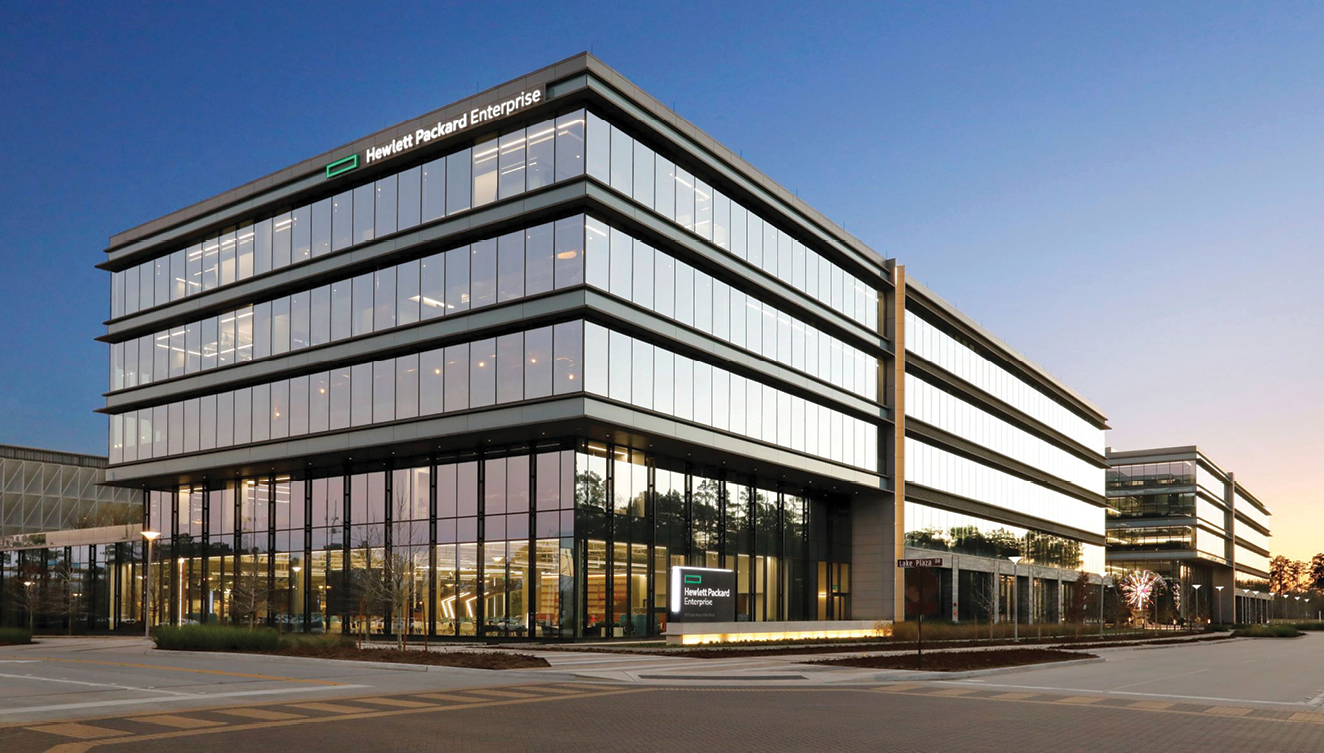 Hewlett Packard Enterprise moved from Silicon Valley to this new headquarters in Spring, Texas, just outside of Houston.
Photos courtesy of HPE
Neri says the gleaming new HQ of HPE represents the fulfillment of the company's vision of adopting an Edge-to-Office workplace that encourages its largely remote workforce to come together onsite for collaboration and to challenge each other. The new complex is located 25 miles north of downtown Houston and can accommodate more than 2,000 workers.
The new campus opened last April at an investment of $615 million. The complex uses 100% renewable energy and features more than 1,000 flexible workspace areas.
The HPE facility is part of a new wave of futuristic HQ buildings in Texas. Last June, Port San Antonio unveiled plans for a new multistory office tower that is slated to become the new home of the DeLorean Motor Company. Located at the old Kelly Air Force Base, the tower is expected to be completed by 2025 and serve as the headquarters of the company that first gained worldwide fame in the classic "Back to the Future" movie series of the 1980s.
This time, DeLorean is focused on building the Alpha5, an all-electric sports sedan. The firm expects to employ 500 people at the new facility in San Antonio.