It's one thing to say you are going to deliver a competitive business climate. It's entirely another thing to do it.
In Utah, Gov. Gary Herbert has racked up an impressive track record of delivering on his promises when it comes to economic development. Since becoming governor of Utah in 2009, Herbert has made it his mission to get state government out of the way of business and do everything he can to smooth the avenues of commerce.
Huge project wins like Facebook, Adobe, eBay and PayPal don't occur in a vacuum. They happen because the people who run those global companies see an opportunity for growth and profitability near the slopes of Utah's majestic mountains.
In the following interview, Gov. Herbert explains his approach to economic development.
You have made cutting red tape a tenet of your administration since you were first elected in 2009. Why is that so important to you and your state?
GOV. GARY HERBERT: It is important to the business sector. To have a healthy economy, you don't want the burden of a lot of regulations. The business community complains most about the burden of over-regulation around the country. We have had a significant effort to eliminate nonsensical regulations in Utah. We want to enable wealth creators and risk takers. We want to give them an ability to innovate and find niches in the marketplace.
Forbes recently named Utah the No. 2 Best State for Business, and you've been No. 1 in six of the last 13 years. Why is that the case?
GOV. HERBERT: We are the most business-friendly state in America. Most magazines rank us in the top two or three. We have some of the lowest and most competitive tax rates in the nation. We empower the private sector and encourage people to take risks. We offer efficiency in state government, and an attitude that we want you to be successful and profitable. We want to keep government off your backs and out of your wallets.
Facebook was one of your biggest project wins of 2018. How did Utah accomplish this deal?
GOV. HERBERT: It takes effort and better communication and being able to present what you have to offer. If you want to increase your bottom line and market share, Utah is probably the best place in America to do it. It was not an easy thing to do. After a failed first attempt, we had to go back with Facebook and keep the doors of communication open. We were able to convince them to take a second look at Utah. We took them out to Eagle Mountain. They found a very welcoming attitude and they built a billion-dollar building of 975,000 square feet. It will help us bring in additional related commercial ventures to Eagle Mountain. They are now our anchor tenant. It will be a catalyst for economic growth.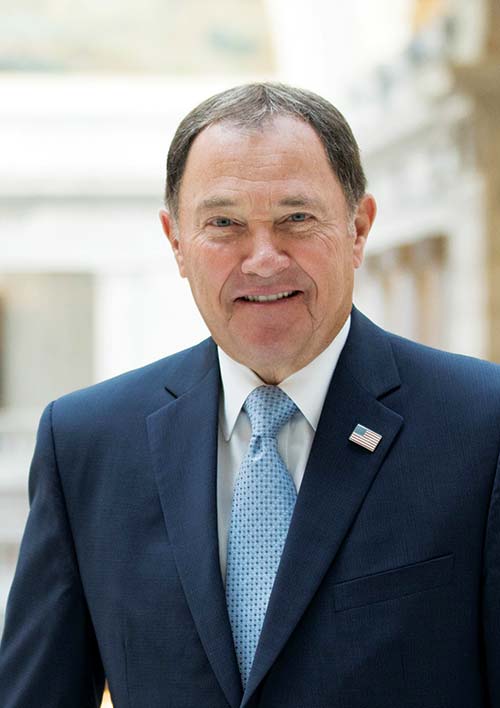 ---
"We want to keep government off your backs and out of your wallets." 
---
Will you make a concerted effort to bring the Winter Olympics back to Utah in 2034?
GOV. HERBERT: We had a great success in 2002 hosting the Winter Olympics. It was supported by the public at large in Utah. It was arguably the best Winter Olympics in the history of the Olympic Games. We made a net profit of about $100 million. That puts us in a good position to win the 2034 games. The U.S. Olympic Committee agrees. We still have to be chosen by the International Olympic Committee. We have the venues, the convenience, etc. We will have a newly renovated and modernized airport, and we are an ideal location. With 87% support of the Utah people, we have all the necessary ingredients to be successful.
A brand-new airport will open in Salt Lake City in 2020. What will that mean for your state?
GOV. HERBERT: We have always been known as the Crossroads of the West. Geographical location has always been one of the secrets of our success. Utah is a day's drive to the West Coast, the Midwest, Canada and Mexico. We are the bullseye in the target. Our airport has grown dramatically to 20 million flights per year. This $3.6 billion airport expansion and remodeling is being paid for by travelers. It will be the most modern airport in America. Hundreds of additional new jobs plus thousands of jobs in construction are being created by this project, and we are putting in an inland port next to it. A lot of great things are happening.
A popular bike maker recently relocated from California to Utah. Why do so many California companies choose to expand in your state?
GOV. HERBERT: We are business friendly. We are a place where if you want to improve your bottom line and increase your profit, the best place in America is the state of Utah. California is driving people away with high tax rates. They have regulations that are frustrating. They have congestion on highways and a high cost of living. There is a better place to live — it is called Utah. People will go where they like to live. People here are very friendly and happy and charitable. Utah is a great place to do business and to raise children. We have 30 million acres of public land. Businesses are moving here not just from California, but from other states too.
What are you doing to make Utah an even more competitive state for both FDI and exporting?
GOV. HERBERT: Better communication. People do not know how wonderful we are. We express to people around the world that Utah is a great place to do business. Our median age is only 31. Most of our young people are now going to post-high school education. We have a labor force that is what companies are looking for. We are high-tech savvy. We are very bilingual. We speak over 130 languages here. It makes us a very desirable place to be — if you know about us. We are doing more to make that known. We are doing the inland port. We will be the Crossroads of the World. We have 1,400 miles of railroad. We will be the hub of activity. And our economic outlook is strong. The economic outlook for Utah is the best in the USA today. We say come and take a look at Utah. We want you to be part of Utah.