As executive director of the Utah Governor's Office of Economic Development (GOED), Val Hale has overseen efforts that have propelled the state to unprecedented heights in economic achievement.
Forbes recently named Utah the No. 2 Best State for Business for 2018, and the publication has named Utah the No. 1 state in six of the last 13 years.
A state that is accustomed to recording big project wins added to its tally in 2018. Facebook, for example, announced last May that it will invest $750 million to build a data center in Eagle Mountain and create nearly 1 million sq. ft. of new space.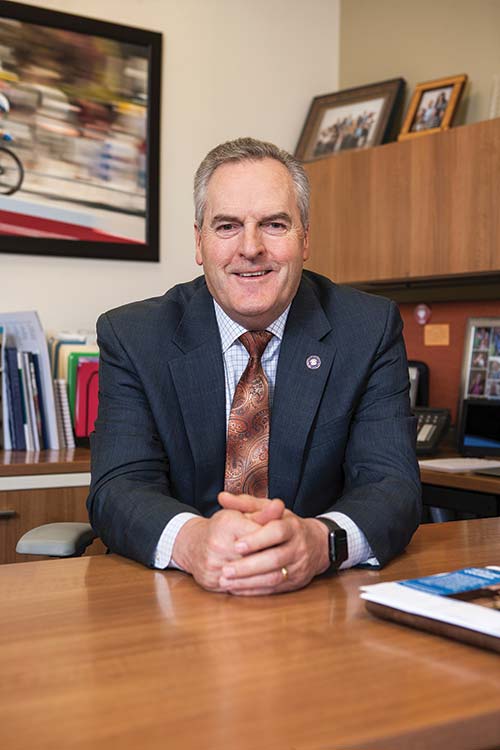 Hale has held this position since 2014, but his business expertise was fashioned long before that. Before being appointed GOED executive director, he served two years as president and CEO of the Utah Valley Chamber of Commerce. Prior to that, he served as athletic director at Brigham Young University and later served on the NCAA Men's Golf Committee, including a stint as chair from 2003 to 2004. A BYU grad, he worked as a reporter, sports columnist and business columnist at the Provo Daily Herald and later became a top administrator at Utah Valley University.
Today, he works to bring even more business to Utah. In a recent interview, he discussed the priorities of GOED and the strategic approach that Utah takes to corporate recruitment.
How will Utah use Opportunity Zones and mega-sites to land more projects in 2019 and beyond?
VAL HALE: Opportunity Zones provide a unique opportunity to bolster the economy in some depressed areas of the state. We have hired a consultant to study communities with Opportunity Zones in them. There are some estimates that there are over a trillion dollars in capital gains taxes out there that could be invested in these Zones. This is an opportunity to identify the projects to convince investors to invest their money.
We also have mega-sites that are certified to be shovel-ready. When a site selector brings a project, we point them to a mega-site that is ready to go. You don't have to wait for clearance. The work is ready to happen. One site is ready, and two or three more are in the works. They make sense for manufacturing companies, data centers and other opportunities that are larger projects that need infrastructure, power and water. All of that is taken care of upfront. They have been pre-approved by the community. You would not have to come in and wrangle with the local school district and city council for incentives.
Can you explain the strategic approach that Utah takes to corporate recruitment?
HALE: We have been pretty open to corporate recruitment over the past decade. We try to recruit companies that fit one of our six clusters: aerospace and defense; life sciences; information technology; financial services; energy; and outdoor recreation. We occasionally take trips with the governor to various communities around the country to meet with corporate leaders to inform them of the Utah business climate. In most cases, they are very impressed. They are often inclined to send some additional growth from their company to Utah. We've had a lot of success in California over the years.
The watchword for economic development today is talent. How is Utah measuring up on that scorecard?
HALE: Utah has always rated very highly in talent. A CEO recently told me that Utah has the No. 1 talent in America. We've had such low unemployment over the last few years; we've had more jobs than workers. That puts a lot of pressure on companies to hire qualified talent. We are very fortunate to have such great universities in Utah. We just wish we had more of them. Many of our companies here would love to grow. We are the youngest state in America and among the fastest-growing states in America, which is a good thing when you are talking about talent recruitment. We have a great pipeline of young, educated kids coming up the ranks. We also have created a number of programs that are designed to prepare kids in junior high and high school through the Pathways Program. IT and construction and aerospace are some of these fields. They get specific training in high school, either as an intern or on the job site to learn about what these jobs are. They earn a certificate. It has been very successful.
You've made a lot of progress with Silicon Slopes. Can you talk about how that has made Utah a magnet for tech companies?
HALE: We recently received a report from the Kem C. Gardner Policy Institute that said Utah's tech industry growth led the nation at more than twice the national average — 3.6% compared to 1.6%. It really has been an interesting phenomenon over the years. Many are home-grown. We had a big IPO last year for Pluralsight. Qualtrics was purchased for $8 billion — the largest acquisition of its kind in history.
---
"Quality of life and overall business climate are our real incentives. They are the biggest attractors to our state. That makes it pretty hard to beat, even for states that offer a larger incentive."
---
There has been a lot of publicity in the last couple of years about Silicon Slopes. The name is starting to get recognized as a very legitimate tech hotbed and even a competitor to Silicon Valley. Cost differential is one of our strengths. A salary of $45,000 in Utah will give you the same lifestyle as what you can have on $80,000 in California. Affordability of housing is a major issue too.
What is the unique value proposition of doing business in Utah?
HALE: Our chief selling point is No. 1, an incredible workforce. No. 2, we have a great business climate. We want to keep government off your back and out of your wallet. We keep government regulation to a minimum. It is a great place to start and grow a business. The business development soil here is very fertile because of our regulatory environment.
How does Utah support a project once a company has made the decision to invest in your state?
HALE: If the company meets the criteria to receive an incentive, we have a post-performance incentives program. We determine how much new state revenue they will bring to the state. If they hit those marks, we give them back a rebate of the money they have paid. The average over the last year is a 20% rebate over seven years on a company's overall tax bill. Sometimes it's higher; sometimes it's lower.
What are Utah's most competitive incentives — and how do they help companies grow?
HALE: Our big incentive is the rebate. It's not the most lucrative out there. It's probably middle of the road. Businesses know they can count on us. We also offer a high-cost infrastructure tax credit. That is a tax credit that allows them to take tax credits as a result of their investment. Utah does not believe in buying companies. We want to partner with companies that want to be here, but we don't want to overpay or provide corporate welfare. Quality of life and overall business climate are our real incentives. They are the biggest attractors to our state. That makes it pretty hard to beat, even for states that offer large cash incentives.
One more thing ­— Utah has the most diverse economy in America. It has helped us prosper and shine. We have a great mixture of businesses across all industries. We continue to try to keep it that way. We are not impacted if there is a downturn in energy. We came out of the last recession as the best economy in the country and we have pretty much stayed there.
Our goal is to stay on top.