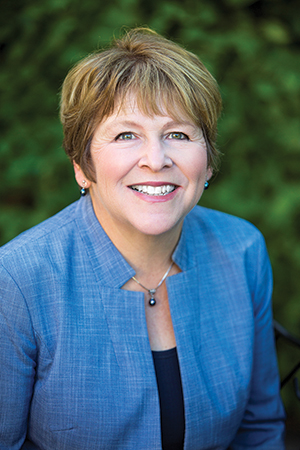 "Strong and promising." Those are the words Washington State Department of Commerce Director Lisa Brown used to describe the state's business climate today. In a world that's still reeling from the effects of a global pandemic, a healthy economy is just what the doctor ordered. 
"Many of our key sectors have fully reopened and are back to or exceeding pre-pandemic levels. According to CNN's Back-to-Normal dashboard, we are at 92% of our pre-COVID economic strength," Brown said. 
The Washington State Department of Commerce is the lead state agency helping to promote sustainability and economic vitality. The organization offers more than 100 programs and several state boards and commissions with a mission to strengthen the state's communities. Brown has been at the helm of the organization since she was appointed in 2019. 
A longtime resident of Spokane with a history of legislative and educational leadership, Brown recently shared her thoughts on the state's economic health and its wealth of opportunity for businesses. 
How would you describe the state's response to the pandemic and its overall recovery efforts as we head into 2022?
Lisa BROWN: We've had a very strong focus on an equitable recovery — across sectors, across regions and across demographic groups. As we've rolled out various recovery and support programs we've tried to focus first on the businesses and communities most disproportionately impacted. We've designed a public dashboard to help us track several key metrics and are working on adding more data sets over time.
Commerce is incredibly grateful for the close partnerships with state and local business leaders who help us understand what their business communities really need, and also help us implement assistance programs. 
We're also fortunate that our state's economy is incredibly diverse. We have several high-growth industries that were minimally impacted or were able pivot during the pandemic. 
What are some of the state's biggest economic development wins recently?
BROWN: I think the biggest wins over the last two years has been walking a fine line between the needs of public health and safety and maintaining economic growth. When the pandemic hit, we were able to pivot our work to support those businesses that were most affected by COVID-19. We provided small businesses and nonprofits with $526.3 million in assistance and more than $1 billion in assistance for housing, renters, tribal nations and local governments.
Even in the midst of a pandemic, we have seen tremendous interest from businesses seeking to locate in or relocate to Washington State. Additionally, we are seeing a tremendous increase in new business license requests as entrepreneurs, startups and small-business owners look to the future. Now our focus is shifting to making sure the recovery is inclusive, diverse and equitable so that every resident has the opportunity to earn a living wage and contribute to Washington's economic vitality.
Washington is home to a range of diverse sectors. What industries show the most promise in the state and why?
BROWN: The diversity of our economy is remarkable, particularly as we look at how many sectors are evolving. Our forest products sector is finding synergy with our clean tech sector, for example. Our aerospace sector is making way for a growing space exploration cluster. Our ICT sector is a notable player in the world of 5G and Internet of Things. 
This is one reason we're so excited to launch our new innovation cluster acceleration program, supported by a grant from the U.S. Economic Development Administration. We're hearing from so many business and industry groups who are thrilled to see this happening in Washington state because they know these clusters can catalyze all kinds of investment and growth within sectors, within regions and across the state.
As the trend of remote work continues to evolve, how is the state preparing its infrastructure for the future?
BROWN: There's no way to talk about remote work and infrastructure without talking about broadband and digital equity. In 2019, our state established the nation's most aggressive broadband goals in the nation — universal access to high speed internet by 2024. Our state's broadband office has since been doing incredible work to lay out a strategy for meeting that goal so we know where and how to direct our investments. This has positioned us very well for the historic levels of federal funding coming our way. 
We're also in the process of updating our growth management framework, which will be especially important for helping local governments build out more affordable housing, engage in transportation planning and more. As workers have new and different options for working from home, housing and transportation needs are shifting as well.
Washington has a legacy of innovation – from aerospace and aviation down to how we drink coffee.
What does the state do to help encourage entrepreneurs and innovators?
BROWN: First, we listen to what they need. They need access to the latest research coming out of world-class research institutions. They need highly skilled workers. They need space to innovate and grow. Capital is essential and we're fortunate that we have such a robust network of venture capitalists to fund new ideas. Perhaps just as important, entrepreneurs and innovators need a critical mass of potential partners to collaborate with, not only within their own industry, but across sectors. 
Finally, there are the intangibles that attract these individuals. We offer a superb quality of life that draws people from around the globe and inspires them to think boldly about possibilities for new products and services that will change the way we live.
"We offer a superb quality of life that draws people from around the globe and inspires them to think boldly about possibilities for new products and services that will change the way we live."
— Lisa Brown, Washington State Department of Commerce Director
What should site selectors understand about doing business in the state?
BROWN: Washington is an excellent place to do business. I think there's a perception that our economy is still driven by aerospace and forest products, but in truth the ICT sector is our largest employer. Our economy is as diverse as our geography and population with new opportunities in autonomous vehicles, commercial space, clean energy technologies and artificial intelligence.
While the Puget Sound region and Seattle get the lion's share of attention, there is so much more to the state and our economy. In more rural parts of Washington, there are endless opportunities in clean tech, manufacturing, research and development, agriculture and food processing, transportation and the burgeoning creative economy.