Washington's eight regions offer a wide variety of strengths for industry and unique attributes that contribute to the states high quality of life. The following region profiles provide insight into the diverse industries, educational institutions and opportunities that can be found across the Evergreen State. 
Puget Sound
Over the last decade, the four-county region of the Puget Sound has consistently attracted new residents. According to data from the 2020 Census, the region's population is approximately 4.3 million — up from 3.7 million in 2010. About 56% of Washington's entire population lives in the region. 
In addition to Seattle, the region is home to 82 cities and towns including Tacoma, Bothell, Kirkland, Kent, Federal Way, Redmond and others. The region boasts a highly educated workforce with a large number of universities, colleges and technical schools. The central Puget Sound region is among the most educated regions in the nation with 42% of residents holding a bachelor's degree or higher.
The region is a legacy hub of aviation and aerospace manufacturing and innovation. The industry's foothold in the region is bolstered by the presence of several industry giants including The Kent Space Center and companies like Blue Origin in Kent, SpaceX in Redmond, Boeing in Everett and Northrup Grumman, Raytheon and Lockheed Martin in Kitsap County. 
According to a new analysis by CBRE, the region around Seattle added more than 48,000 technology jobs between 2016 and 2020, representing an increase of more than 35%. This growth rate is faster than any other large tech market in the nation. Companies like Amazon, Apple, Facebook, Google, and Microsoft have invested heavily in their hometowns, as have technology startups.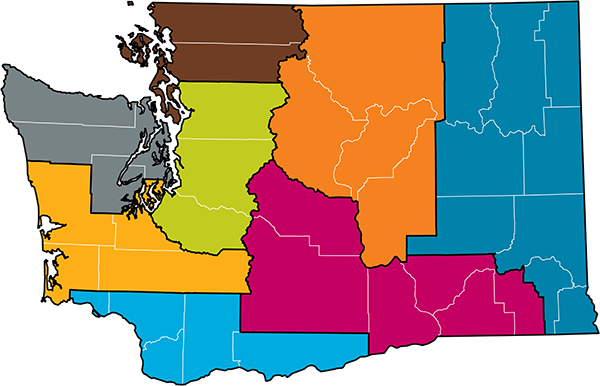 In addition to the region's high quality of life, positive business climate and entrepreneurial spirit, it is also ideally situated for logistics. Companies choose to locate in the Puget Sound for its key location as a midpoint between Europe and Asia. Both continents are accessible from Seattle-Tacoma International Airport with a 9-hour flight. Additionally, the region's deepwater Pacific seaports and proximity to Asia makes it an important base for trade. 
Eastern
With some of the best outdoor recreational opportunities in the country, low-cost of living, affordable housing, an abundance of educational institutions and a diverse economic base, the Eastern Washington region offers a unique combination of benefits for individuals and businesses alike. 
The nine-county region is home to the state's second-largest city, Spokane. The region is hub for a variety of industries including advanced manufacturing, aerospace, agriculture, education, finance, insurance, life sciences and distribution. Spokane is the nation's fifth-largest aerospace cluster and the second largest in Washington. Eastern Washington is home to more than 120 manufacturers, suppliers, and distributors related to the global aerospace industry. Additionally, the region's community colleges enroll some 300 students annually in aerospace and high-tech disciplines. 
Nearly 90,000 higher education students attend an institution within 80-miles of Spokane. The region's University District is home to six higher education institutions, including two medical schools. 
As the economic hub of the U.S. Inland Northwest region, Spokane is ideally located for distribution. 
South Central
Located in the heart of the Pacific Northwest, South Central Washington is home to a thriving technology sector and a highly skilled workforce boasting some of the brightest minds in the country. 
The Tri-Cities of Kennewick, Richland and Pasco are one of the nation's fastest growing areas. More than 82% of the Tri-Cities' workforce has a high school, college or graduate education. Additionally, the region is home to more scientists and engineers per capita than anywhere else in the country. 
One of the region's most acclaimed assets is the Pacific Northwest National Laboratory (PNNL) in Richland. PNNL is a recognized leader in developing energy technology and employs more than 4,200. With a more than $1 billion Federal research budget, PNNL's energy portfolio includes smart grid applications, energy storage and fuel cell development. 
Other major employers in the region include Lockheed Martin, Bechtel National, CH2M Hill, ConAgra/LambWeston, Amazon.com, Tyson Fresh Meats, AREVA, and URS. The region is anchored by strong distribution, energy and food processing industries. 
South Central Washington is centrally located between several major population centers in the Pacific Northwest including Spokane, Portland, Seattle, Boise, Idaho, and Vancouver, BC. The region offers vital access to interstates, two national railroads, commercial barge transportation and air service.  
Southwest
Southwest Washington is home to a diverse industry base with plenty of room for growing companies. The region's affordability, high quality of life and proximity to metro markets makes it an ideal place for companies to locate in Washington. The Southwest Washington region includes Wahkiakum, Cowlitz, Skamania, Clark and Klickitat counties.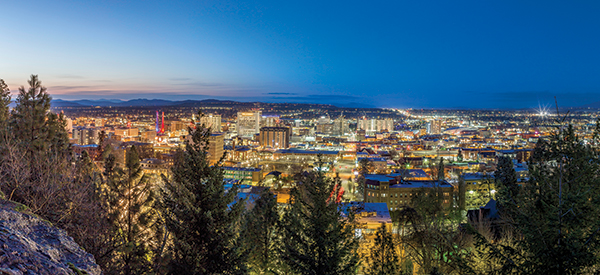 The region is attractive to several core industries including metals and machinery, clean technology, computers and electronics, life sciences and software. 
In May, aerospace and defense manufacturer United Precision Corporation chose to expand in the region. The company will occupy a new 40,000 sq. ft. facility at the Port of Camas-Washougal and is expected to generate $6 million in capital investment and create 25 news jobs. 
Clark County is home to one of six campuses of the Washington State University (WSU) system. WSU Vancouver is the region's only Tier One Research University. The university enrolls some 3,500 students annually. Additionally, the university reports that 89% of students remain in the region after graduation. 
Cowlitz County and the city of Longview are home to several technology, manufacturing and natural resource companies. Longview is ideally situated between two of the Pacific Northwest's largest commercial markets. The city is within a 2-hour drive of Seattle and 1 hour from Portland, Oregon. 
The Port of Longview has 8 marine terminals and waterfront industrial properties along 835 acres on the deep-draft of the Columbia River. The port is located just 66 miles from the Pacific Ocean and specializes in a variety of bulk cargos and breakbulk commodities including lumber, steel, wind energy, minerals, heavy-lift cargo and more. The Port of Skamania County is located 40 miles east of Portland, Oregon and is home to 14 businesses on 162 acres. The Port of Klickitat has two business industrial parks, the Bingen Point Business Park and the Dallesport Industrial Park in the Columbia Gorge/Mid-Columbia region of the state. 
Western 
The four-county region of Western Washington is home to a growing economy built on a solid legacy of innovation. The region's historical industries include thriving wood products and food processing industry as well as telecommunications, logistics and health care.
Thurston County is home to Washington's State Capital in Olympia. The city has been recognized by Forbes Magazine as one of the top places in the country to do businesses. With its key location between two of the Pacific Northwest's major consumer markets, Portland, Oregon, and Seattle, Thurston County is a major hub for distribution. Companies including Whole Foods, Trader Joe's and Target operate distribution facilities in the county.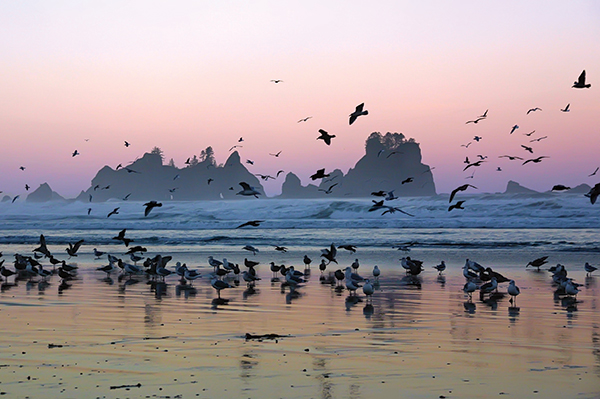 Washington's only deepwater port on the Pacific Ocean, the Port of Grays Harbor, offers access to 4 deepwater marine terminals with dual Class 1 rail service, the Westport Marina (Washington's No. 1 commercial seafood landing port), and abundant manufacturing and office space. The region is also home to four ports in Pacific County.
Northern
Northern Washington offers a cost-competitive and business friendly location in the Pacific Northwest. The region consists of Whatcom, Skagit, San Juan and Island counties. 
Skagit County offers a range of benefits for major advanced manufacturing and information technology industry centers. The county is strategically located between Seattle and Vancouver, Canada, and offers access to a deepwater seaport and four international airports. Clean technology is an emerging sector within the county and is home to several leading businesses including Sedron Technologies, PACCAR Technical Center, Puget Sound Energy and many others. 
Whatcom County is home to five award-winning educational facilities — within 15 minutes of each other — including Western Washington University, Whatcom Community College, Bellingham Technical College, Trinity Western University and Northwest Indian College.
The county is home to more than 300 manufacturing companies making everything from ropes to solar panels. The county is also a thriving hub for tech innovation with several internationally-recognized tech companies, including Alpha Technologies, Conversica, and Faithlife.
The region is well-educated with several higher education institutions. The University of Washington's Friday Harbor Laboratories (FHL) in San Juan County is a world-renowned research and education center for marine sciences. Skagit Valley College provides customized training solutions for businesses throughout the region.
Northwest
Northwest Washington's beauty is beyond compare. With views of the Pacific Ocean and access to the Olympic National Park, this corner of the state offers a wholly unique way of living with ample outdoor recreation, urban amenities and business opportunities. 
Comprised of three counties, Jefferson, Clallam and Mason, Northwest Washington boasts a skilled workforce, low energy rates and business friendly climate. 
Clallam County is located along part of the Olympic Peninsula and includes 1,738 square miles of forested mountain land. Full of natural resources, the county's 200 miles of coastline have given birth to thriving maritime and fishing industries. Additionally, Olympic National Park attracts more than 2.49 million visitors a year.  
Jefferson County's colorful history is marked by a variety of industries including sawmills, shipbuilding, marine technology, manufacturing, tourism, agriculture and the arts. In the days of alcohol prohibition, the county was known for smuggling spirits in from Canada via the county's many hidden coves and forests. The county's largest city, Port Townsend, is an approximately 3-hour drive from Seattle. 
Mason County is home to several ports including the Port of Shelton, Port of Allyn, Port of Grapeview, Port of Hoodsport and the Port of Dewatto. The county is one of the fastest growing regions in the Pacific Northwest and is within a 1.5 hour drive to Seattle. Not only is the county beautiful with 967 square miles of scenery including the national park, Hood Canal and Olympic National Forest, but it also boasts a lower-cost-of-living than nearby counties in the metro area.
 North Central
The four-county region of North Central Washington is made up of Okanogan, Chelan, Douglas and Grant counties. Centrally located in the state, the North Central region is well connected to global markets with a robust transportation network and great broadband coverage. The region also offers an abundance of land and affordable energy to support a wide range of industries. 
Chelan and Douglas counties offer some of the lowest cost green power in the nation with two hydroelectric dams on the Columbia River and one on the Chelan River. Earlier this year, The Washington Public Ports Association selected the Chelan Douglas Regional Port Authority as the Port of the Year. The Chelan Douglas Regional Port Authority was formed in June 2019 and is the first time in the state that two county-wide port districts functionally consolidated into one regional port. Geographically, the port encompasses 4,843 square miles, making it the largest in the state. The Regional Port serves a population of 120,000 citizens with a combined assessed value of $16.5 billion
Larger than several states, Okanogan County is the largest in Washington State. The county's population is estimated at 43,000. The county's largest industry sectors outside of government is based in agriculture, forestry and natural resource activities. The county also boasts a labor force of more than 21,000. 
Grant County is one of the fastest growing micropolitan areas in the U.S. The county offers a variety of benefits to businesses including easy access to an international airport, a foreign trade zone, inexpensive land, a highly trained workforce, a high-speed fiber optic network and a robust transportation network.