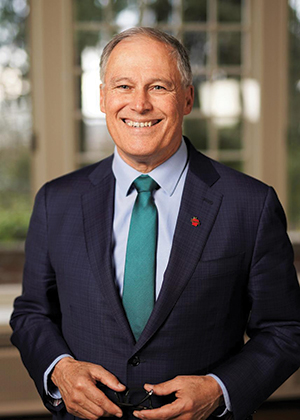 What is it that makes Washington State such an ideal place to live and do business? Is it the scenery? The workforce, maybe? Perhaps it's the state's deep legacy of innovation or its ideal geographical location? As it turns out, it's all that and much more. 
Since 2019, Washington State has held the title of U.S. News & World Report's Best State in the Nation. The publication ranked the state first for broadband access and GDP growth, as well as tying for first for government credit rating score. The state ranked in the top 10 of five other categories as well. This isn't the only national ranking that Washington routinely ranks among the best in. CNBC and Wallethub have also recently ranked the state among the top in the county. 
"I am so happy for the people of Washington to take home this honor again. It takes all 7.6 million of us to make this state the dynamic place it truly is. Washingtonians are motivated to lead and innovate in all aspects of our society, in labor, business, education, health and so much more," Gov. Jay Inslee said. "It was that same spirit that helped us bounce back from being the first state in the nation hit by COVID-19, and we are on our way to a robust recovery because of our unique attributes." 
We recently had the opportunity to ask Washington Governor Jay Inslee about what makes Washington the best state in the nation.
Washington was ranked No. 1 again by US World and News Report. What makes the state such a great place to live, work and do business?
Gov. Jay Inslee: Washington has always had an innovative spirit. We have people who are always looking at ways to do things better, smarter and with greater impact. Some of the greatest companies in the world have started here and are still based here — Microsoft, Boeing, Starbucks and Amazon — to name a few. We have businesses of all sizes here who are growing and innovating. We hear from the business community that our state's strong educational and training programs help grow and retain top-tier talent. And, our natural beauty from the mountains to the coast attracts people from all over the world who want to live and work here.
You were building on several successful years of economic growth when the pandemic struck in 2020. How would you say Washington fared throughout the pandemic? How is the state doing in this regard currently?
Gov. Inslee: Washington's economy fared better than some others states, in part because we made sure that workers had the support they needed during shutdowns. We also had a number of companies who switched their manufacturing to produce PPE (personal protective equipment). This kept companies running and employees working. We also bounced back fairly quickly when most restrictions were lifted. I attribute this to the spirit of the people of Washington and their desire to keep commerce and industry humming along.
What lessons did you learn from leading the state through the pandemic, and how did you apply those lessons?
Gov. Inslee: The pandemic reinforced what I already knew: that we need to follow science and medical recommendations. We are one of the states with the lowest number of COVID deaths per capita. As we move forward, we understand how critical it is for us to maintain a balance between the capacity of our health care system and the overall health of our economy. I think we have done a good job of this so far.
Washington's business climate is well-known for birthing some of the world's most innovative companies. How would you describe the state today as a place for startups and global companies to locate their operations?
Gov. Inslee: The state is strong in two key areas that draw successful companies, whether they are in the startup mode or a global giant. The first is a creative ecosystem that can support their vision and business model. Collaboration is a key to success, as is the ability to look beyond traditional industry silos and work across sectors to create something breathtakingly new. Second is talent. Washington has drawn talent from throughout the U.S. and the world. Our workforce is not only driven to bring new ideas to life, but to bring them quickly and successfully to market.
How does Washington's strengths in diversity help businesses across the state?
Gov. Inslee: As the state's economy continues to recover, we are highly focused on ensuring that every resident and business owner has a chance to earn a living wage and participate in our state's recovery. This is particularly true for some of our historically underserved communities, including those in rural parts of the state. Our diversity is our strength, and we want to make sure that we pay particular attention to diversity, inclusion and equity in all of our economic recovery strategies and for our vision of what our future can be as a global economic leader.
Job growth across sectors is one of your top priorities. Which sectors are seeing the most growth right now and why?
Gov. Inslee: Biotechnology and clean energy jobs are very strong right now. We've proven that you can grow jobs and protect the environment at the same time. I have visited some companies all over our state that are doing amazing work, from increasing battery life to electrifying passenger airplanes and ferries. They are incredibly innovative, looking to grow jobs and make the world better.
You've also maintained a focus on Washington's workforce. Tell us about some of the things you've done to improve and encourage the state's talent pool.
Gov. Inslee: Our Career Connect Washington initiative is a model for other states. We've opened a lot of doors because we know there are significant skill gaps in today's economy, and this program helps fill those gaps. The initiative's goal is to connect 100,000 young people with employer internships, registered apprenticeships and other learning opportunities. Educators and employers already work together to build apprenticeship and broad career-connected learning systems that emphasize real-world experience. This helps students land jobs in STEM and other high-paying fields, and many of these new jobs don't require a traditional four-year degree. Students can choose whether they continue with a qualified internship or use their new skills for a different opportunity.
What are some of the things you're doing to encourage FDI?
Gov. Inslee: Even with a global pandemic, investors have continued to show tremendous interest in Washington State. Over the last two years, we have continued to expand our presence in key international markets, opening several new offices focused specifically on FDI and trade. Since in-person trade shows and trade missions are a rare option right now, we have shifted to online and hybrid trade shows headed by our Department of Commerce. These shows expose Washington businesses to new customers while showcasing our state's investment potential. We have also built a unique network of statewide partnerships to increase our ability to respond to investment, relocation and new-build queries from domestic and international interests.
What are some common misconceptions companies have about your state?
Gov. Inslee: I'd say one misconception is that we are a homogenous group of people. That is not true. The people of this state have a variety of experiences, backgrounds, opinions and plans. We have a range of political and spiritual beliefs as diverse as our landscape. That is part of our strength. 
Also that it rains all the time (which is also not true).
As a lifelong Washingtonian, what do you love most about your state?
Gov. Inslee: I love that you can go from kayaking on the water in Puget Sound to skiing in the Cascade Mountains in a few short hours. I love that we are one of the largest exporters of delicious apples, cherries and other agricultural products. I love that our world-class fish and seafood are enjoyed all over the world. I love the innovative spirit of our people and the pride they take in the work they do. I honestly believe this is one of the finest places on Earth, and I have been tremendously fortunate to raise my three boys here, and now they are raising the next generation of Inslees in Washington, too.