With a rich history of brewing beer, it's no wonder Wisconsin is the water capital of the world. Milwaukee is an historic city with access to high-quality and abundant freshwater through its proximity to Lake Michigan and Lake Superior.
"Water flows through every step of the brewing process, from the barley field to the bottling line," says Kim Marrota, director of sustainability for MillerCoors.
When Fredrick Miller arrived in Milwaukee, he noted the business potential for its great harbor and the ability to source from surrounding farmland — two reasons why he founded Miller Brewing Company there in 1855. Numerous companies have chosen Wisconsin for its innovative water practices ever since.
The Blue Economy
With over 300 water technology companies employing 37,000 people and registering $5.7 billion in annual sales, it's obvious why Wisconsin is called the water capital of the world. Milwaukee is one of only two North American cities on the elite list of 13 worldwide United Nations Global Compact Innovating Cities (UNGCCP), and the only one in the world focused on the full cycle of water. Native American settlers named the city Milwaukee, which actually means "gathering place by the waters," according to Dean Amhaus, president & CEO of the Water Council.
"The water sector is growing at seven percent a year. That's $50 billion and growing."
But the state started to play a larger hand in the blue economy about eight years ago. According to Amhaus, there were two things that happened simultaneously. "There was a regional economic development effort that was happening in the Milwaukee area to coalesce the seven counties to work more in a collaborative way on economic development, instead of competing with each other," says Amhaus.
As a part of that process, a team of researchers set out to discover what the core industries were within that region, and most of what was found was typical: advanced manufacturing, medical instruments and financial services. What wasn't so obvious was a high concentration of water technology companies.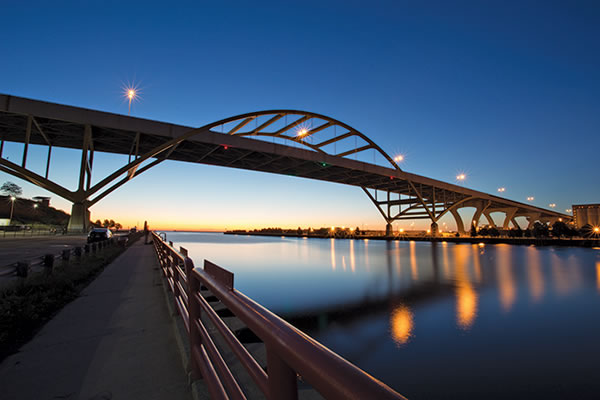 The surprise led to two CEOs — Rich Meeusen, the president of Badger Meter, and Ray Smith of A.O. Smith — to begin collaborating to reveal even more water companies in the state of Wisconsin. The state planned an initial meeting with around 50 businesses represented, and then the universities became involved. After more in-depth research, around 120 companies were found in Milwaukee, and now that number is closer to 160.
"All too often, people will talk about the water technology industry or the blue economy, but what we're talking about are companies that are specifically dealing with improving quality or quantity," says Amhaus. "Our companies help large water users do their job better. We just make it smoother, faster and more efficient."

Some of the largest water technology companies reside in Wisconsin, specifically the Milwaukee area, such as MillerCoors, Badger Meter, A.O. Smith, Kohler and InSinkErator, a food waste and hot water dispenser company, which plans to increase its manufacturing operations in southeastern Wisconsin. The company will open a new facility in Kenosha and upgrade its existing one in Racine. The project is expected to create 165 new jobs and retain nearly 1,000 existing positions.
Not So Renewable
"Wisconsin is the Silicon Valley for water in terms of research, and we have a terrific resource in Lake Michigan," says Tim Ferry, president of InSinkErator. "And it's becoming this hub of water technology. We're veterans in terms of advancement and saving water and what we need to do to treat water."
"The water sector is growing at seven percent a year. That's $50 billion and growing," says Amhaus. "The opportunities are rapidly expanding, and I think frankly it's because there is a growing consciousness globally that water is both a huge opportunity and a crisis."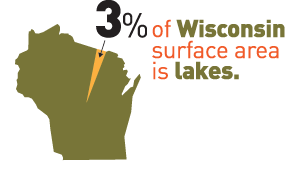 Amhaus and Ferry both speak to the growing concern of the world's water supply. While in wet, cold places water may be abundant, in other parts of the country and the world, where the air is hot and dry, water is becoming a scarcer resource. "For a long period of time, we were all divorced from it," says Amhaus. "That was something that was happening in India or Africa, and nobody really had a direct relationship. Well, we get to 2013, 2014 and 2015, and look at the crisis in California and Texas, it's unbelievable what's going on."
Amhaus says while others are having to deal with tragic situations involving lack of water, it also presents a huge opportunity for Wisconsin companies and programs. Home to the Global Water Council, host of the Annual Water Summit, and education institutions that offer specific water-related training, Wisconsin is prepared to tackle the obstacles and innovations of the blue economy.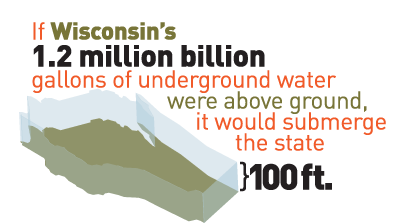 With the two largest Great Lakes — Lake Michigan and Lake Superior — and the Mississippi River forming three of Wisconsin's borders, plus 15,000 lakes within the state's boundaries, Wisconsin has made the most of its unique geography to build core industry strengths that draw upon an abundance of freshwater.
"Energy is important, but you can actually live without energy as humans. You cannot live without water," says Amhaus. "And I think people are starting to realize that. It's a human requirement, but I think people are also realizing that it's an economic necessity."