| | | | | |
| --- | --- | --- | --- | --- |
| | | | | The premier source of news on corporate facility location & area economic development |



FDI Training Seminar
23 - 24 February 2016, Istanbul, Turkey
The WORLD FORUM for Foreign Direct Investment 2016
03 - 06 April 2016, San Diego, USA
FDI International Training Seminar
04 April 2016, San Diego, USA
FDI International Training Seminar
17 - 18 May 2016, London, UK
The American Prosperity Congress
11 - 13 September 2016, Dallas, Texas



These events are sponsored by Site Selection magazine.
World Free Zone Convention
Feb 27 - Mar 1, 2016 - Bangkok, Thailand
IAMC Spring 2016 Professional Forum
Mar 12 - 16, 2016 - New Orleans, LA
2016 Reed - MIPIM Conference
Mar 15 - 18, 2016 - Cannes, France
2016 AIM - Annual Investment Meeting
Apr 11 - 13, 2016 - Dubai, UAE
Georgia Logistics Summit
Apr 19 - 20, 2016 - Atlanta, GA
2016 MAEDC - Best Practices Conference
May 18 - 20, 2016 - Columbus, OH
BIO International Convention
Jun 6 - 9, 2016 - San Francisco, CA
IEDC Annual Conference
Sep 25 - 28, 2016 - Cleveland, OH
Visit our events calander for more.





A global scorecard shows which Latin American & Caribbean business climates are improving, and why, in Movers & Shakers.




North American Reports looks in on Milken Institute's Best-Performing Cities Index; yet another HQ landing in Chicago; yet another digital media studio in Vancouver, BC; the top digital city governments in the US; and the best US cities for engineers.




Alabama's longstanding metals industry drives new investment at the Port of Mobile and at the former ThyssenKrupp complex in Calvert, among other locations, in They Know How To Work It.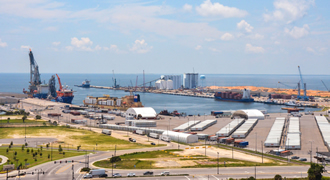 In addition to the new Edison Chouest investment, the Port of Gulfport (pictured here in a 2013 archive photo) recently welcomed a long-term lease from Dole Fresh Fruit Co.
Photo courtesy of Port of Gulfport

Mississippi experienced the biggest economic development day in its history this week, as Continental Tire and Edison Chouest Offshore shipbuilding affiliate TopShip announced projects in Clinton and Gulfport, respectively, that will result in a combined 4,500 new jobs and nearly $1.6 billion in investment. The state's come a long way in the decade since hurricanes struck.






The CaliBaja region is gearing up to host this year's WORLD FORUM for Foreign Direct Investment, April 3-6, 2016, in San Diego, Calif.

In addition to the return to the WORLD FORUM stage of moderator extraordinaire Ali Velshi of Al Jazeera, confirmed speakers include Martin Ford, Silicon Valley star and author of "Rise of the Robots," recently named Financial Times and McKinsey Business Book of the Year; Peter Zeihan, author of "The Accidental Superpower" and firm believer in the role played by mountains, rivers and oceans in a nation's competitive advantage; and former Fortune editor and current Editor-in-Chief of Yahoo Finance Andy Serwer.

Contact lauramartin@conway.com for more information.

14th World Free Zone Convention

Text Advertisement
Join the Site Selection team, along with Zone Operators, Zone Authorities, IPAs and other Free Zone representatives at the 14th annual World Free Zone Convention in Bangkok, Thailand on February 29th to March 1st. For more information on the event, click here.
ElectriCities of North Carolina

Text Advertisement

ElectriCities is a not-for-profit government service organization representing cities, towns, and universities that own electric distribution systems.  More than 70 NC cities serve 500,000 customers, with 1 million customers served in NC, SC, and VA.  ElectriCities provides economic development, customer service/safety training, emergency/technical assistance, communications, government affairs, and legal services.
One of ElectriCities' roles is to represent member communities to expanding and relocating companies. We maintain comprehensive databases for all public power municipalities in North Carolina.
Prospects can order detailed reports on dozens of sites, from mountains to coast. Within 48 hours of a request, ElectriCities will send profiles of locations that precisely match the company's specifications.
It's no coincidence that some of the state's most dynamic growth has occurred in our communities.  Any power-intensive industry is going to find significant advantages here.
ElectriCities remains a partner through the entire process, facilitating site visits and contact with local, county and state officials.
Contact:
Brenda C. Daniels
Manager Economic Development
bdaniels@electricities.org

"Why do I read Site Selection?"

Site Selection is one of the more important publications that I read. The articles usually provide me much more insight into the decision-makers' processes and mindsets. They also give me substantive information to consider, with much of it being on the leading edge. The articles make me think about how they can improve my clients' portfolios. I find myself cutting out articles and forwarding such information to my clients for consideration. To me, Site Selection, along with a few other periodicals, is important to my business. "

- Michael Rareshide
Partners National
Real Estate Group, Dallas, Texas

Editor - Adam Bruns