| | | | | |
| --- | --- | --- | --- | --- |
| | | | | The premier source of news on corporate facility location & area economic development |






These events are sponsored by Site Selection magazine.
IAMC Spring 2016 Professional Forum
Mar 12 - 16, 2016 - New Orleans, LA
2016 Reed - MIPIM Conference
Mar 15 - 18, 2016 - Cannes, France
2016 Supply Chain & Transportation USA
Apr 4 - 7, 2016 - Atlanta, GA
2016 AIM - Annual Investment Meeting
Apr 11 - 13, 2016 - Dubai, UAE
Georgia Logistics Summit
Apr 19 - 20, 2016 - Atlanta, GA
IEDC Economic Development Week
May 8 - 14, 2016 - #YearofEconDev
2016 MAEDC - Best Practices Conference
May 18 - 20, 2016 - Columbus, OH
BIO International Convention
Jun 6 - 9, 2016 - San Francisco, CA
IEDC Annual Conference
Sep 25 - 28, 2016 - Cleveland, OH
CINDE
Nov 15 - 17, 2016 - Burlington, Canada
Visit our events calander for more.



Thailand looks to give people and business a lift with reforms and a new Super-Cluster initiative, in Give Me a Boost.





Andrew Phillips, principal at EY's Quantitative Economics & Statistics practice, examines the lure and lore of the downtown headquarters in Striking a Balance.




Conway President and Publisher Adam Jones-Kelley recommends Cutting Through the Hype to discover what's really going on in Central America.




As the Industrial Asset Management Council prepares to convene in New Orleans next week, the IAMC Insider delivers stories about service provider selection, handling industrial surplus property, and corporate cybersecurity recommendations straight from an FBI expert.




On Track, a Site Selection Investment Profile, explores how logistics infrastructure makes San Bernardino County, Calif., a manufacturer's dream.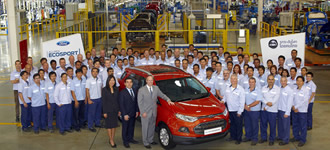 Ford Motor Co. in January 2014 celebrated the official start of production for the Ford EcoSport at the Ford Thailand Manufacturing (FTM) plant in Rayong, Thailand.
Photo courtesy of Ford

Rayong, Thailand, has appealed to more than one global automaker, we reported in November 2011. In January, Thailand Board of Investment announced that Ford has committed an additional $186 million toward expansion of its Rayong plant.






The CaliBaja region is gearing up to host this year's WORLD FORUM for Foreign Direct Investment, April 3-6, 2016, in San Diego, Calif.

In addition to the return to the WORLD FORUM stage of moderator extraordinaire Ali Velshi of Al Jazeera, confirmed speakers include Martin Ford, Silicon Valley star and author of "Rise of the Robots," recently named Financial Times and McKinsey Business Book of the Year; Peter Zeihan, author of "The Accidental Superpower" and firm believer in the role played by mountains, rivers and oceans in a nation's competitive advantage; and former Fortune editor and current Editor-in-Chief of Yahoo Finance Andy Serwer.

Contact lauramartin@conway.com for more information.


"Why do I read Site Selection?"

It is the industry leading magazine. It has the best, in-depth, insightful, useful interviews with leaders in the field. It provides the best resource (names and phone numbers) for developing contacts with local economic development agencies. It provides the best high-level surveys of relevant issues in the industry. "

- Scott Reed
Past Chair
Industrial Asset Management Council
St. Louis, Mo.

Editor - Adam Bruns