| | | | | |
| --- | --- | --- | --- | --- |
| | | | | The premier source of news on corporate facility location & area economic development |






These events are sponsored by Site Selection magazine.
2016 Supply Chain & Transportation USA
Apr 4 - 7, 2016 - Atlanta, GA
2016 AIM - Annual Investment Meeting
Apr 11 - 13, 2016 - Dubai, UAE
Georgia Logistics Summit
Apr 19 - 20, 2016 - Atlanta, GA
IEDC Economic Development Week
May 8 - 14, 2016 - #YearofEconDev
2016 MAEDC - Best Practices Conference
May 18 - 20, 2016 - Columbus, OH
BIO International Convention
Jun 6 - 9, 2016 - San Francisco, CA
IEDC Annual Conference
Sep 25 - 28, 2016 - Cleveland, OH
CINDE
Nov 15 - 17, 2016 - Burlington, Canada
Visit our events calander for more.





The Catalyst explores how a signature headquarters project is turbocharging Atlanta's new Aerotropolis Alliance.




Map To the Stars guides you to the top global projects across the five leading sectors for facility investment in 2015, according to the Conway Projects Database.




Communities keep coming up with creative ways to attract both talent and industry to Indiana, in Activating Potential.




Driven by accelerating military work, the aviation sector soars to new heights in Southwest Louisiana in Air Supremacy, a Site Selection Investment Profile.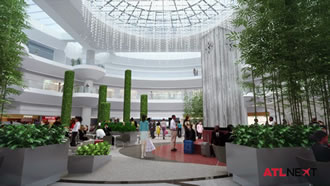 Click the image to view a video of ATL's new canopies to be constructed over pick-up and drop-off areas.
Photo and video courtesy of ATL

Last week the good news continued from Atlanta's Hartsfield-Jackson International Airport (ATL) as Atlanta Mayor Kasim Reed and ATL General Manager Miguel Southwell unveiled details of a $6-billion, 20-year capital plan that includes new atrium and concourse expansions, a sixth runway, a 400-room hotel and new cargo structures. As this 2012 Site Selection Investment Profile showed, ATL is just one of the state's major infrastructure assets helping to attract company growth.






The CaliBaja region is gearing up to host this year's WORLD FORUM for Foreign Direct Investment, April 3-6, 2016, in San Diego, Calif.

In addition to the return to the WORLD FORUM stage of moderator extraordinaire Ali Velshi of Al Jazeera, confirmed speakers include Martin Ford, Silicon Valley star and author of "Rise of the Robots," recently named Financial Times and McKinsey Business Book of the Year; Peter Zeihan, author of "The Accidental Superpower" and firm believer in the role played by mountains, rivers and oceans in a nation's competitive advantage; and former Fortune editor and current Editor-in-Chief of Yahoo Finance Andy Serwer.

Contact lauramartin@conway.com for more information.


"Why do I read Site Selection?"

I read and advertise with Site Selection because it is the standard of editorial excellence in the industry and I get results. A foreign consulate called me from my ad placement. That call resulted in a meeting with the consular general, an invitation to breakfast with the Prime Minister when he recently visited Miami and developing projects for the Miami area. Site Selection delivers. "

- Jeremy Larkin
President
NAI MIAMI
St. Louis, Mo.

Editor - Adam Bruns