| | | | | |
| --- | --- | --- | --- | --- |
| | | | | The premier source of news on corporate facility location & area economic development |






These events are sponsored by Site Selection magazine.
2016 Supply Chain & Transportation USA
Apr 4 - 7, 2016 - Atlanta, GA
2016 AIM - Annual Investment Meeting
Apr 11 - 13, 2016 - Dubai, UAE
Georgia Logistics Summit
Apr 19 - 20, 2016 - Atlanta, GA
IEDC Economic Development Week
May 8 - 14, 2016 - #YearofEconDev
2016 MAEDC - Best Practices Conference
May 18 - 20, 2016 - Columbus, OH
BIO International Convention
Jun 6 - 9, 2016 - San Francisco, CA
IEDC Annual Conference
Sep 25 - 28, 2016 - Cleveland, OH
CINDE
Nov 15 - 17, 2016 - Burlington, Canada
Visit our events calander for more.



While expansion moderates in some Eastern European countries, it will heat up in Lithuania, Latvia and Slovakia, reports Moody's Analytics Economist Tomas Holinka in Still Outpacing the West.





Location data on the global locations of unmanned aerial vehicle (UAV) firms is scarce, but, reports Unmanned Outposts, we found some. Next time, maybe we'll use a UAV.




In More Enchanting, New Mexico Governor Susana Martinez explains her budget priorities, energy plan and perspective on border-based economic development.




Innovation Destination, a Site Selection Investment Profile of King Abdullah University of Science and Technology (KAUST), finds that Saudi Arabia's most dynamic research ecosystem is at KAUST's campus on the Red Sea.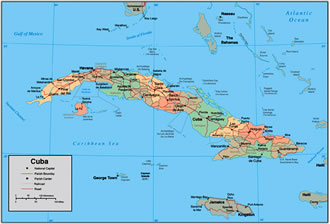 Cubans have been down so long it looks like up to them (apologies to Cuban-American writer Richard Fariña and bluesman Furry Lewis). It seems like Cuba has been "opening up" for a long time too. In a point/counterpoint we published six years ago, two experts took opposite sides on the Cuba question, and some of their concerns still resonate today.






The CaliBaja region is gearing up to host this year's WORLD FORUM for Foreign Direct Investment, April 3-6, 2016, in San Diego, Calif.

In addition to the return to the WORLD FORUM stage of moderator extraordinaire Ali Velshi of Al Jazeera, confirmed speakers include Martin Ford, Silicon Valley star and author of "Rise of the Robots," recently named Financial Times and McKinsey Business Book of the Year; Peter Zeihan, author of "The Accidental Superpower" and firm believer in the role played by mountains, rivers and oceans in a nation's competitive advantage; and former Fortune editor and current Editor-in-Chief of Yahoo Finance Andy Serwer.

Contact lauramartin@conway.com for more information.


"Why do I read Site Selection?"

I read and advertise with Site Selection because it is the standard of editorial excellence in the industry and I get results. A foreign consulate called me from my ad placement. That call resulted in a meeting with the consular general, an invitation to breakfast with the Prime Minister when he recently visited Miami and developing projects for the Miami area. Site Selection delivers. "

- Jeremy Larkin
President
NAI MIAMI
St. Louis, Mo.

Editor - Adam Bruns