| | | | | |
| --- | --- | --- | --- | --- |
| | | | | The premier source of news on corporate facility location & area economic development |






These events are sponsored by Site Selection magazine.
2016 Supply Chain & Transportation USA
Apr 4 - 7, 2016 - Atlanta, GA
2016 AIM - Annual Investment Meeting
Apr 11 - 13, 2016 - Dubai, UAE
Georgia Logistics Summit
Apr 19 - 20, 2016 - Atlanta, GA
IEDC Economic Development Week
May 8 - 14, 2016 - #YearofEconDev
2016 MAEDC - Best Practices Conference
May 18 - 20, 2016 - Columbus, OH
BIO International Convention
Jun 6 - 9, 2016 - San Francisco, CA
IEDC Annual Conference
Sep 25 - 28, 2016 - Cleveland, OH
CINDE
Nov 15 - 17, 2016 - Burlington, Canada
Visit our events calander for more.




Driven by its innovation ecosystem, California is golden again, say the findings of the Milken Institute's annual Best-Performing Cities report. Milken's Ross DeVol and Minoli Ratnatunga tell us why in Push and Pull.




Paradigm shifts are a dime a dozen. But the leaders of Aligned Data Centers say this one's for real. Learn why, and gain insights from the latest data center location analysis, in Pay As You Go.




North American Reports features news about where Canadians like to work, a balloon spaceflight company in Tucson, two blockbusters in one day in Mississippi, more wind turbine blades coming from Juarez, and the top 10 US metro areas for STEM workers.




Gwinnett County in metro Atlanta emerges as a major player in growing high-tech industries, in Leveling the Field, a Site Selection Investment Profile.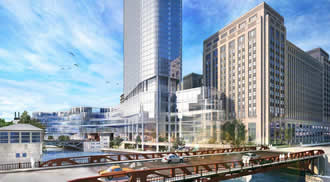 Rendering courtesy of Antunovich Associates

Earlier this month, International Property Developers North America (IPDNA), owners of the iconic Old Post Office and adjacent sites on Van Buren Street, in Chicago, announced the conditional sale of the 2.7-million-sq.-ft. property to New York-based 601W Companies. Planning entitlements incorporating an additional 7.5 million sq. ft. in the property's redevelopment (pictured) were obtained from the Chicago City Council in 2013. As gleaming and shiny as the news is, we can't think of "post office" and "Chicago" without remembering Jack Lyne's story eight years ago about the Postal Service's hopes for change over at less-than-iconic Fort Dearborn Station.





The CaliBaja region is gearing up to host this year's WORLD FORUM for Foreign Direct Investment, April 3-6, 2016, in San Diego, Calif.

In addition to the return to the WORLD FORUM stage of moderator extraordinaire Ali Velshi of Al Jazeera, confirmed speakers include Martin Ford, Silicon Valley star and author of "Rise of the Robots," recently named Financial Times and McKinsey Business Book of the Year; Peter Zeihan, author of "The Accidental Superpower" and firm believer in the role played by mountains, rivers and oceans in a nation's competitive advantage; and former Fortune editor and current Editor-in-Chief of Yahoo Finance Andy Serwer.

Contact lauramartin@conway.com for more information.


"Why do I read Site Selection?"

I read Site Selection magazine because it keeps me informed of the most current trends in the industrial real estate industry. It also keeps me up to date on the latest and greatest information concerning economic development incentives and the best places to live, work and play. I can use this data in the day to day discussions I have with business unit management concerning the strategic planning of their real estate portfolios. In a few words , it helps me stay on the leading edge of current and future real estate and economic development trends. "

- Jim Winter
Global Manager of Corporate Real Estate
Alcoa Inc.


Editor - Adam Bruns