| | | | | |
| --- | --- | --- | --- | --- |
| | | | | The premier source of news on corporate facility location & area economic development |






These events are sponsored by Site Selection magazine.
2016 AIM - Annual Investment Meeting
Apr 11 - 13, 2016 - Dubai, UAE
Georgia Logistics Summit
Apr 19 - 20, 2016 - Atlanta, GA
IEDC Economic Development Week
May 8 - 14, 2016 - #YearofEconDev
2016 MAEDC - Best Practices Conference
May 18 - 20, 2016 - Columbus, OH
BIO International Convention
Jun 6 - 9, 2016 - San Francisco, CA
IEDC Annual Conference
Sep 25 - 28, 2016 - Cleveland, OH
CINDE
Nov 15 - 17, 2016 - Burlington, Canada
Visit our events calander for more.



Snapshots from the collaborative workspace craze show where co-work and real work collide, in Blurred Lines.





Agribusiness expansions in Russia and Iowa are about much more than new facilities, in Think Locally, Invest Globally.




The ability to monitor production from start to finish led Japan's oldest pharma company to put down roots in Minnesota, in Maintaining Control.




Snapshots of Excellence, an expanded Web edition of our Northeast US regional review, shows that when schoolwork comes first, a qualified workforce follows.




Follow-through is one way Hoosier Energy helps companies stay on top of their game, in Play Ball, a Site Selection Investment Profile.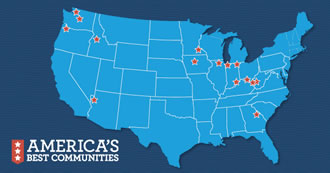 Rendering courtesy of Antunovich Associates

Earlier this year, 15 semi-finalists were named in the America's Best Communities competition: Lake Havasu City, Arizona; Charleston and Huntington, West Virginia; Statesboro, Georgia; Valley County/Meadows Valley, Idaho; Chisago Lakes Area, Minnesota; Portsmouth, Ohio; DeKalb, Illinois; Fort Dodge, Iowa; Darrington/Arlington and Wenatchee/East Wenatchee, Washington; Valparaiso, Madison and Angola/Fremont, Indiana; and Tualatin, Oregon. They will be whittled down to eight finalists at a summit April 26-27 in Durham, North Carolina. Next April, the three best will receive a total of $6 million to pursue their dreams for economic development.



"Why do I read Site Selection?"

I read Site Selection magazine because it keeps me informed of the most current trends in the industrial real estate industry. It also keeps me up to date on the latest and greatest information concerning economic development incentives and the best places to live, work and play. I can use this data in the day to day discussions I have with business unit management concerning the strategic planning of their real estate portfolios. In a few words , it helps me stay on the leading edge of current and future real estate and economic development trends. "

- Jim Winter
Global Manager of Corporate Real Estate
Alcoa Inc.


Editor - Adam Bruns