| | | | | |
| --- | --- | --- | --- | --- |
| | | | | The premier source of news on corporate facility location & area economic development |






These events are sponsored by Site Selection magazine.
Georgia Logistics Summit
Apr 19 - 20, 2016 - Atlanta, GA
IEDC Economic Development Week
May 8 - 14, 2016 - #YearofEconDev
2016 MAEDC - Best Practices Conference
May 18 - 20, 2016 - Columbus, OH
BIO International Convention
Jun 6 - 9, 2016 - San Francisco, CA
IAMC International Forum
Jun 21 - 23, 2016 - London, UK
IEDC Annual Conference
Sep 25 - 28, 2016 - Cleveland, OH
IAMC Fall Professional Forum
Oct 8 - 12, 2016 - Indianapolis, IN
CINDE
Nov 15 - 17, 2016 - Burlington, Canada
Visit our events calander for more.




Cluster and venture capital data show where longstanding biopharma strength provides the backbone for feisty startups, in Staying Power.




Certifiably Successful reports that good things happen when an economic development organization in Florida's Space Coast gets serious about workforce development..




In Case You Missed It rounds up what's on the minds of the four governors in the South-Central US.




Intrinsic Industry, a Site Selection Investment Profiles, finds that the data center industry boosts everything from quality of life to economic diversity in Loudoun County, Virginia.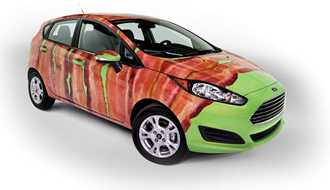 Underneath the bacon paint job is a Ford Fiesta made in Mexico. The company's $1.8-billion investment in San Luis Potosi announced last week comes on top of a pledge last April to invest $2.5 billion in two Mexican plants.

Photo courtesy of Ford Motor Co.

Last week brought news of, ho hum, just another $1.6 billion and 2,800 jobs for Mexico's automotive industry, courtesy of Ford. It's one of more than a dozen billion-dollar-plus projects in Mexico from vehicle OEMs in the past couple years. Watch for an exclusive contribution about the North American auto sector from consultancy IHS, as well as the annual Mexico Advantage section, in the May issue of Site Selection.

Industrial Asset Management Council


Industrial Real Estate without Borders


As we enter into the fourth industrial revolution, corporate real estate is part of a broad global discussion. Join IAMC for its first Forum outside of North America to discuss issues including bench marking; the economic and geopolitical climate; technology; and more.

"Why do I read Site Selection?"

Site Selection is one of the more important publications that I read. The articles usually provide me much more insight into the decision-makers' processes and mindsets. They also give me substantive information to consider, with much of it being on the leading edge. The articles make me think about how they can improve my clients' portfolios. I find myself cutting out articles and forwarding such information to my clients for consideration. To me, Site Selection, along with a few other periodicals, is important to my business. "

- Michael Rareshide
Partners National
Real Estate Group, Dallas, Texas


Editor - Adam Bruns