| | | | | |
| --- | --- | --- | --- | --- |
| | | | | The premier source of news on corporate facility location & area economic development |



Grow Abroad Conference 2016
Nov 22 2016, Berlin, Germany
FDI International Training Seminar
Nov 23 2016, Berlin, Germany
FDI International Training Seminar
Mar 28-29 2017, Chicago Illinois
The WORLD FORUM for Foreign Direct Investment 2017
May 22 - 24 2017, Shanghai, China
FDI International Training Seminar
May 22 2017, Shanghai, China
FDI International Training Seminar
Jun 13-14 2017, London, UK
Grow Abroad Conference 2017
Nov 21 2017, Berlin, Germany
FDI International Training Seminar
Nov 22 2017, Berlin, Germany
FDI International Training Seminar
Dec 2017, Dubai, UAE



ULI Fall Meeting
Oct 24 - 27, 2016 - Dallas, TX
Milken Institute California Summit
Oct 25, 2016 - Los Angeles, CA
TCI 2016-Global Changes: Challenges for Innovation Clusters
Nov 8 - 10, 2016 - Eindhoven, Netherlands
CINDE
Nov 15 - 17, 2016 - Burlington, Canada
FABTECH
Nov 16 - 18, 2016 - Las Vegas, NV
Gartner Data Center, Infrastructure & Operations Management Conference
Dec 5 - 8, 2016 - Burlington, Canada
FABTECH
Nov 6 - 9, 2017 - Chicago, IL
Visit our events calendar for more.




According to the Consumer Technology Association, the Upper Midwest states' innovation grades are above average.




We explore Why Expanding Mid-Atlantic Firms are Staying Put.




While some world locations shine, others are still getting up to speed, in Broadband and Mobile Infrastructure: Measured, Calibrated and Deployed.



The European Council meets this week to address migration policy, relations with Russia and pending trade agreements, including the EU's CETA agreement with Canada, a pact that one prominent industry leader called "the Wayne Gretzky of trade deals" when it was initially agreed to three years ago. Canadian Prime Minister Justin Trudeau this month said moving forward with CETA would be a test of the EU's relevance in the wake of the Brexit vote.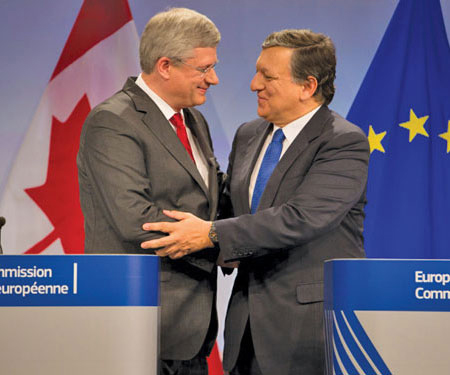 Then-Canadian Prime Minister Stephen Harper and then-European Commission President Jose Manuel Barroso in October 2013 shook hands on an agreement in principle on a new comprehensive economic and trade agreement.
Photo courtesy of the Office of the Prime Minister of Canada

"Why do I read Site Selection?"

The United States is now the premier destination for global investment. Site Selection magazine is the publication-of-record for cutting edge public-private-partnerships leading the way in real estate, manufacturing, and infrastructure."

- Mikael Likosky
JD DPhil (Oxford Law), Director
NYU's Center on Law & Public Finance


Editor - Adam Bruns