| | | | | |
| --- | --- | --- | --- | --- |
| | | | | The premier source of news on corporate facility location & area economic development |



Grow Abroad Conference 2016
Nov 22 2016, Berlin, Germany
FDI International Training Seminar
Nov 23 2016, Berlin, Germany
FDI International Training Seminar
Mar 28-29 2017, Chicago Illinois
The WORLD FORUM for Foreign Direct Investment 2017
May 22 - 24 2017, Shanghai, China
FDI International Training Seminar
May 22 2017, Shanghai, China
FDI International Training Seminar
Jun 13-14 2017, London, UK
Grow Abroad Conference 2017
Nov 21 2017, Berlin, Germany
FDI International Training Seminar
Nov 22 2017, Berlin, Germany
FDI International Training Seminar
Dec 2017, Dubai, UAE



TCI 2016-Global Changes: Challenges for Innovation Clusters
Nov 8 - 10, 2016 - Eindhoven, Netherlands
CINDE
Nov 15 - 17, 2016 - Burlington, Canada
FABTECH
Nov 16 - 18, 2016 - Las Vegas, NV
Gartner Data Center, Infrastructure & Operations Management Conference
Dec 5 - 8, 2016 - Burlington, Canada
FABTECH
Nov 6 - 9, 2017 - Chicago, IL
Visit our events calendar for more.




The State of Georgia tops our annual business climate rankings for the fourth year in a row. Find out why straight from Governor Nathan Deal, and learn which other states are performing well, in The Gold Standard.




Think that upward-climbing inward FDI number is great news for America? You may think differently after reading The Inversion Perversion.




The thought leaders at The Brookings Institution pull no punches: It's time to change economic development metrics. Could Inclusion Be the New Yardstick?



Site Selection readers have been learning about the location and job creation effects of corporate inversions for some time, including our coverage of deals involving Medtronic and AbbVie. In terms of Medtronic's pledge to retain and grow jobs in Minnesota, its job openings there as of today number nearly 250.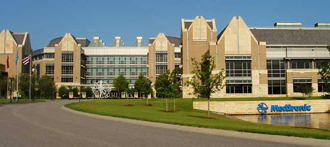 While officially headquartered in Dublin now, Medtronic maintains its operational HQ in Minneapolis.
Photo courtesy of Medtronic

"Why do I read Site Selection?"

I read and advertise with Site Selection because it is the standard of editorial excellence in the industry and I get results. A foreign consulate called me from my ad placement. That call resulted in a meeting with the consular general, an invitation to breakfast with the Prime Minister when he recently visited Miami and developing projects for the Miami area. Site Selection delivers."

- Jeremy Larkin
President
NAI MIAMI


Editor - Adam Bruns