| | | | | |
| --- | --- | --- | --- | --- |
| | | | | The premier source of news on corporate facility location & area economic development |



Grow Abroad Conference 2016
Nov 22 2016, Berlin, Germany
FDI International Training Seminar
Nov 23 2016, Berlin, Germany
FDI International Training Seminar
Mar 28-29 2017, Chicago Illinois
The WORLD FORUM for Foreign Direct Investment 2017
May 22 - 24 2017, Shanghai, China
FDI International Training Seminar
May 22 2017, Shanghai, China
FDI International Training Seminar
Jun 13-14 2017, London, UK
Grow Abroad Conference 2017
Nov 21 2017, Berlin, Germany
FDI International Training Seminar
Nov 22 2017, Berlin, Germany
FDI International Training Seminar
Dec 2017, Dubai, UAE



TCI 2016-Global Changes: Challenges for Innovation Clusters
Nov 8 - 10, 2016 - Eindhoven, Netherlands
CINDE
Nov 15 - 17, 2016 - Burlington, Canada
FABTECH
Nov 16 - 18, 2016 - Las Vegas, NV
Gartner Data Center, Infrastructure & Operations Management Conference
Dec 5 - 8, 2016 - Burlington, Canada
2017 IEDC Leadership Summit
Jan 29 - 31, 2017 - Jacksonville, FL
2017 IEDC Federal Forum
Apr 9 - 11, 2017 - Washington, DC
2017 IEDC Economic Future Forum
Jun 4 - 6, 2017 - Little Rock, AR
2017 IEDC Annual Conference
Sep 17 - 20, 2017 - Toronto, Canada
FABTECH
Nov 6 - 9, 2017 - Chicago, IL
Visit our events calendar for more.




Is a post-election flight of US talent or firms to Canada a real possibility? Ontario's economic development minister answers that question, but says all signs point to companies discovering Ontario's advantages regardless of who's in office, in Come On Over.




Choosing to stay put can be as proactive a choice as relocating. Editor in Chief Mark Arend finds out why, for one Spokane-area company, the grass wasn't greener on the other side of the fence, in Aerospace Project Had Options, Didn't Need Them.




One hundred years after The Austin Company designed and constructed its first aviation plant (for Curtiss Aeroplane and Motor Co. in Buffalo, New York), the consulting firm's Frank Spano and Susan Riffle explore How Thriving Communities Attract Aerospace Manufacturing.




Rx for Healthcare IT: Columbus, a Site Selection Investment Profile, explores why the Columbus Region is becoming a national hub for healthcare IT innovation.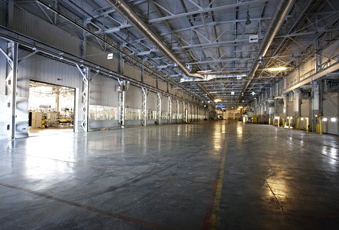 Four years after we reported on an open house at the property, RACER Trust has completed the sale of the former GM Willow Run Powertrain Plant property in Ypsilanti Township, Michigan, to a partnership that will develop it into the American Center for Mobility , a planned testing facility for connected and automated vehicles. Look for insights into this deal and other automotive initiatives in the January 2017 issue of Site Selection.
The historic Willow Run site is home to what's been called the largest room in the world.
Photo courtesy of RACER Trust

"Why do I read Site Selection?"

I read and advertise with Site Selection because it is the standard of editorial excellence in the industry and I get results. A foreign consulate called me from my ad placement. That call resulted in a meeting with the consular general, an invitation to breakfast with the Prime Minister when he recently visited Miami and developing projects for the Miami area. Site Selection delivers."

- Jeremy Larkin
President
NAI MIAMI


Editor - Adam Bruns