| | | | | |
| --- | --- | --- | --- | --- |
| | | | | The premier source of news on corporate facility location & area economic development |



Grow Abroad Conference 2016
Nov 22 2016, Berlin, Germany
FDI International Training Seminar
Nov 23 2016, Berlin, Germany
FDI International Training Seminar
Mar 28-29 2017, Chicago Illinois
The WORLD FORUM for Foreign Direct Investment 2017
May 22 - 24 2017, Shanghai, China
FDI International Training Seminar
May 22 2017, Shanghai, China
FDI International Training Seminar
Jun 13-14 2017, London, UK
Grow Abroad Conference 2017
Nov 21 2017, Berlin, Germany
FDI International Training Seminar
Nov 22 2017, Berlin, Germany
FDI International Training Seminar
Dec 2017, Dubai, UAE



Gartner Data Center, Infrastructure & Operations Management Conference
Dec 5 - 8, 2016 - Burlington, Canada
2017 IEDC Leadership Summit
Jan 29 - 31, 2017 - Jacksonville, FL
2017 IEDC Federal Forum
Apr 9 - 11, 2017 - Washington, DC
2017 IEDC Economic Future Forum
Jun 4 - 6, 2017 - Little Rock, AR
2017 IEDC Annual Conference
Sep 17 - 20, 2017 - Toronto, Canada
FABTECH
Nov 6 - 9, 2017 - Chicago, IL
Visit our events calendar for more.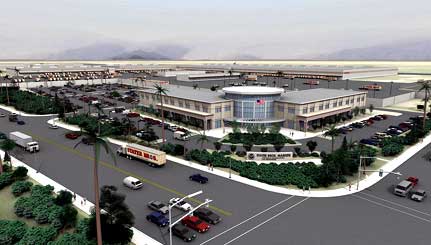 Jack H. Brown, the executive chairman of Stater Bros. and longtime champion of San Bernardino County, California, passed away this week at the age of 78. "He said no to Los Angeles and Riverside and then to Nevada and Arizona," reported The Los Angeles Times in recalling efforts to lure the company away, "choosing instead to plant the company flag firmly in his hometown, a city that others had fled." He called it a "boyhood dream" when his team decided in 2004 to invest $200 million and locate 2,000 jobs at a new complex in that hometown, a project that was selected among Site Selection's Top Deals of the Year.
The Stater Bros. HQ complex was an early investment at the redeveloped Norton Air Force Base that has become Hillwood's Alliance California.
Photo courtesy of Stater Bros.

"Why do I read Site Selection?"

Since 'The New Orleans Miracle' article by Ron Starner was published in March 2011 on Site Selection Magazine's website, SiteSelection.com, GNO, Inc. has circulated and referenced it repeatedly to business visitors and potential investors, as well as citizens of Greater New Orleans. It is a fact-based and compelling piece that eloquently expresses our region's story of recovery. We have read, contributed to, and collected many stories and articles on the recovery and progress of the post-Katrina Greater New Orleans region, but 'The New Orleans Miracle' continues to be one of the best and most effective."

- Michael Hecht
President and CEO
Greater New Orleans Inc.


Editor - Adam Bruns