| | | | | |
| --- | --- | --- | --- | --- |
| | | | | The premier source of news on corporate facility location & area economic development |



FDI International Training Seminar
Mar 28-29 2017, Chicago Illinois
The WORLD FORUM for Foreign Direct Investment 2017
May 22 - 24 2017, Shanghai, China
FDI International Training Seminar
May 22 2017, Shanghai, China
FDI International Training Seminar
Jun 13-14 2017, London, UK
Grow Abroad Conference 2017
Nov 21 2017, Berlin, Germany
FDI International Training Seminar
Nov 22 2017, Berlin, Germany
FDI International Training Seminar
Dec 2017, Dubai, UAE



2017 IEDC Leadership Summit
Jan 29 - 31, 2017 - Jacksonville, FL
2017 IEDC Federal Forum
Apr 9 - 11, 2017 - Washington, DC
2017 IEDC Economic Future Forum
Jun 4 - 6, 2017 - Little Rock, AR
2017 IEDC Annual Conference
Sep 17 - 20, 2017 - Toronto, Canada
FABTECH
Nov 6 - 9, 2017 - Chicago, IL
Visit our events calendar for more.




Site Selection's annual analysis of the entire Ohio River Corridor rediscovers Greater Cincinnati's model for multi-state metro-area prosperity, in Two-Way Street.




Keep on Truckin' finds out why Werner Enterprises invests for the long haul in Nebraska.




German cities getting the most attention from corporate end-user investors include Hamburg, Berlin, Munich and hotel search firm trivago's hometown of Düsseldorf, where a new headquarters for 2,000 employees aims to be Where the Action Is.




Douglas van den Berghe and Chris Steele of Investment Consulting Associates analyze The Future of Free Zones.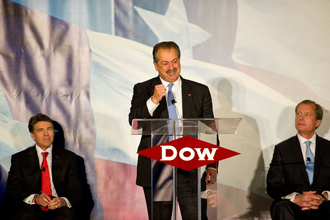 President-elect Donald Trump has tabbed Dow Chemical CEO Andrew Liveris to head the American Manufacturing Council, which advises the US Secretary of Commerce. Among the things Liveris had to say at the inaugural SelectUSA Investment Summit we covered in 2013 was this: "I can think of no more pressing issue for Team USA than immigration reform."
Dow Chemical CEO Andrew Liveris is shown here in 2012 announcing a 150-job, $1.7-billion investment in ethylene production at Dow's Freeport complex in Texas. The project was helped by $1 million from the Texas Enterprise Fund, an incentive program long championed by former Texas Gov. Rick Perry (shown seated, left), whom President-elect Trump has tabbed as the next US Secretary of Energy.
Photo courtesy of the Office of the Governor of Texas

"Why do I read Site Selection?"

Reading the latest research from various firms, speaking with experts, networking with other end-users and reading publications like Site Selection magazine provide us insights into potential new opportunities on a regular basis."

- Andrew Urban
International Real Estate Associate Manager
Zimmer Biomet


Editor - Adam Bruns