| | | | | |
| --- | --- | --- | --- | --- |
| | | | | The premier source of news on corporate facility location & area economic development |



FDI International Training Seminar
Mar 28-29 2017, Chicago Illinois
The WORLD FORUM for Foreign Direct Investment 2017
May 22 - 24 2017, Shanghai, China
FDI International Training Seminar
May 22 2017, Shanghai, China
FDI International Training Seminar
Jun 13-14 2017, London, UK
Grow Abroad Conference 2017
Nov 21 2017, Berlin, Germany
FDI International Training Seminar
Nov 22 2017, Berlin, Germany
FDI International Training Seminar
Dec 2017, Dubai, UAE



2017 IEDC Leadership Summit
Jan 29 - 31, 2017 - Jacksonville, FL
2017 IEDC Federal Forum
Apr 9 - 11, 2017 - Washington, DC
2017 IEDC Economic Future Forum
Jun 4 - 6, 2017 - Little Rock, AR
2017 IEDC Annual Conference
Sep 17 - 20, 2017 - Toronto, Canada
FABTECH
Nov 6 - 9, 2017 - Chicago, IL
Visit our events calendar for more.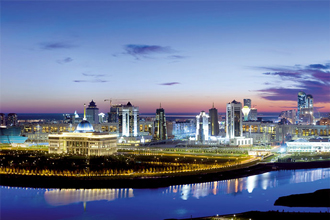 It was winter solstice 25 years ago this week when Kazakhstan gained its independence. Look back with us at our 2013 story about that nation's creation of a new capital in Astana (pictured) that will host the World Expo next year, in Road to Somewhere.
Photo courtesy of Republic of Kazakhstan government

"Why do I read Site Selection?"

The United States is now the premier destination for global investment. Site Selection magazine is the publication-of-record for cutting edge public-private-partnerships leading the way in real estate, manufacturing, and infrastructure."

- Mikael Likosky
JD DPhil (Oxford Law), Director
NYU's Center on Law & Public Finance


Editor - Adam Bruns