| | | | | |
| --- | --- | --- | --- | --- |
| | | | | The premier source of news on corporate facility location & area economic development |



FDI International Training Seminar
Mar 28-29 2017, Chicago Illinois
The WORLD FORUM for Foreign Direct Investment 2017
May 22 - 24 2017, Shanghai, China
FDI International Training Seminar
May 22 2017, Shanghai, China
FDI International Training Seminar
Jun 13-14 2017, London, UK
Grow Abroad Conference 2017
Nov 21 2017, Berlin, Germany
FDI International Training Seminar
Nov 22 2017, Berlin, Germany
FDI International Training Seminar
Dec 2017, Dubai, UAE



2017 IEDC Leadership Summit
Jan 29 - 31, 2017 - Jacksonville, FL
World Free Zone Convention (WFZC)
Apr 2 - 6, 2017 - Qatar, UAE
2017 IEDC Federal Forum
Apr 9 - 11, 2017 - Washington, DC
2017 IEDC Economic Future Forum
Jun 4 - 6, 2017 - Little Rock, AR
SelectUSA Investment Summit
Jun 18 - 20, 2017 - Oxon Hill, MD
2017 Mid America Best Practices Conference
Jun 21 - 23, 2017 - Fort Wayne, IN
2017 IEDC Annual Conference
Sep 17 - 20, 2017 - Toronto, Canada
2017 TrustBelt Annual Conference
Oct 22 - 24, 2017 - Des Moines, IA
FABTECH
Nov 6 - 9, 2017 - Chicago, IL
Visit our events calendar for more.



Look beyond the warm water and palm trees and you'll find a growing hub of young talent and ambitious leaders, writes Ron Starner in 10 Things I Learned in Tampa.





The latest edition of our annual State of the States guide updates you on economic development laws, leaders, policies, incentives and projects in all 50 states, in Change is Refreshing. Predictability Is Too.




Geopolitical genius Peter Zeihan weighs in on what lies ahead for those United States in Trump in Context.




Editor in Chief Mark Arend notes the guardedly optimistic tone resonating throughout this issue's expert analysis of the forthcoming administration, in It Just Might Work.



Ford's the latest to be convinced to make America even greater, canceling a $1.6-billion plant that was already under construction in San Luis Potosí, Mexico, and instead making a 700-job investment in Flat Rock, Michigan, where not that long ago Ford committed to creating 1,200 new jobs. Next up for critique by the Central Scrutinizer? General Motors — another firm already investing substantially in the US — whose global real estate and facilities director talked us through the company's global approach to site selection four years ago.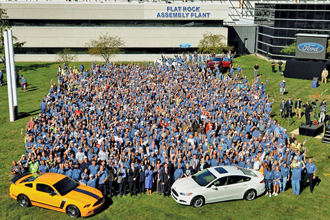 Ford on Sept. 10, 2012, committed to create 1,200 new hourly jobs at its plant in Flat Rock, Michigan, which this week got another boost thanks to the company's pullout from a $1.6-billion project in Mexico.
Photo courtesy of Ford Motor Company