| | | | | |
| --- | --- | --- | --- | --- |
| | | | | The premier source of news on corporate facility location & area economic development |



FDI International Training Seminar
Mar 28-29 2017, Chicago Illinois
The WORLD FORUM for Foreign Direct Investment 2017
May 22 - 24 2017, Shanghai, China
FDI International Training Seminar
May 22 2017, Shanghai, China
FDI International Training Seminar
Jun 13-14 2017, London, UK
Grow Abroad Conference 2017
Nov 21 2017, Berlin, Germany
FDI International Training Seminar
Nov 22 2017, Berlin, Germany
FDI International Training Seminar
Dec 2017, Dubai, UAE



2017 IEDC Leadership Summit
Jan 29 - 31, 2017 - Jacksonville, FL
World Free Zone Convention (WFZC)
Apr 2 - 6, 2017 - Qatar, UAE
2017 IEDC Federal Forum
Apr 9 - 11, 2017 - Washington, DC
2017 IEDC Economic Future Forum
Jun 4 - 6, 2017 - Little Rock, AR
SelectUSA Investment Summit
Jun 18 - 20, 2017 - Oxon Hill, MD
2017 Mid America Best Practices Conference
Jun 21 - 23, 2017 - Fort Wayne, IN
2017 IEDC Annual Conference
Sep 17 - 20, 2017 - Toronto, Canada
2017 TrustBelt Annual Conference
Oct 22 - 24, 2017 - Des Moines, IA
FABTECH
Nov 6 - 9, 2017 - Chicago, IL
Visit our events calendar for more.




The American Dream Composite Index lays out what its creators say is a better blueprint for measuring economic development achievement. Analyze the results for yourself in The American Dream Reimagined.





Tax and regulatory concerns dominate our annual survey of site selectors, who give a nod to policy changes out of Columbus and Indy in Ohio, Indiana Flex Muscle.




A wave of advanced automotive and mobility news in Michigan coincides with Detroit's resurrection in Complete Autonomy.




Discover the strengths of the only major Canadian city south of the US border in The Innovation Infrastructure You Can't See, a Site Selection Investment Profile of Windsor-Essex, Ontario, Canada.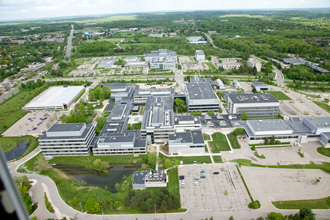 After the Michigan story above went to press, yet another big corporate investment connected to autonomous driving was announced this month, as Toyota spinoff DENSO opened a new R&D lab in Ann Arbor, the latest in a string of projects emerging from the company's 2012 master alliance agreement with the University of Michigan. DENSO located the center in a rechristened former Pfizer campus whose redevelopment we first profiled in August 2012.
DENSO's new R&D lab just opened on a former Pfizer campus now known as the University of Michigan North Campus Research Complex (NCRC).
Photo courtesy of University of Michigan