| | | | | |
| --- | --- | --- | --- | --- |
| | | | | The premier source of news on corporate facility location & area economic development |



FDI International Training Seminar
Mar 28-29 2017, Chicago Illinois
The WORLD FORUM for Foreign Direct Investment 2017
May 22 - 24 2017, Shanghai, China
FDI International Training Seminar
May 22 2017, Shanghai, China
FDI International Training Seminar
Jun 13-14 2017, London, UK
FDI International Training Seminar
Sep 2017, Chicago, Illinois
Great States & ConvergX Summit
Sep 11-13 2017, Oklahoma City, Oklahoma
TrustBelt 2017
Oct 22-24 2017, Des Moines, Iowa
Grow Abroad Conference 2017
Nov 21 2017, Berlin, Germany
FDI International Training Seminar
Nov 22 2017, Berlin, Germany
FDI International Training Seminar
Dec 2017, Dubai, UAE



Annual Investment Meeting (AIM)
Apr 2 - 4, 2017 - Dubai, UAE
World Free Zone Convention (WFZC)
Apr 2 - 6, 2017 - Qatar, UAE
2017 IAMC Spring Forum
Apr 8 - 12, 2017 - Tampa, FL
2017 IEDC Federal Forum
Apr 9 - 11, 2017 - Washington, DC
2017 LOCUS Leadership Summit: P3 for Partnerships, Placemaking, and Policy
Apr 24 - 25, 2017 - Washington, DC
Hannover Messe 2017
Apr 24 - 28, 2017 - Hannover, Germany
2017 IEDC Economic Future Forum
Jun 4 - 6, 2017 - Little Rock, AR
SelectUSA Investment Summit
Jun 18 - 20, 2017 - Oxon Hill, MD
2017 Mid America Best Practices Conference
Jun 21 - 23, 2017 - Fort Wayne, IN
2017 IEDC Annual Conference
Sep 17 - 20, 2017 - Toronto, Canada
2017 TrustBelt Annual Conference
Oct 22 - 24, 2017 - Des Moines, IA
FABTECH
Nov 6 - 9, 2017 - Chicago, IL
Visit our events calendar for more.



The Super Bowl-bound Atlanta Falcons have a catchy gospel-choir song exhorting the team to "Rise Up." From the looks of Atlanta's project portfolio, the city's infrastructure for innovation has Already Risen.




Much of South Korea is a free economic zone, if going right to China isn't in the cards. Learn more from In the (Free Economic) Zone? Probably.





The heartland is getting hipper for creative and digital media types. Find out why in Flyover States Fly High.




Our glance at American energy hubs finds The Tide Turns for Oil & Gas and for Wind.




"Local control" proves to be an important milestone for Ontario International Airport and its region in The Freedom to Fly, a Site Selection Investment Profile of San Bernardino County, California.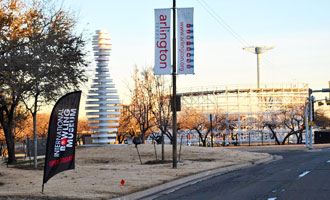 We can't think of the Super Bowl without thinking of Super Bowling, our February 2011 account of the International Bowling Congress headquarters move to Arlington, Texas, just a short walk from the site of Super Bowl XLV.
Since 'The New Orleans Miracle' article by Ron Starner was published in March 2011 on Site Selection Magazine's website, SiteSelection.com, GNO, Inc. has circulated and referenced it repeatedly to business visitors and potential investors, as well as citizens of Greater New Orleans. It is a fact-based and compelling piece that eloquently expresses our region's story of recovery. We have read, contributed to, and collected many stories and articles on the recovery and progress of the post-Katrina Greater New Orleans region, but 'The New Orleans Miracle' continues to be one of the best and most effective."

- Michael Hecht
President and CEO
Greater New Orleans Inc.