The premier source of news on corporate facility location & area economic development

| | | | | |
| --- | --- | --- | --- | --- |
| | | | | The premier source of news on corporate facility location & area economic development |



The WORLD FORUM for Foreign Direct Investment 2017
May 22 - 24 2017, Shanghai, China
FDI International Training Seminar
May 22 2017, Shanghai, China
FDI International Training Seminar
Jun 2017, London, England
FDI International Training Seminar
Sep 2017, Chicago, Illinois
Great States & ConvergX Summit
Sep 11-13 2017, Oklahoma City, Oklahoma
TrustBelt 2017
Oct 22-24 2017, Des Moines, Iowa
FDI International Training Seminar
Nov 2017, Frankfurt, Germany



Asia/Pacific Business Outlook Conference
Mar 27 - 28, 2017 - Los Angeles, CA
Annual Investment Meeting (AIM)
Apr 2 - 4, 2017 - Dubai, UAE
World Free Zone Convention (WFZC)
Apr 2 - 6, 2017 - Qatar, UAE
2017 IAMC Spring Forum
Apr 8 - 12, 2017 - Tampa, FL
2017 IEDC Federal Forum
Apr 9 - 11, 2017 - Washington, DC
2017 LOCUS Leadership Summit: P3 for Partnerships, Placemaking, and Policy
Apr 24 - 25, 2017 - Washington, DC
Hannover Messe 2017
Apr 24 - 28, 2017 - Hannover, Germany
2017 IEDC Economic Future Forum
Jun 4 - 6, 2017 - Little Rock, AR
2017 IAMC London Forum
Jun 14 - 16, 2017 - London, UK
SelectUSA Investment Summit
Jun 18 - 20, 2017 - Oxon Hill, MD
Visit our events calendar for more.




In our look at Latin America & the Caribbean, Ports Are in a Storm, but Central America Will Help the Region Find Smoother Water in 2017.





Parcel Delivery features a conversation with Brownfields Listings CEO Dan French, who reminds us that megasites are increasingly about the water as much as the land.




Senior Editor Gary Daughters explores what Tennessee is doing about The Race for the Workforce of Today.




In Saxony-Anhalt, Germany, they're printing parts for space — and for your face. Read all about it in a Site Selection Investment Profile, Changing the World. Again.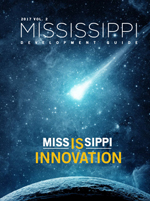 From Mississippi to Mars: The space program and other advanced technology sectors have a firmly rooted foundation in the Magnolia State.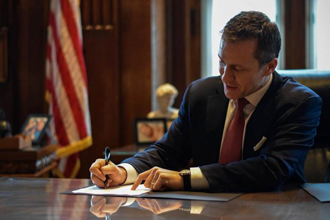 In the past two weeks, the governors of Kentucky and Missouri have signed into law right-to-work legislation. As a research paper from The Heartland Institute noted in the run-up to the Missouri law's passage, Site Selection has covered this topic for decades, including analysis of holdout Illinois two years ago, and this still-relevant analysis of the southeastern United States from July 2004.
Newly elected Missouri Gov. Eric Greitens (pictured), noting that Illinois is now surrounded by right-to-work states, tweeted this week, "Missouri is taking steps to become the jobs capital of the Midwest, and our neighbors are taking notice."
Photo courtesy of Missouri Office of the Governor
"Why do I read Site Selection?"
As a new, and now regular, reader of Site Selection, I wanted to offer my compliments and observations. Your magazine is one of the few that I read from cover to cover. Your subjects are interesting and timely, your text is concise and actionable, and your advertisers supply useful information. Your layout of artwork and photographs grab my attention and supplement your text. Overall, Site Selection provides me with engaging, enjoyable-to-read information for the work that I do. In case others have missed the opportunity to say this, thank you for your efforts."

- Steven W. Bonine
Manager, Global Grants & Incentives
DuPont

Editor - Adam Bruns