| | | | | |
| --- | --- | --- | --- | --- |
| | | | | The premier source of news on corporate facility location & area economic development |



The WORLD FORUM for Foreign Direct Investment 2017
May 22 - 24, 2017 - Shanghai, China
FDI International Training Seminar
May 22, 2017 - Shanghai, China
FDI International Training Seminar
Jun, 2017 - London, England
FDI International Training Seminar
Sep, 2017 - Chicago, IL
Great States & ConvergX Summit
Sep 11-13, 2017 - Oklahoma City, OK
TrustBelt 2017
Oct 22-24, 2017 - Des Moines, IA
FDI International Training Seminar
Nov, 2017 - Frankfurt, Germany



Asia/Pacific Business Outlook Conference
Mar 27 - 28, 2017 - Los Angeles, CA
Annual Investment Meeting (AIM)
Apr 2 - 4, 2017 - Dubai, UAE
World Free Zone Convention (WFZC)
Apr 2 - 6, 2017 - Qatar, UAE
2017 IAMC Spring Forum
Apr 8 - 12, 2017 - Tampa, FL
2017 IEDC Federal Forum
Apr 9 - 11, 2017 - Washington, DC
Collision Conference
May 2 - 4, 2017 - New Orleans, LA
2017 LOCUS Leadership Summit: P3 for Partnerships, Placemaking, and Policy
Apr 24 - 25, 2017 - Washington, DC
Hannover Messe 2017
Apr 24 - 28, 2017 - Hannover, Germany
2017 IEDC Economic Future Forum
Jun 4 - 6, 2017 - Little Rock, AR
2017 IAMC London Forum
Jun 14 - 16, 2017 - London, UK
SelectUSA Investment Summit
Jun 18 - 20, 2017 - Oxon Hill, MD
2017 Mid America Best Practices Conference
Jun 21 - 23, 2017 - Fort Wayne, IN
2017 IEDC Annual Conference
Sep 17 - 20, 2017 - Toronto, Canada
2017 IAMC Fall Forum
Oct 7 - 11, 2017 - Richmond, VA
Visit our events calendar for more.




Editor in Chief Mark Arend pays a visit to L.A. — Lower Alabama — to chart a cluster's amazing progress in Airbus Project Adds Lift to Mobile's Aerospace Sector.





World Reports looks in on an odd floating gym on the Seine in Paris; poll results in Europe about autonomous vehicles; Daimler in Israel; Rolls-Royce in South Africa; and the massive expansion plan at Hong Kong Disneyland.




The IAMC Insider includes a letter about the new FASB rules from IAMC Chair Russell Burton; insights on pairing new tech tools with databases; and results of a survey of IAMC corporate members about the November election's potential impact on their day-to-day work.




Workers Revive Flint Economy, a Site Selection Investment Profile of Flint and Genesee County, Michigan, documents how advanced automotive manufacturing plants are just part of the economic comeback in Vehicle City.



OKLAHOMA

Oklahoma Economic Development Guide Oklahoma is the place to be for scenic beauty, a talented workforce, low-cost energy and high-flying manufacturers.


FROM THE ARCHIVES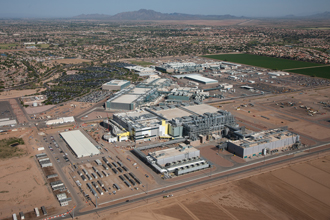 Intel's Ocotillo site in Chandler, Arizona, looks like a microcircuit from the air, but delivers a macro-sized economic wallop.
Photo courtesy of Intel

Does Intel actually stand for Incremental Totally Extraordinary Legacy? The semiconductor giant plans a new $7-billion investment in Arizona that will create 3,000 direct jobs and more than twice that number of indirect jobs supporting Fab 42. We've documented the company's growth there many times over the years, including in 2000, 2001, 2005, 2006, 2010, and 2011.

"Why do I read Site Selection?"
As a new, and now regular, reader of Site Selection, I wanted to offer my compliments and observations. Your magazine is one of the few that I read from cover to cover. Your subjects are interesting and timely, your text is concise and actionable, and your advertisers supply useful information. Your layout of artwork and photographs grab my attention and supplement your text. Overall, Site Selection provides me with engaging, enjoyable-to-read information for the work that I do. In case others have missed the opportunity to say this, thank you for your efforts."

- Steven W. Bonine
Manager, Global Grants & Incentives
DuPont

Editor - Adam Bruns