| | | | | |
| --- | --- | --- | --- | --- |
| | | | | The premier source of news on corporate facility location & area economic development |



The WORLD FORUM for Foreign Direct Investment 2017
May 22 - 24, 2017 - Shanghai, China
FDI International Training Seminar
May 22, 2017 - Shanghai, China
FDI International Training Seminar
Jun, 2017 - London, England
FDI International Training Seminar
Sep, 2017 - Chicago, IL
Great States & ConvergX Summit
Sep 11-13, 2017 - Oklahoma City, OK
TrustBelt 2017
Oct 22-24, 2017 - Des Moines, IA
FDI International Training Seminar
Nov, 2017 - Frankfurt, Germany



Asia/Pacific Business Outlook Conference
Mar 27 - 28, 2017 - Los Angeles, CA
Annual Investment Meeting (AIM)
Apr 2 - 4, 2017 - Dubai, UAE
World Free Zone Convention (WFZC)
Apr 2 - 6, 2017 - Qatar, UAE
2017 IAMC Spring Forum
Apr 8 - 12, 2017 - Tampa, FL
2017 IEDC Federal Forum
Apr 9 - 11, 2017 - Washington, DC
2017 LOCUS Leadership Summit: P3 for Partnerships, Placemaking, and Policy
Apr 24 - 25, 2017 - Washington, DC
Hannover Messe 2017
Apr 24 - 28, 2017 - Hannover, Germany
World Trade Day
May 2, 2017 - Atlanta, GA
Collision Conference
May 2 - 4, 2017 - New Orleans, LA
2017 IEDC Economic Future Forum
Jun 4 - 6, 2017 - Little Rock, AR
2017 IAMC London Forum
Jun 14 - 16, 2017 - London, UK
SelectUSA Investment Summit
Jun 18 - 20, 2017 - Oxon Hill, MD
2017 Mid America Best Practices Conference
Jun 21 - 23, 2017 - Fort Wayne, IN
2017 IEDC Annual Conference
Sep 17 - 20, 2017 - Toronto, Canada
2017 IAMC Fall Forum
Oct 7 - 11, 2017 - Richmond, VA
Visit our events calendar for more.



Can you find Scappoose, Oregon, on a map? You'll want to after reading about two major projects landing there, in Manufacturing Innovation Center to Open in '17.





An expert panel from the recent TrustBelt conference in Chicago weighs in on the weight of the Midwest's past and the momentum of its future in Closing the Perception Gap. (Pencil in October 22-24 for the 2017 TrustBelt Conference in Des Moines, Iowa.)




In our Advanced Manufacturing section, we examine Brookings' rankings and consider how Raytheon's decision in Tucson shows how a low ranking can point to a growth opportunity.



FROM THE ARCHIVES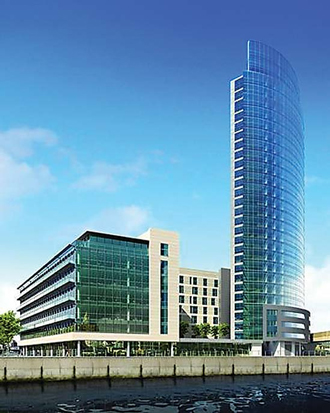 Archive photo courtesy of Allen & Overy

Earlier this week, the UK's first legal innovation center was launched at Ulster University in Belfast with the backing of global law firms Allen & Overy and Baker McKenzie, as well as Invest Northern Ireland. Present at the ceremony was Allen & Overy Belfast's IT & Shared Services Director Andrew Brammer, whom we interviewed in 2011 about a global site selection process that concluded Belfast's Obel Tower (pictured) was the answer.

"Why do I read Site Selection?"
Issue after issue, Site Selection continues to churn out some of the best editorial content that I have the opportunity to read. In particular, I enjoyed your recent coverage of the life science sector. You have a great team of researchers and writers, and sales professionals who generate the cash that enables you to publish a top-tier magazine. I'm surprised some of the major media in NYC haven't conducted a raid on Atlanta and Site Selection."

- Greg Byrnes
Vice President Business development
Pennsylvania BIO
and former reporter/editor for The Philadelphia Inquirer

Editor - Adam Bruns