| | | | | |
| --- | --- | --- | --- | --- |
| | | | | The premier source of news on corporate facility location & area economic development |



The WORLD FORUM for Foreign Direct Investment 2017
May 22 - 24, 2017 - Shanghai, China
FDI International Training Seminar
May 22, 2017 - Shanghai, China
FDI International Training Seminar
Jun, 2017 - London, England
FDI International Training Seminar
Sep, 2017 - Chicago, IL
Great States & ConvergX Summit
Sep 11-13, 2017 - Oklahoma City, OK
TrustBelt 2017
Oct 22-24, 2017 - Des Moines, IA



Asia/Pacific Business Outlook Conference
Mar 27 - 28, 2017 - Los Angeles, CA
Annual Investment Meeting (AIM)
Apr 2 - 4, 2017 - Dubai, UAE
World Free Zone Convention (WFZC)
Apr 2 - 6, 2017 - Qatar, UAE
2017 IAMC Spring Forum
Apr 8 - 12, 2017 - Tampa, FL
2017 IEDC Federal Forum
Apr 9 - 11, 2017 - Washington, DC
2017 LOCUS Leadership Summit: P3 for Partnerships, Placemaking, and Policy
Apr 24 - 25, 2017 - Washington, DC
Hannover Messe 2017
Apr 24 - 28, 2017 - Hannover, Germany
World Trade Day
May 2, 2017 - Atlanta, GA
Collision Conference
May 2 - 4, 2017 - New Orleans, LA




Texas and Nebraska have won the annual Governor's Cups. Learn from the governors themselves How to Win Projects, Influence Economies.





The Chicago, Omaha and Sioux City metro areas have earned No. 1 rankings in this year's analysis of the nation's Top Metros for corporate facility investment projects. The data tells us why economic development success is Available in All Sizes.




A perennial high-performer in Northwest Ohio has once again topped our rankings of the nation's Top Micropolitan areas. It's not alone, as five other towns from Portsmouth to Tiffin make our Top 10, in Findlay Leads an Ohio Surge.



FROM THE ARCHIVES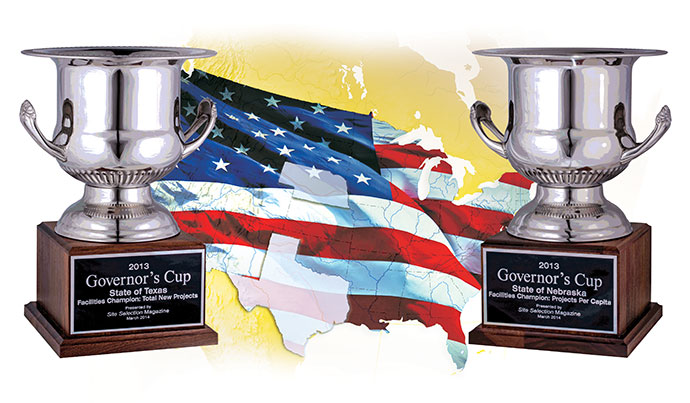 The last time Texas and Nebraska both won our Governor's Cups was in March 2014, when we first introduced the per-capita award.

"Why do I read Site Selection?"
Issue after issue, Site Selection continues to churn out some of the best editorial content that I have the opportunity to read. In particular, I enjoyed your recent coverage of the life science sector. You have a great team of researchers and writers, and sales professionals who generate the cash that enables you to publish a top-tier magazine. I'm surprised some of the major media in NYC haven't conducted a raid on Atlanta and Site Selection."

- Greg Byrnes
Vice President Business development
Pennsylvania BIO
and former reporter/editor for The Philadelphia Inquirer

Editor - Adam Bruns