| | | | | |
| --- | --- | --- | --- | --- |
| | | | | The premier source of news on corporate facility location & area economic development |



The WORLD FORUM for Foreign Direct Investment 2017
May 22 - 24, 2017 - Shanghai, China
FDI International Training Seminar
May 22, 2017 - Shanghai, China
FDI International Training Seminar
Jun, 2017 - London, England
FDI International Training Seminar
Sep, 2017 - Chicago, IL
Great States & ConvergX Summit
Sep 11-13, 2017 - Oklahoma City, OK
TrustBelt 2017
Oct 22-24, 2017 - Des Moines, IA



Asia/Pacific Business Outlook Conference
Mar 27 - 28, 2017 - Los Angeles, CA
Annual Investment Meeting (AIM)
Apr 2 - 4, 2017 - Dubai, UAE
World Free Zone Convention (WFZC)
Apr 2 - 6, 2017 - Qatar, UAE
2017 IAMC Spring Forum
Apr 8 - 12, 2017 - Tampa, FL
2017 IEDC Federal Forum
Apr 9 - 11, 2017 - Washington, DC
2017 LOCUS Leadership Summit: P3 for Partnerships, Placemaking, and Policy
Apr 24 - 25, 2017 - Washington, DC
Hannover Messe 2017
Apr 24 - 28, 2017 - Hannover, Germany
World Trade Day
May 2, 2017 - Atlanta, GA
Collision Conference
May 2 - 4, 2017 - New Orleans, LA




A GE Digital executive describes the strategy behind the company's growing network of digital hubs, in Beehives for Busy Minds.





Forget talent attraction strategies, writes Ron Starner in Rise of the Millennial CEO. Young and energetic leaders are transforming metro area economies in Florida.




Major Projects Snapshot shows you in one brilliant map where the top 10 projects by capex went last year in the five busiest industry sectors. Our 2016 Global Giants and US Giants charts add further insight into where the biggest blockbusters landed.




In the Madison region, computer and life science skills for the foundation of a globally competitive cluster in biotech and healthcare IT, in The Math Adds Up Here, a Site Selection Investment Profile of Wisconsin.





FROM THE ARCHIVES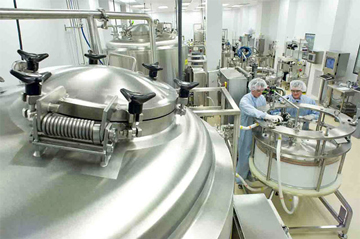 Pharma in the Dell: Ready to wear your green tomorrow? When New York–based biotech leader Regeneron decided to invest in the former Dell facility in Ireland in 2013, it was a lucky day indeed for Limerick. An expansion announced in 2015 will bring the total expected job creation in the Limerick area to 500 jobs and total investment to $650 million by the end of this year.

Regeneron's continued to invest in biologics manufacturing in Tarrytown, New York, as well as at its Limerick Industrial Operations and Product Supply (IOPS) bioprocessing campus in Ireland.
Photo courtesy of Regeneron

"Why do I read Site Selection?"
Issue after issue, Site Selection continues to churn out some of the best editorial content that I have the opportunity to read. In particular, I enjoyed your recent coverage of the life science sector. You have a great team of researchers and writers, and sales professionals who generate the cash that enables you to publish a top-tier magazine. I'm surprised some of the major media in NYC haven't conducted a raid on Atlanta and Site Selection."

- Greg Byrnes
Vice President Business development
Pennsylvania BIO
and former reporter/editor for The Philadelphia Inquirer

Editor - Adam Bruns