| | | | | |
| --- | --- | --- | --- | --- |
| | | | | The premier source of news on corporate facility location & area economic development |



The WORLD FORUM for Foreign Direct Investment 2017
May 22 - 24, 2017 - Shanghai, China
FDI International Training Seminar
May 22, 2017 - Shanghai, China
FDI International Training Seminar
Jun, 2017 - London, England
FDI International Training Seminar
Sep, 2017 - Chicago, IL
Great States & ConvergX Summit
Sep 11-13, 2017 - Oklahoma City, OK
TrustBelt 2017
Oct 22-24, 2017 - Des Moines, IA



Asia/Pacific Business Outlook Conference
Mar 27 - 28, 2017 - Los Angeles, CA
Annual Investment Meeting (AIM)
Apr 2 - 4, 2017 - Dubai, UAE
World Free Zone Convention (WFZC)
Apr 2 - 6, 2017 - Qatar, UAE
2017 IAMC Spring Forum
Apr 8 - 12, 2017 - Tampa, FL
2017 IEDC Federal Forum
Apr 9 - 11, 2017 - Washington, DC
2017 LOCUS Leadership Summit: P3 for Partnerships, Placemaking, and Policy
Apr 24 - 25, 2017 - Washington, DC
Hannover Messe 2017
Apr 24 - 28, 2017 - Hannover, Germany
World Trade Day
May 2, 2017 - Atlanta, GA
Collision Conference
May 2 - 4, 2017 - New Orleans, LA



If the USA's victory in the World Baseball Classic or your favorite team's spring training haven't yet stirred your hunger for baseball, then today's Online Insider will. New stadiums have the Atlanta Braves on the upswing. The same might be said for Greater Atlanta itself, in A Whole New Ballgame.




With FDI projects flowing into Central & Eastern Europe, companies face more intense competition for talent. Does the Workforce Pass Inspection?





A stealthy entrepreneur wants a piece of the automotive action in Illinois, in The Rivian Gambit.




North American Reports features stories about immigration and wind energy in Canada; Sprint's 5,000-job pledge; Fiat Chrysler's 2,000 jobs in Toledo and Warren; the state of parking in America; and a Chinese firm's new goat milk infant formula plant in Ontario.




In Southwest Louisiana, "big" is a relative term, as industrial investors from around the world converge on a 5-parish area rich in resources and infrastructure. Learn what they've been up to in The $117-Billion Region, a Site Selection Investment Profile.





FROM THE ARCHIVES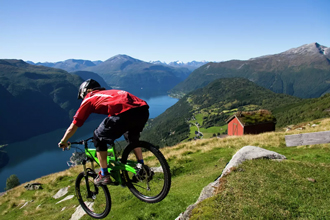 This week the UN's World Happiness Report said Norway is the happiest nation. Past Site Selection coverage has shown Scandinavian giddiness applies to corporate investors as well as citizens.

A presumably very happy mountain biker descends a hill at Storfjorden in Norway.
Photo by Sveinung Myrlid, copyright Innovation Norge, courtesy of Visitnorway.com

"Why do I read Site Selection?"
Issue after issue, Site Selection continues to churn out some of the best editorial content that I have the opportunity to read. In particular, I enjoyed your recent coverage of the life science sector. You have a great team of researchers and writers, and sales professionals who generate the cash that enables you to publish a top-tier magazine. I'm surprised some of the major media in NYC haven't conducted a raid on Atlanta and Site Selection."

- Greg Byrnes
Vice President Business development
Pennsylvania BIO
and former reporter/editor for The Philadelphia Inquirer

Editor - Adam Bruns