| | | | | |
| --- | --- | --- | --- | --- |
| | | | | The premier source of news on corporate facility location & area economic development |



The WORLD FORUM for Foreign Direct Investment 2017
May 22 - 24, 2017 - Shanghai, China
FDI International Training Seminar
May 22, 2017 - Shanghai, China
FDI International Training Seminar
Jun, 2017 - London, England
FDI International Training Seminar
Sep, 2017 - Chicago, IL
Great States & ConvergX Summit
Sep 11-13, 2017 - Oklahoma City, OK
TrustBelt 2017
Oct 22-24, 2017 - Des Moines, IA



Annual Investment Meeting (AIM)
Apr 2 - 4, 2017 - Dubai, UAE
World Free Zone Convention (WFZC)
Apr 2 - 6, 2017 - Qatar, UAE
2017 IAMC Spring Forum
Apr 8 - 12, 2017 - Tampa, FL
2017 IEDC Federal Forum
Apr 9 - 11, 2017 - Washington, DC
2017 LOCUS Leadership Summit: P3 for Partnerships, Placemaking, and Policy
Apr 24 - 25, 2017 - Washington, DC
Hannover Messe 2017
Apr 24 - 28, 2017 - Hannover, Germany
World Trade Day
May 2, 2017 - Atlanta, GA
Collision Conference
May 2 - 4, 2017 - New Orleans, LA




Milken Institute's Ross DeVol and Minoli Ratnatunga return with an exclusive analysis of California's economy drawn from the organization's most recent Best-Performing Cities index, in Innovation Works.





Snapshots from the world of data centers offer a picture of where ethereal information meets hard assets, in Cloud Maps.




The inaugural World Trade Day in Atlanta May 2 will address issues on everybody's mind. We hear the thoughts of one mind in particular — Matthew McGuire, former US executive director at the World Bank Group — in Questions & Answers.




A rural Indiana energy cooperative is a formidable competitor for your next investment, in Power Points, a Site Selection Investment Profile for Hoosier Energy.





FROM THE ARCHIVES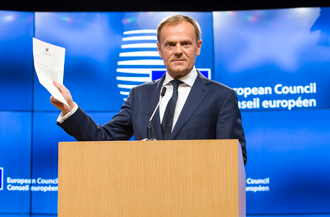 Well, it's happened. Article 50 this week kicked into gear the UK's negotiated departure from the EU, which a decade ago was grappling with accession, not secession. We published multiple perspectives on Brexit after the historic vote last year. Watch for more analysis by Site Selection as the process unfolds.

"As for me, I will not pretend that I am happy today," said Donald Tusk, president of the European Council, on Wednesday, March 29, as he officially received the notification letter from UK Prime Minister Theresa May triggering Article 50 and formally starting the negotiations of the UK's withdrawal from the EU. "We already miss you."
Photo courtesy of the European Union

"Why do I read Site Selection?"
Site Selection Magazine and The SiteNet Dispatch have always stood out as the primary source for information and support for our team and our clients. I commend the efforts of the editorial staff and encourage them to continue to provide detail, accurate and timely information to help all of us in the site selection process."

- John Jay Schwartz
Have Sites Will Travel



Editor - Adam Bruns