| | | | | |
| --- | --- | --- | --- | --- |
| | | | | The premier source of news on corporate facility location & area economic development |






2017 Smart Airports & Regions Conference
Aug 2 - 4, 2017 - Charlotte, North Carolina
Africa Property Investment Summit & Expo
Aug 24 - 25, 2017 - Johannesburg, South Africa
2017 IEDC Annual Conference
Sep 17 - 20, 2017 - Toronto, Canada
International Association of Science Parks and Areas of Innovation
Sep 26 - 29, 2017 - Istanbul, Turkey
2017 IAMC Fall Forum
Oct 7 - 11, 2017 - Richmond, Virginia
Association of University Research Parks 2017 International Conference
Oct 9 - 12, 2017 - Huntsville, Alabama
2017 TrustBelt Annual Conference
Oct 22 - 24, 2017 - Des Moines, Iowa
FABTECH
Nov 6 - 9, 2017 - Chicago, Illinois




Punching Above Their Weight explores why New England states excel in two measures of competitiveness.





A scan of higher education institutions' economic development activity shows why, in Georgia, Enrollment Figures ... Prominently




The expanding ports of Mexico improve the nation's trade prospects in all directions, in 'Unique Position.'



This week's news that Ford is shifting primary production of its Focus model for the North American market to China instead of its plant in Hermosillo, Mexico, overshadowed news of its planned $900-million upgrade to its Kentucky Truck Plant. It also reminds us that companies are in constant evaluation mode when it comes to the right mix of products, timing and locations. Twelve years ago, Ford was aiming to consolidate Focus production in Michigan instead of Hermosillo.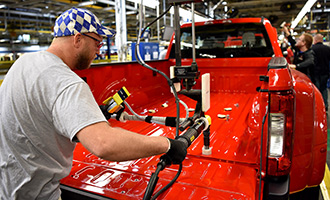 Ford officially welcomed production of the 2017 Ford F-Series Super Duty pickup to Kentucky Truck Plant in Louisville in September 2016 after a $1.3-billion investment — a $900-million upgrade is next.
Photo by Sam VarnHagen courtesy of Ford Motor Co.


"Why do I read Site Selection?"
Coming from a telecom background, I had only a little knowledge and experience in the data center marketplace. I spent a lot of time combing the various online magazines, and found that yours provided excellent and relevant information presented in a well-thought-out format. I appreciate the fact that your articles are well written, are easy to read and offer a wealth of pertinent information. I highly recommend your magazine."

- Marc Creel
International Sales, COLO•D INC., Longueuil, Quebec, Canada