| | | | | |
| --- | --- | --- | --- | --- |
| | | | | The premier source of news on corporate facility location & area economic development |






2017 IEDC Annual Conference
Sep 17 - 20, 2017 - Toronto, Canada
International Association of Science Parks and Areas of Innovation
Sep 26 - 29, 2017 - Istanbul, Turkey
2017 IAMC Fall Forum
Oct 7 - 11, 2017 - Richmond, Virginia
Association of University Research Parks 2017 International Conference
Oct 9 - 12, 2017 - Huntsville, Alabama
2017 National Association of Industry Specific Training Directors Conference
Oct 22 - 25, 2017 - New Orleans, Louisiana
Urban Land Institute (ULI) Fall Meeting
Oct 23 - 26, 2017 - Los Angeles, California
FABTECH
Nov 6 - 9, 2017 - Chicago, Illinois
20th TCI Global Conference
Nov 7 - 9, 2017 - Bogota, Columbia
Greenbuild International Conference and Expo 2017
Nov 8 - 9, 2017 - Boston, Massachusetts
ACT Workforce Summit
Nov 8 - 10, 2017 - Austin, Texas
Brownfields 2017
Dec 5 - 7, 2017 - Pittsburgh, Pennsylvania




New Analysis Reveals Top Rural Counties for Workforce Certificates. And a new definition of wealth could reveal a path forward for rural areas everywhere.




Site Selection Publisher and President Adam Jones-Kelley explores Malaysia: Myths & Misconceptions.




High-tech recycling firms choose San Bernardino County as their home base, in Golden State County Goes Green, a Site Selection Investment Profile.




In the heart of the "Centroplex," Greater San Marcos, Texas, dances to its own beat, in Sweet Spot for Growth, a Site Selection Investment Profile.



Even single-company office campuses are embracing the co-working ethos. So it may not be surprising that WeWork, which maintains its "Galactic HQ" in New York, just secured an investment of $4.4 billion from Japan's SoftBank Group Corp. About a third of that will go toward Asian expansion via three newly created companies in China, Japan and Southeast Asia/Korea. We covered the WeWork phenomenon way back 17 months ago when they were worth a mere $10 billion. The company now is valued at $20 billion, and has grown from one location to more than 150 in seven years.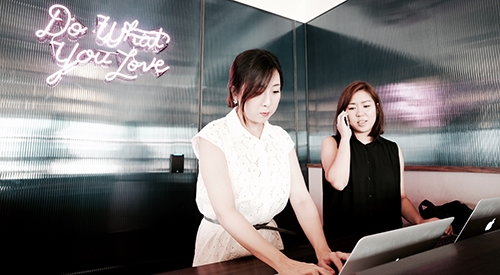 Among WeWork's 150-plus locations is this site at Gangnam Station in Seoul.
Photo courtesy of WeWork

"Why do I read Site Selection?"