| | | | | |
| --- | --- | --- | --- | --- |
| | | | | The premier source of news on corporate facility location & area economic development |






2017 National Association of Industry Specific Training Directors Conference
Oct 22 - 25, 2017 - New Orleans, Louisiana
Urban Land Institute (ULI) Fall Meeting
Oct 23 - 26, 2017 - Los Angeles, California
FABTECH
Nov 6 - 9, 2017 - Chicago, Illinois
20th TCI Global Conference
Nov 7 - 9, 2017 - Bogota, Columbia
Greenbuild International Conference and Expo 2017
Nov 8 - 9, 2017 - Boston, Massachusetts
ACT Workforce Summit
Nov 8 - 10, 2017 - Austin, Texas
Nigeria-UAE Investment Conference (NUICE)
Nov 28 - 30, 2017 - Dubai, UAE
Brownfields 2017
Dec 5 - 7, 2017 - Pittsburgh, Pennsylvania
2018 Annual Investment Meeting (AIM)
Apr 9 - 11, 2018 - Dubai, UAE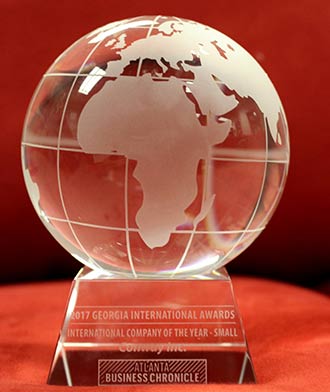 Site Selection publisher Conway, Inc., based in Greater Atlanta since 1954 and owner of other globally active divisions in advisory, events, custom content, PR/marketing and association management, last night was named International Small Company of the Year at the Atlanta Business Chronicle's 2017 Georgia International Awards.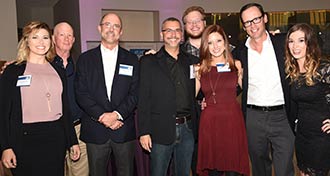 Conway President and Publisher Adam Jones-Kelley (center, black jacket) and colleagues were honored to accept the International Small Company of the Year award.



Twelve years after building a unique HQ in suburban Chicago, Serta Simmons Bedding is moving to a unique redevelopment site in Atlanta. The company's CFO explains the allure of anchoring a dormant property's comeback in Time to Wake Up.





Insights from REI's supply chain VP show where goods movement is moving next in Phoenix-Area DC LEEDs the Way.




In a piece published before the city's recent massacre, we document the diversifying economy in Las Vegas in Sparks of Change. (Clark County Commission Chair Steve Sisolak has set up a GoFundMe page to help victims of the mass shooting that has raised $10.6 million thus far.)




Our review of the World's Most Competitive Cities for plastics & chemicals investment finds plenty of activity where you'd expect it in China Slowing Down? Not Really.




Being mid-continent doesn't mean lack of ocean access. Learn how that can be in How the Experts Export, a Site Selection Investment Profile of Thunder Bay, Ontario.





GO-Biz rolls out the welcome mat and opens the bank to fund deals that lead to a sustainable future in Want to Grow Fast? California Wants You.



Another $1 billion and another 1,000 jobs are coming to Maryville, Tennessee, courtesy of Japanese automotive supplier DENSO, which has operated in the Volunteer State for more than 30 years and expanded many times (a cumulative $2 billion) in the state's Innovation Valley during that span.



"Why do I read Site Selection?"
I have been a subscriber to Site Selection Magazine for many years, and I really enjoy reading it. I reference the articles and data in the publication often."


- Jay Steinmetz
CEO, Barcoding, Inc. , Baltimore, Maryland