| | | | | |
| --- | --- | --- | --- | --- |
| | | | | The premier source of news on corporate facility location & area economic development |






Nigeria-UAE Investment Conference (NUICE)
Nov 28 - 30, 2017 - Dubai, UAE
Brownfields 2017
Dec 5 - 7, 2017 - Pittsburgh, Pennsylvania
2018 IEDC Leadership Summit
Jan 28 - 30, 2018 - Las Vegas, Nevada
Future Cities Show
Apr 9 - 11, 2018 - Dubai, UAE
2018 Annual Investment Meeting (AIM)
Apr 9 - 11, 2018 - Dubai, UAE
2018 Intelligent Community Forum (ICF)
Jun 5 - 7, 2018 - London, United Kingdom
2018 IEDC Annual Conference
Sep 30 - Oct 3, 2018 - Atlanta, Georgia




Managing Editor Adam Bruns brings a personal perspective from his hometown of Kansas City to an examination of state-line incentives battles, in an expanded edition of Which Side Are You On?




A new ranking of the world's Top Free Zones showcases the best zones in each world region. (Click here to access our directory of Ports and Free Trade Zones.)




Robert Brown, director, global operations, for Rolls-Royce, Group Property, offers a glimpse inside the company's worldwide machine in World Travelers.




Editor in Chief Mark Arend muses on Georgia's winning ways and how much area governments are risking in their pitches for Amazon's HQ2 in Know When to Hold 'Em.




In a Site Selection Investment Profile of Malaysia, Best Supporting Actors awards go to two industries — medical devices and aerospace — with long careers ahead of them.



How many pages has Site Selection devoted to Japanese automotive companies investing in US plants and communities since Honda's first car rolled off the line in Marysville, Ohio, 35 years ago this month? As the number of links in this blurb attests, it's safe to say it's a lot, and we'll even throw in a set of tires. If anyone you know feels the need to be better informed about plant location and job creation, we have served at the pleasure of discerning leaders since 1954.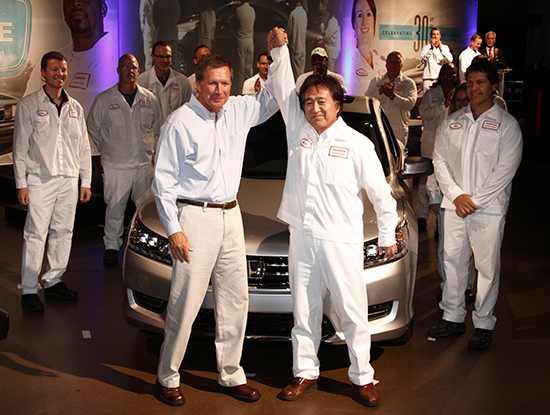 Ohio Governor John Kasich in 2012 joined Honda of America Manufacturing President and CEO Hide Iwata at the production launch of the 2013 Honda Accord at Honda's plant in Marysville, Ohio, the first US plant from a Japanese car maker. Today Honda operates 13 companies in Ohio alone, where it's produced over 17 million cars since 1982.



Investing in Ohio
Ohio's competitive business climate, location, workforce and quality of life make the Buckeye State the right place for business.

"Why do I read Site Selection?"