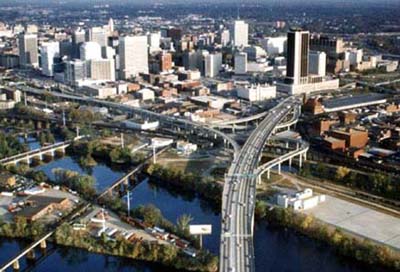 he vote has been cast in Virginia, and the "I's" have it -- infrastructure, international investment and the Internet.
Corporate real estate executives considering a project location in the Old Dominion need look no farther than the state capital to see all three kinds of capital investment. Whether it's funding statewide transportation projects, attracting foreign direct investment or developing a telecommunications cluster, Richmond is a hotbed of diversified growth.
A prime example is Lawson Mardon, a Switzerland-based food and tobacco packaging company that's building a US$45 million plant and creating 150 new jobs in Chesterfield County. "It was a race between Virginia and North Carolina," says Ron Syrkos, vice president and general manager at the factory. "Both had a lot to offer, but in the end the Greater Richmond area offered everything we were seeking: a quality community, good schools, amenities for families, and a location that makes it easy for us to attract skilled workers."
A critical element in the deal was speed to market, says Syrkos. The Virginia Economic Development Partnership and the Greater Richmond Partnership made that happen. "We made this announcement on June 26 of last year, and we built 180,000 square feet (16,700 sq. m.) in less than 10 months," Syrkos says. "The people at the Chesterfield County economic development office were really behind us and helpful. We knew it would be a fast-track project, and their project approvals and inspections exceeded our expectations."
Another critical site selection criterion for Lawson Mardon was transportation infrastructure -- a fact that continues to make Virginia a preferred state for distribution warehouses and other logistics facilities.
One of the largest deals of the year was announced July 25 when Wal-Mart Stores publicly declared that it would locate a 600-job, 880,000-sq.-ft. (81,700-sq.-m.) distribution center in the Zion Crossroads area of Louisa County. Located on the northeast corner of U.S. Highway 15 and Interstate 64, the $40 million project will provide needed jobs to Louisa County residents who currently commute out of the county for work.
"With the majority of working-age residents commuting out of Louisa County for employment, I am pleased that Wal-Mart will provide greater opportunities for the residents in their own community," Virginia Gov. Jim Gilmore said at the press conference announcing the project. "My administration is committed to promoting economic development across the entire Commonwealth while leaving no region behind."
Not being left behind is the Roanoke Valley area of southwest Virginia, which has suddenly become the Old Dominion's fastest-growing region for Japanese investment. At Dynax America Corp. in Roanoke, a new $70 million manufacturing plant is churning out Japanese parts used in the transmissions of certain Ford and Mazda cars -- and the plant is doing it with all-American labor.
The global reach of commerce in the Hampton Roads market is reflected in news such as Sara Lee's $93 million investment into expanding its coffee roasting and packaging plant in Suffolk. Sara Lee Coffee & Tea North America is headquartered in Itasca, Ill., yet operates a 320,000-sq.-ft. (29,760-sq.-m.) facility that employs more than 200 people in Suffolk.
The Sara Lee expansion will create more than 100 new jobs in this 430-sq.-mile city -- the largest in Virginia. Suffolk is also home to QVC, Lipton, CIBA Specialty Chemicals and Planter's Peanuts. But the expansion doesn't stop there. Next up is the construction of the new 320,000-sq.-ft. (29,760-sq.-m.), $84 million Obici Memorial Hospital, which will be completed by January.
America Online announced that it would expand its presence in Virginia through the construction of a new $555 million technology center in Prince William County and the continued expansion of its Loudoun County campus. The two Northern Virginia projects account for 1,325 jobs and further strengthen Virginia's position as the Internet capital of the East Coast.