s the state with the third-largest automotive manufacturing economy in the country, two international airports, the United Parcel Service hub in Louisville, and some of the least expensive power available anywhere, Kentucky is already attractive to a wide range of companies and projects -- from call centers to metalworking, distribution hubs to corporate headquarters.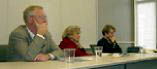 But while state leaders continue to bring in new location and expansion projects, they are working to cultivate a new state of mind. One that departs from the extractive economy of yesteryear, embraces the best attributes of the new economy and appreciates the enduring qualities of longstanding industries looking to stay even longer.
On January 15, 2002, on the campus of Georgetown College, in Georgetown, Ky. (the town that Toyota Motor Manufacturing has helped to put on the map), Site Selection convened six leaders from the manufacturing, construction, education and government arenas who have made Kentucky their home.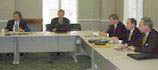 Participating in the discussion were
J.R. Wilhite
, Commissioner of the Department of Community Development (part of the Kentucky Cabinet for Economic Development), and a 20-year veteran in the development field;
Howard Gray
, chairman and CEO of Gray Inc. and James N. Gray Co., one of the top design-build firms in the nation;
Dr. William H. Crouch Jr.
, president of Georgetown College;
James M. Wiseman
, vice president for external affairs, Toyota Motor Manufacturing North America Inc., which has its headquarters in Northern Kentucky;
Gov. Martha Layne Collins
, executive scholar in residence at Georgetown College, and governor of the state from 1983 to 1987; and
Sylvia Lovely
, executive director and CEO of the Kentucky League of Cities, and president of the organization's educational spinoff, the NewCities Foundation.
The ensuing conversation, moderated by
Site Selection
Editor
Mark Arend
and Lexington, Ky.­based business writer
Adam Bruns
, revealed the participants' collective aspirations and affection for the state, and what they believe are keys to future prosperity.
Site Selection:
Let's begin by looking back at 2001. What impact has the recession had on the state's business climate?
J.R. Wilhite
: We felt the impact. We might call it a good year as opposed to a great year like we experienced in 1999 and 2000. We still had a good number of automotive component suppliers either locate or expand in Kentucky, and a good mix of foreign and domestic ownership. Other industries that showed some growth were secondary wood processing, cabinet manufacturers, printing and publishing and some good non-manufacturing expansions.
Sylvia Lovely
: During 2001, we continued to struggle with what the "New Economy" means for Kentucky. Bill Brundage, Kentucky's Commissioner of the New Economy, worked with various groups on that. Having that year-long activity of working through some of those definitions, we avoided disasters that some of the other folks had. That doesn't mean we don't have far to go in this area -- we do. But I see a lot more people saying 'Hey, our traditional industries are good things, and we need to hold on to those.' You don't throw out all of the stuff you've been doing just because it's older and traditional. Maybe there's something else there, like applying new technologies to old products like the [farm] gates manufactured in south-central Kentucky.
Wilhite
: Dr. Brundage has had a very focused agenda with three primary components. The first is research, increasing the research capabilities at the University of Kentucky and the University of Louisville. Second is to increase the application of commercialization processes. A lot of the first year has been spent identifying and creating innovation and commercialization centers that will be located in six different spots around the state, to bridge where research is being done on campuses and getting it into the marketplace. The last of those three pieces is the workforce. We need to continue to emphasize education from early childhood levels all the way through.
Then we get into details of what kind of additional incentives and financing mechanisms we can encourage to make those activities take place. One is reworking a part of Kentucky law, the venture fund that has existed in several forms over the years, and there should be some changes during this current legislative session through the Kentucky Investment Fund Act, that will do away with some of the hurdles that have prevented private investors from putting money in those funds, receiving state tax credits, and using those funds to leverage other investors. Part of this is the Commonwealth Seed Capital Fund, a $10 million to $11 million state venture capital fund set aside to leverage additional private sector capital, so Kentucky can begin to compete with early stage and venture seed capital for small innovative companies.
Jim Wiseman
: A lot of people think of the automotive industry as just the OEMs, but there are a lot more people in the supply business in Kentucky than there are in our plants. The governors are always asking us to put a Toyota plant in their state, but they really ought to be going after these automotive suppliers, because that's where the jobs are. We employ 8,000 at our Georgetown plant, which sounds like a lot of people, but we're responsible for 55,000 jobs in the auto supply business across this country. That's where it's at, and that's where the biggest impact was felt this past year, in little towns across the state like Glasgow and Jamestown.
Howard Gray
: Yes, Ford is laying off all those people, but nobody talks about the suppliers.
Wiseman
: The suppliers are really in a tough battle, because as automotive manufacturers, we can buy from around the world now, and we do. We have a principle of buying the best parts and materials no matter where they're made -- it might be Germany, it might be Japan, it might be Canada, and it might be the U.S. So they have to have top quality, and they have to reduce their cost and reduce their price to us, always. We've set a goal of 30 percent price reduction. Now, we'll work with suppliers, and help them get there, but every auto maker is putting that same squeeze on them. It's a tough business these days.
Dr. William Crouch
: There is another part of industry in Kentucky that's really been impacted. We are getting ready to endow our history department after John Berry, who was really the head of the tobacco industry in Kentucky for a long, long time. We have done some research, and since 1787, we estimate that 80 percent of the students who graduated from this institution had their tuitions paid for by tobacco.
It's having an impact on a lot of our students here, because a lot of their families have farms, and it's impacted a lot of small communities across the state. There is no real solution yet as to what to do with them.
Site Selection:
There was a recent survey conducted by the National Association of Manufacturers, and one conclusion they reached was that four-year degrees were over-emphasized, that more students should be directed to technical and vocational schools, whose programs lead to quite rewarding, well-paying jobs. What do you think about that?
Crouch
: I have a definite opinion on that. If you look at Fortune 500 CEOs and others, the leaders of the future are coming out of four-year liberal arts schools -- people who understand people skills, who understand the difference between Plato and Socrates. Those are the people who are going to develop into the leaders of the future. Two years ago you could be a high school senior and go out and get a $70,000 job in the tech industry, but that doesn't happen anymore.
Lovely
: I know we have a cabinet for workforce development, but I really think we need to be talking about citizenship development. Those are the people who, if they get downsized out of a job, will have the resourcefulness to help start other businesses. Citizenship development is what's going to create the flexibility. That's not to say there isn't a place for two-year degrees. There is, and there are people who need those. But I'm always frightened when I see this discussion that says, 'We don't need more English majors.' It's a very dangerous direction, I think.
TOP OF PAGE