othing turns an economy like a dump truck, bulldozer or crane. But no matter where it's moving material, somebody first has to have the resources to make the machine first.
Same goes for the conveyors, robots and other high- tech automation and fabrication equipment of the world. A machine such as the
Applied Materials
AKT plasma enhanced chemical vapor deposition system pictured above can account for a major portion of the overall investment total at liquid crystal display plants. Applied Materials in June shipped its 500th such machine to China, as LCD plants and the "crystal cities" of support industries around them pop up all over Asia.
The machines that make the LCDs are frequently still made at plants in Germany and the U.S. That formula plays out in similar ways with other equipment too, but change is coming: Kazakhstan's national railway company, for instance, is paying more than $650 million for 310 GE locomotives over five years. The first 10 will be built in Erie, Pa., with engines made in in Grove City, Pa. But parts for the next 300 are to be delivered from 2008 through 2012, with final assembly occurring at a new locomotive plant in Pavlodar, Kazakhstan.
As with other sectors, Asia beckons and the companies come.
Applied Materials earlier this year extended its 22- year presence in China with a new 106,000- sq.- ft. (9,847- sq.- m.) Global Development Capability (GDC) center on a 25- acre (10- hectare) parcel in Xi'an. The GDC center will provide engineering and software support services to Applied Materials locations around the world, and joins company locations already employing 400 in Shanghai, Beijing, Tianjin, Wuxi, Suzhou, and Kunshan.

Full Speed Ahead
Even though concerns about over- development in China have spawned tactics like satellite photos of un- authorized bulldozer activity, helping move dirt for projects like Applied Materials' are trucks, excavators and cranes from companies like
Caterpillar
,
Manitowoc Crane Group
and Germany's
Liebherr Group
.
Liebherr Group is growing by an average of 12 percent a year, and in 2005 experienced the best year in its history. Revenues from its mobile crane and mining divisions comprised 55 percent of its overall revenues and together accounted for nearly $3.7 billion in turnover. The company operates at 29 locations in 12 countries, including a gradually expanding site in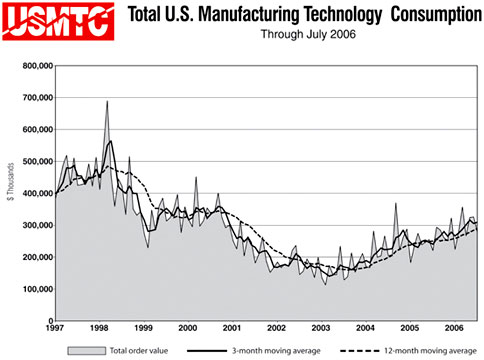 MARKETS FOR MACHINES: Robert Gardner, vice president of the Association for Manufacturing Technology, says machine builders are expanding rapidly in China, which in 2005 accounted for fully a quarter of world machine tool consumption. But things are looking up in the U.S., too. "Over the past four to five years, manufacturing output in this country is at record levels, but manufacturing employment has declined – they're turning out more product with fewer people," says Gardner. "As manufacturing companies in the U.S. have additional profits, they can afford new, more productive equipment."
Newport News, Va., that makes mining trucks.
Asia and South America are prime in Liebherr's sights, with an existing plant in Dalian, China, a new plant in Brazil and a machine tool plant in Bangalore, India. But Germany, which still accounts for more than 11,000 of the firm's 23,762 employees, is seeing its own new projects, including a new plant In Rostock for the production of harbor mobile cranes. The company deployed 53 cranes around the world in 2005, and with port development trends, that pace shows no signs of slowing.
The 2.4- million- sq.- ft. (226,000- sq.- m.) Liebherr- MCCtec Rostock GmbH site will see two new production facilities and an administration complex totaling 602,800 sq. ft. (56,000 sq. m.). Liebherr expects to invest $76 million in the new crane business complex, and quickly add between 150 and 250 new jobs to its current Rostock payroll of 250.
"Thanks to its direct access to the sea, Rostock is very well placed in terms of the logistics of worldwide sales, especially as regards large equipment," said the company in its project announcement earlier this year.
Caterpillar recently opened a regional remanufacturing center in the Lingang Industrial Area in Shanghai. It also has signed an investment agreement with the Suzhou Industrial Park Administrative Committee (SIPAC) to build a new wholly owned wheel loader manufacturing facility on 57 acres (23 hectares) in the Suzhou Industrial Park in China's Jiangsu province. Construction of the 350,000- sq.- ft. (32,515- sq.- m.) complex is expected to begin in early 2007.
"This facility will add to Caterpillar's growing operations in China and provide the primary manufacturing source for Caterpillar wheel loaders in the Asia Theater," said Rich Lavin, vice president of operations for Caterpillar's Asia Pacific Division. "This site offers Caterpillar a business- friendly environment with excellent access to port and ground transportation facilities, established suppliers and great people."
Asked to describe Caterpillar's China portfolio and site selection processes, its IP risk management practices, and its outlook on possible regulatory and logistics challenges in the nation, Jim Dugan, senior communications representative for Caterpillar (China) Investment Co., Ltd., says Caterpillar typically does not provide detailed public statements about such issues. However, with respect to the company's projects in the People's Republic, he did say, "We have many customers now in China who need Caterpillar support and because of China's size and explosive growth, there is great potential for the number of customers to grow. The Lingang facility includes a logistics operation and the reman operation. In addition to customers in China, our operations in China generally support our customer base in Asia Pacific.
"We generally look for locations that fit well within our global manufacturing business model and that will better position Caterpillar to competitively serve its global customer base," he adds.
That corporate multinational base depends on free- flowing multinational commerce, which was why Jim Owens, Caterpillar chairman CEO, pre- dated U.S. Treasury Sec. Henry Paulson's recent anti- protectionist overtures with some thoughts of his own back in early 2006:
"Personally, I can think of no faster path to a worldwide recession than for the twin engines of the global economy – the United States and China – to turn against one another," Owens, a Ph.D. economist, told an audience at National Manufacturing Week in Chicago in March. "Both countries need to make an extra effort to ensure that we treat each other with mutual respect. Rather than threatening protectionism, leaders must redirect their energies toward improving competitiveness and opening markets," he added.
Caterpillar says it has more than doubled its work force in China over the past few years, but at the same time, Caterpillar's U.S. exports to China have increased by 40 percent – helping to create more than 5,000 new production jobs at Caterpillar's U.S. based facilities. Recent projects include a generator plant expansion in South Carolina and a forest products expansion in LaGrange, Ga., near the Alabama border.
"I'm optimistic about the future of U.S. manufacturing," Owens said in March. "We have our challenges, but they are no more formidable than those we've overcome in the past. The recipe that has made Caterpillar a successful manufacturer in the global marketplace can be used by others. It is made up of three key ingredients: designing and producing innovative, high- quality products, embracing lean manufacturing processes to drive efficiency and investing in educational and work force development for the people who make up our companies."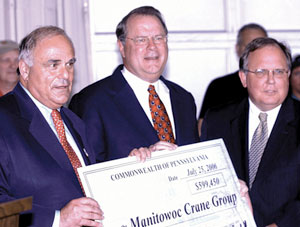 Left to right: Pennsylvania Gov. Edward G. Rendell, John Wheeler, executive vice president for the Americas for Manitowoc Crane Group (MCG) and Patrick Fleagle, Pennsylvania state representative, celebrate the awarding of a $600,000 Opportunity Grant to MCG in July that will assist with the hiring of 250 new employees over the next three years.

Pennsylvania Grove
Another big machine firm can testify to the importance of work force development.
While GE likes making locomotives in Grove City, Pa., Manitowoc Crane Group (MCG), the Wisconsin- based company whose divisions include cranes, foodservice and marine equipment, likes making cranes in Shady Grove. That's why it's adding 250 jobs at its complex there. The company, founded in 1902, operates 25 facilities in six countries, with two facilities in China, 12 in the U.S. and 10 in Europe.
In accepting a $600,000 "Opportunity Grant" from Pennsylvania Gov. Ed Rendell in July, John Wheeler, MCG's executive vice president for the Americas, said, "We take our job creation role in the local community very seriously. These funds will help us update our facility and provide training to our new manufacturing personnel ensuring a safe workplace and the financial well- being of our employees."
Two weeks prior to that ceremony, MCG was recognized by Wisconsin Gov. Jim Doyle as an "exemplary employer." Tom Cioni, spokesman for MCG, says it's easy to be exemplary when an area's work force is first.
"The
work ethic here
is so good," he says of Manitowoc.
Expansion sites for MCG include Turin, Italy, and the company is in the midst of a site relocation for its Portugal operation. A facility on the grounds of an old Axis submarine factory site along the North Sea in Germany has proved essential over the years too. China, though, has the newest facility, a 1,496,000- sq.- ft. (139,000- sq.- m.) crane manufacturing complex on the southern side of the Zhangjiagang Economic Development Zone, 12.4 miles (20 km.) from the existing plant in Zhangjiagang, Jiangsu province, and five minutes from the main Shanghai Expressway. The existing work force of approximately 250 people will be transferred to the new plant, which has more than double the space of the old one. Cioni says the company was landlocked by residential property in the old part of downtown and community officials "made it very attractive for us to go to a business park on the south side of the city."
Products from the old site have been increasingly spotted on job sites in China, Vietnam and South Korea. The number of those projects shows no signs of slowing, so MCG is going where the action is:
"Strengthening our presence fits well with our belief that the only way to truly serve the worldwide crane market is to act locally," Glen Tellock, president and general manager of Manitowoc Crane Group, said at the 2005 announcement of the project.