uoyed in part by a high degree of automation and metals production (second to China in 2005 steel production), Japan is seeing a new wave of facility investment in many high- tech sectors,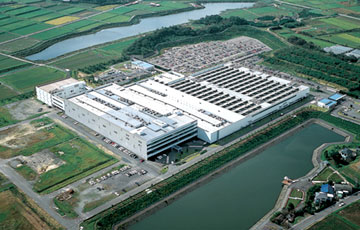 Denso's Agui site, which will see consolidation investment from its electronics division, is one of several Denso sites throughout Japan that have seen substantial incremental facility investment over the past two years.
including automotive investments from its globally successful progeny.
In 2004
Nissan
announced the investment of approximately US$415 million in the relocation of its headquarters from Tokyo to Yokohama and the move of its purchasing, manufacturing and logistics operations from Tokyo to the company's Atsugi Technical Center. The moves, expected to be complete in 2010, will foster improved collaboration with plants and suppliers, including plants in Yokohama and Oppama. Also helping make the case was an attractive transportation network in the Minato- Mirai area of Yokohama.
This summer,
Honda Motor Co.
announced its own wave of global plant investments, building on new plants just coming online in India and China. The new wave includes a new $612- million, 2,200- employee factory in Yorii, Saitama Prefecture, north of Tokyo. It's the company's first home- country new plant since 1964, and its 200,000- vehicle annual output will boost Honda's Japanese production to 1.5 million vehicles when it opens in 2010. Honda also operates plants in nearby Sayama and in Suzuka, in western Japan. The Sayama plant is due for a renovation when the Yorii plant becomes operational.
Honda is shoring up its other Japanese capabilities as well, installing advanced technologies at its automatic transmission plant in Hamamatsu and constructing a new $148- million R&D center in Sakura, Tochigi, expected to begin operations in 2009.
As the surging industrial economy in its home territory indicates,
Toyota
is not sitting idly by: It's constructing new headquarters in its hometown of Nagoya. The metro's industrial boom is also reflected in the 10- percent rise in exports at its port, and the debut last year of FedEx Cargo flights to and from the new Central Japan International Airport there.
Another Toyota offshoot,
Denso Corp.
, is building a new $19- million, 137,783- sq.- ft. (12,800- sq.- m.) electronics plant and headquarters in Agui- cho, Chita- gun, Aichi. The project from Denso Elecs Co., Ltd., will consolidate company functions, including industrial robot production, in Agui, including the transfer of headquarters and manufacturing from the current plant and headquarters at the Takatana site in Anjo, Aichi.
Construction of the new facility will be complete in March 2007. Production of electronic products including bar- code readers, IC card readers, and programmable controllers is scheduled to start in May 2007. The products produced by Denso Elecs are developed by Denso Wave Inc., a Denso group company that manufactures industrial products. Denso Wave will move its development division to the new complex once Denso Elecs is fully relocated. The two companies employed 831 as of spring 2006.
Goro Kanemasu, spokesman for Denso Corp., says these projects are the latest of several Denso projects in recent years that have involved construction on existing premises. Those include:
• a new $226- million facility at its Daian plant to produce safety system sensors and ceramic components, with construction scheduled to be complete by June 2007;
• a new $174- million facility on the premises of its Kitakyushu plant to produce injector components for diesel fuel injection systems, with production to commence by the end of 2006;
• a new $148- million facility at its Kota plant to produce integrated circuit wafers.
Kanemasu says Agui was the natural destination for the investment because it had the existing production facilities and the space for more. No cost savings figure was available, but Kanemasu says centralizing production functions is expected to yield "some synergy effect."
The company's industrial robot business may be the best indicator of what's transpiring in the Asian automotive scene. The International Federation of Robotics has reported that the number of industrial robots installed in Asia was 72,600 in 2005, up by 41 percent from 2004. That same report says that Japan is home to 69 percent of all industrial robots operating in Asia. But Kanemasu says Denso sees the most demand for its industrial robots from Korea and China.
Kanemasu points out that capital expenditure in Japan totaled approximately 202 billion yen ($1.75 billion) in the year ended March 31, 2006, compared with approximately 145 billion yen ($1.26 billion) in the year ended March 31, 2005. "This level of capital expenditure was sustained with strong domestic car production from Japanese auto manufacturers," he says.