ynbiotics Corp.
wanted to be at the center of things. For the animal health specialist firm spun out of The Scripps Research Institute in La Jolla, Calif., 25 years ago, that meant leaving the San Diego area for the Midwest, where the animal health sector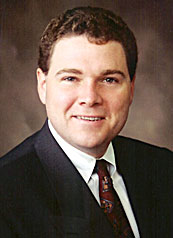 is concentrated. Synbiotics, which develops, manufactures and markets veterinary diagnostic, instrumentation and related products for pets and feed animals, chose Kansas City, Mo., after looking at several sites in the Midwest.
Synbiotics moved its headquarters and R&D into a 14,000-sq.-ft. (1,300-sq.-m.) leased building the last week in May. Paul Hays, Synbiotic's CEO, settling into his new office in early June, tells
Site Selection
the region's established cluster was the big draw.
"Kansas City is located in the animal health corridor with all of the major companies and universities doing animal health research," Hays says. "This is good for business development opportunities, partnerships, collaborations, and is a good source of employees. It also gives us proximity to our customers with about 40 percent of our business based on livestock and poultry. Also, the cost of doing business in San Diego didn't allow us to be as profitable as we think we will be in Kansas City."
Synbiotics opened its Kansas City facility with 28 employees. It employs about 120 worldwide, including operations at its manufacturing facility in San Diego and its wholly owned European subsidiary in Lyon, France.
The company's manufacturing operation will remain in San Diego for the time being, but could eventually move east.
"We've looked at Kansas City for our manufacturing operation, but we've postponed that decision for now," Hays says.
While the Kansas City region has a history steeped in the animal health sector, it has only recently begun to draw the attention it deserves, says Hays. This is resulting in quite a few companies giving the area a look.
"We will also get some growth from existing businesses here," Hays says. "Animal health is a relatively mature industry, but there has been significant growth the last few years on the pet side. In the late 1990s, the companion animal health business started taking off as people began spending more on their pets. A lot of those products are made here. We're also going to see growth in products for food animals as efforts increase to secure a safe food supply."
Synbiotics serves both the food and companion animal health markets. The company is a leader in canine heartworm testing, and its products also include a test for feline leukemia. On the food animal side, it manufactures the only U.S. registered product for avian flu testing. Hays says much of Synbiotic's business in this area is with the U.S. government and the FAO (Food & Agriculture Organization) of the United Nations.
Since moving to Kansas City, his employees have discovered its quality-of-life benefits, says Hays.
"We're missing the beach front, but our people who have come and seen the community here are pleased," Hays says. "It offers more than many realized."
Some of the recent attention zooming in on the Kansas City animal health sector comes from a 2006 study done by Brakke Consulting, a Dallas-based firm serving the animal health industry. That study found that Kansas City has the world's largest single concentration of animal health interests, with nearly one third of the US$14.2-billion global animal health industry represented by companies in Kansas City. The area is also in proximity to some of the nation's best veterinary colleges. Brakke's report also pointed out that Kansas City is the only U.S. region investing specifically in attracting animal health companies.
The U.S. Animal Health Association announced last October that it would move its headquarters from Richmond, Va., to Kansas City during 2007. Kansas City's animal health industry includes more than 120 companies employing more than 13,000, says Lynn Parham, vice president of Life Sciences and Technology Development at the Kansas City Area Development Council. She says about 20 bioscience companies are currently considering locating in the Kansas City area. Fourteen of these are animal health companies, she says.

Site Selection Online – The magazine of Corporate Real Estate Strategy and Area Economic Development.
©2007 Conway Data, Inc. All rights reserved. SiteNet data is from many sources and not warranted to be accurate or current.